2021 Govardhan Puja Wishes, HD Images, Greetings and Messages
Diwali is a five-day festival that begins with Dhanteras, continues with Chhoti Diwali, Diwali, Govardhan Puja, and concludes with Bhai Dooj. Govardhan puja, which comes on the fourth day of the celebrations, is performed with great zeal in Hindu families, particularly among devotees of Lord Krishna, also known as Govardhan Dhari. This year, Govardhan Puja is being celebrated on Friday, November 5, 2021. Here is the best collection of 2021 Govardhan Puja Wishes & Greetings:
2021 Govardhan Puja Wishes
1. Har khushi aapke dwaar aaye
Jo aap mange, us se adhik paaye,
Govardhan Puja mein Krishna gun aaye
Aur ye tyohaar, khushi se manaye.
2. With Krishna's help, sail over all of life's obstacles. Happy Govardhan Puja 2021!
3. On this Govardhan Puja, my hope for you is that God bless you with whatever you desire. Happy Govardhan Puja to you and your loved ones.
4. May this special day of Govardhan Pooja Bring you success, wealth and love.
May lord Krishna bless you and your family Right from heaven above.
Happy Govardhan Puja!
5. A day of festivities and bliss. Govardhan Puja is here again. May lord Krishna bring you love and fortune. And destroy all the evils and pain. Happy Govardhan Puja.
6. Govardhan puja is a day of faith, happiness, and love.
7. Krishan ki sharan mein aakar,
Bhakt nayaa jeevan paate hai,
Isliye Govardhan pooja ka din,
Ham sacche man se manaate hai.
Happy Govardhan Pooja!!
8. Murli Manohar, Brij ke Dhrohar.
Wo Nandlala Gopala, Bansi Ki Dhun Par Sabke Dukh Harne Wala hai.
Sab Milkar Machaye Dhoom Ki Krishna Ane Wala Hai.
Happy Govardhan Pooja 2021!!
9. Krishna jinka naam, Gokul jinka dham, aise Shree Krishna Bhagwan ko, hum sab ka pranam, Jai Shree Krishna.
HAPPY Govardhan Puja 2021!!
10. Krishna ki bhakti or Dil mei rahe pyaar,
Mubarak ho sab ko Govardhan Puja Ka tyohar.
Happy Govardhan Puja!!
2021 Govardhan Puja Images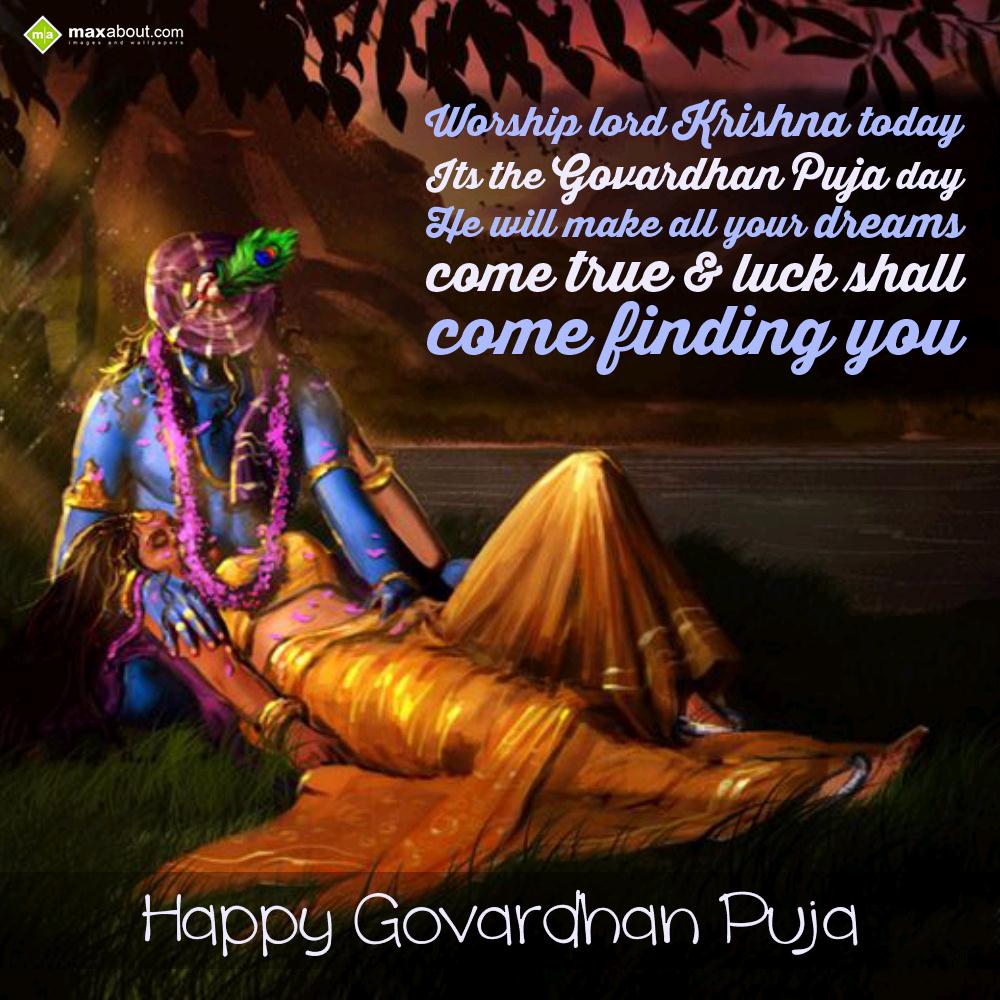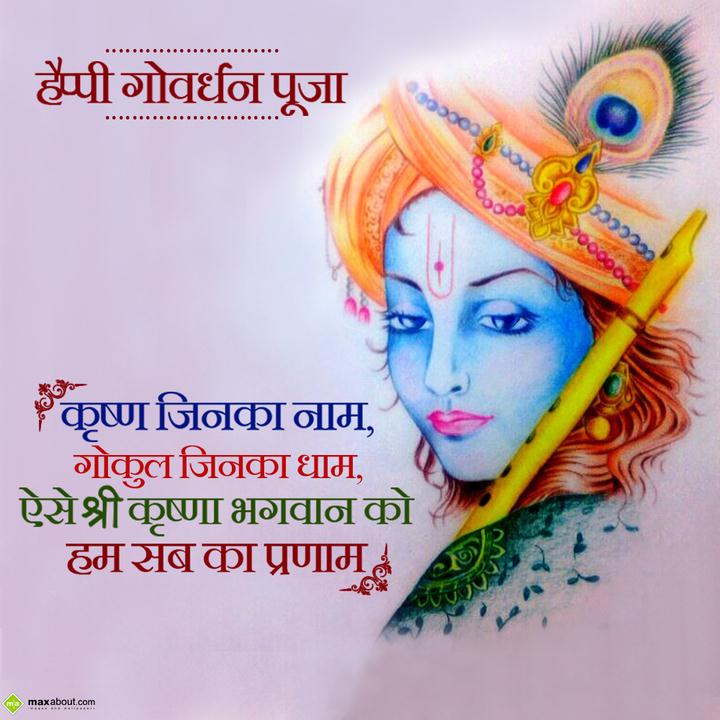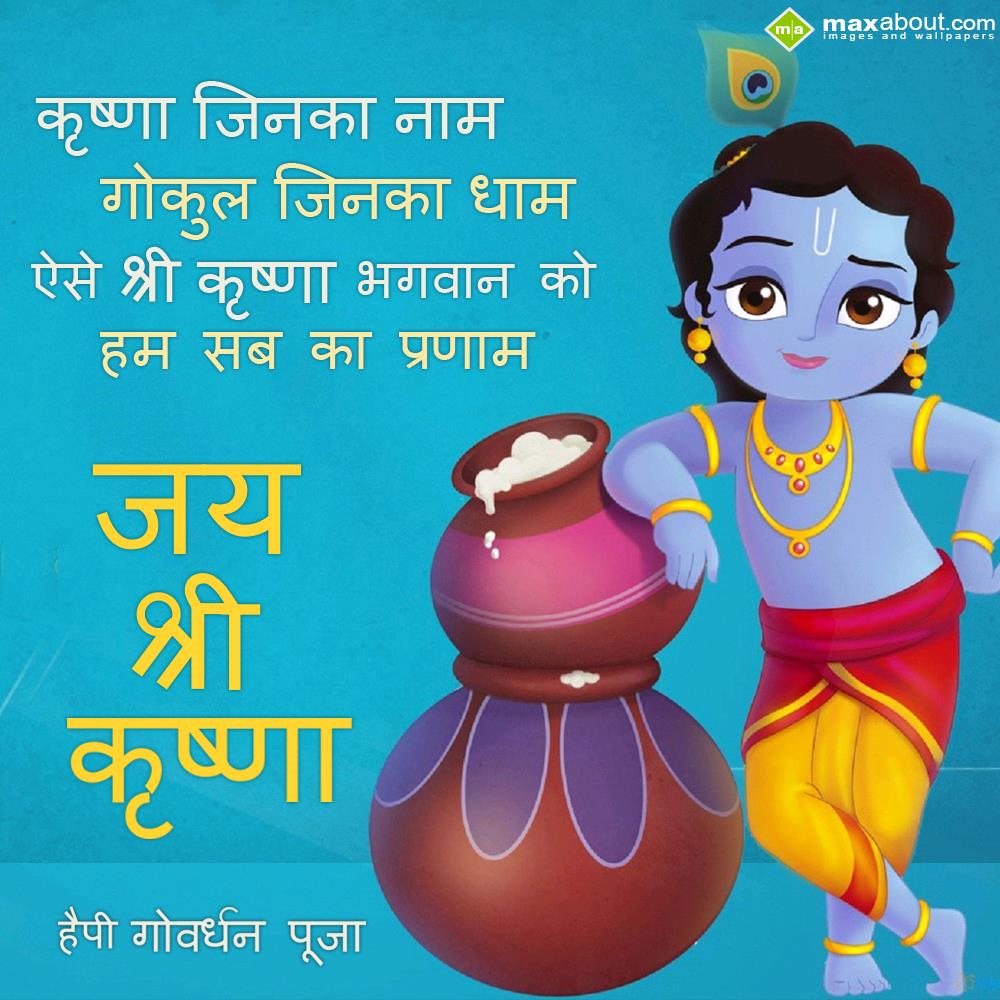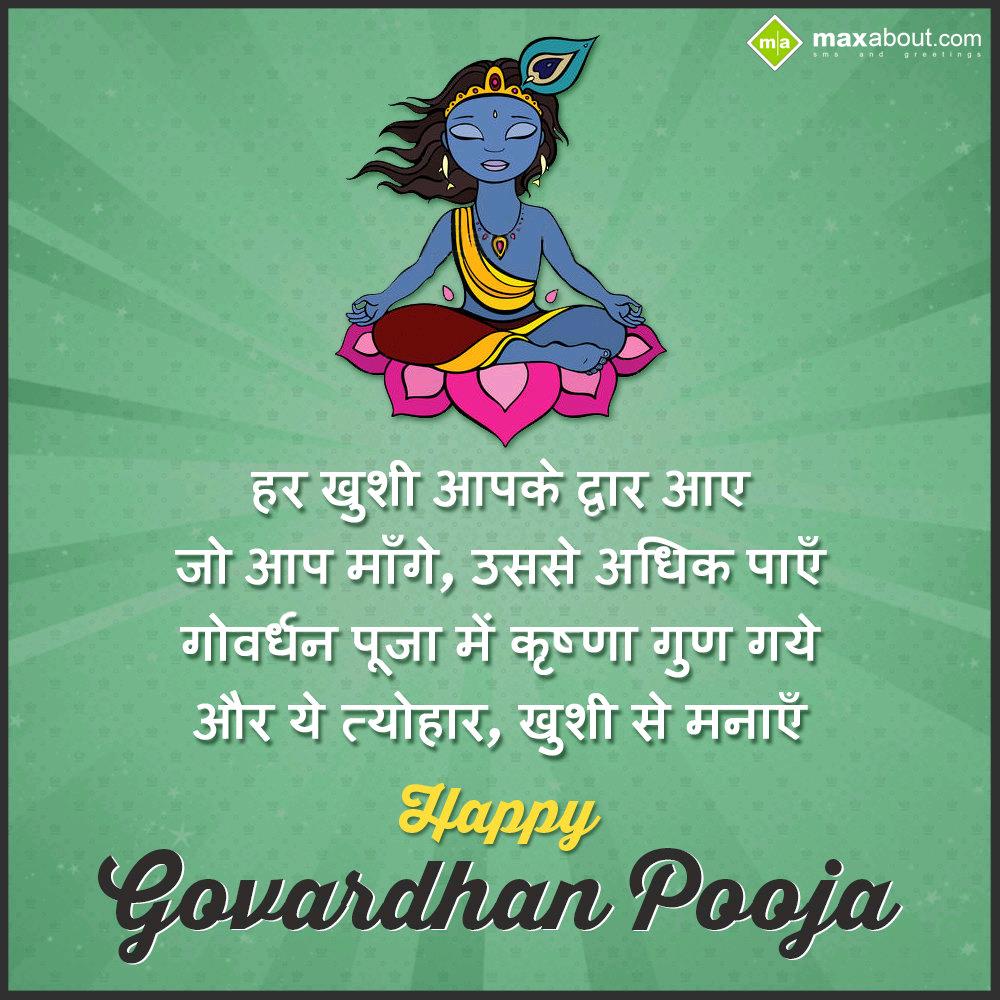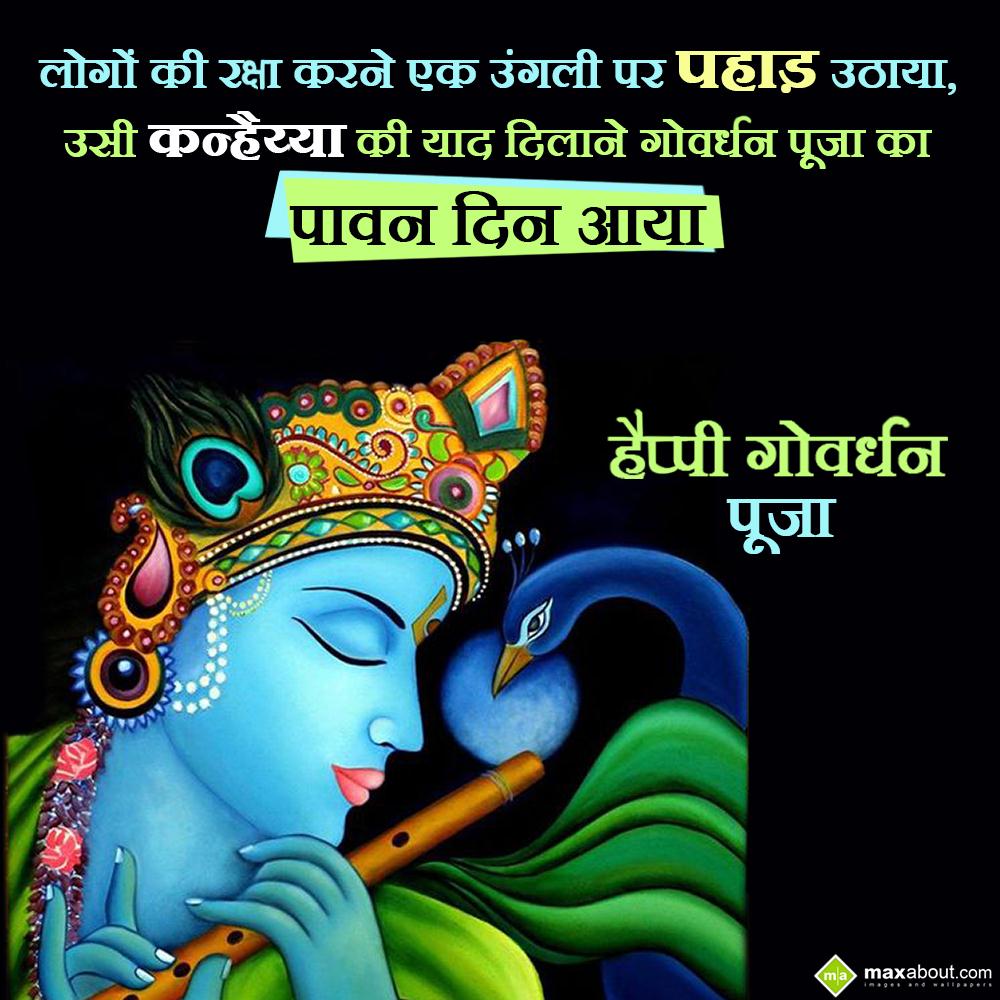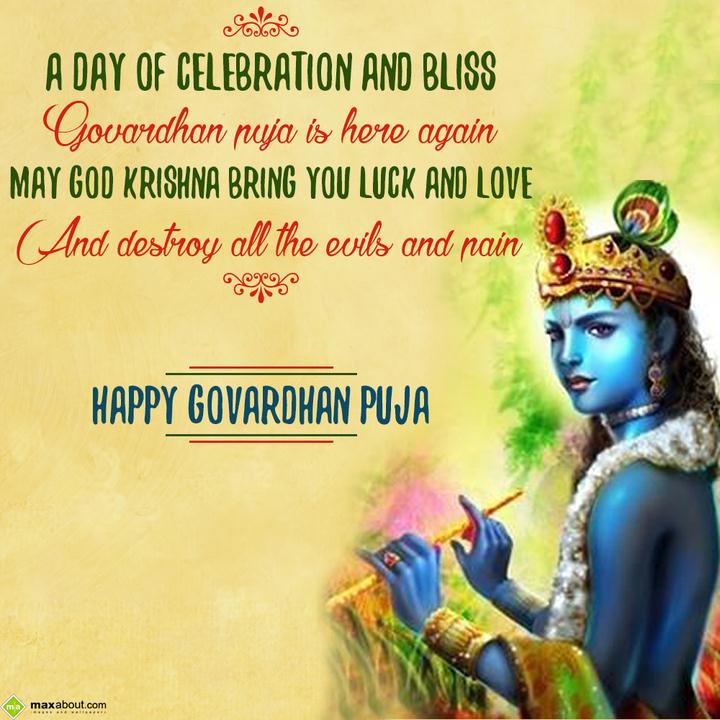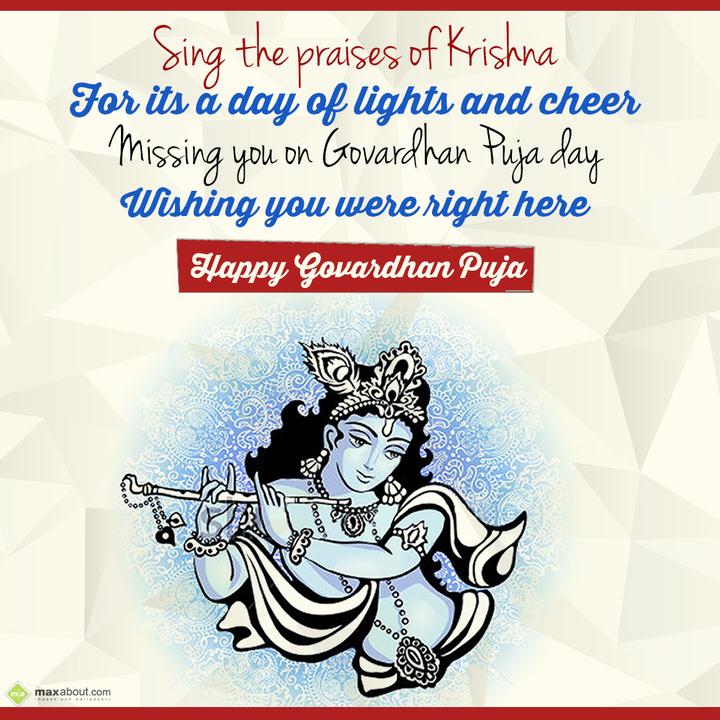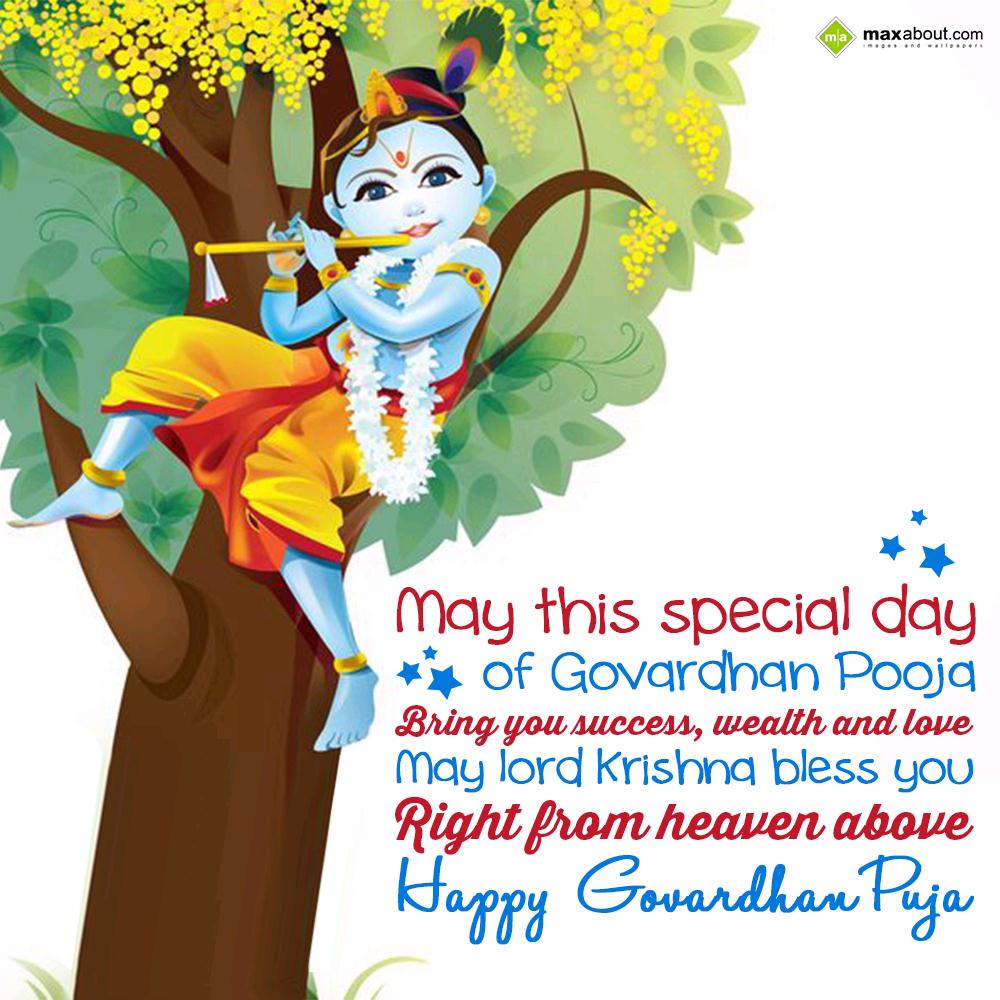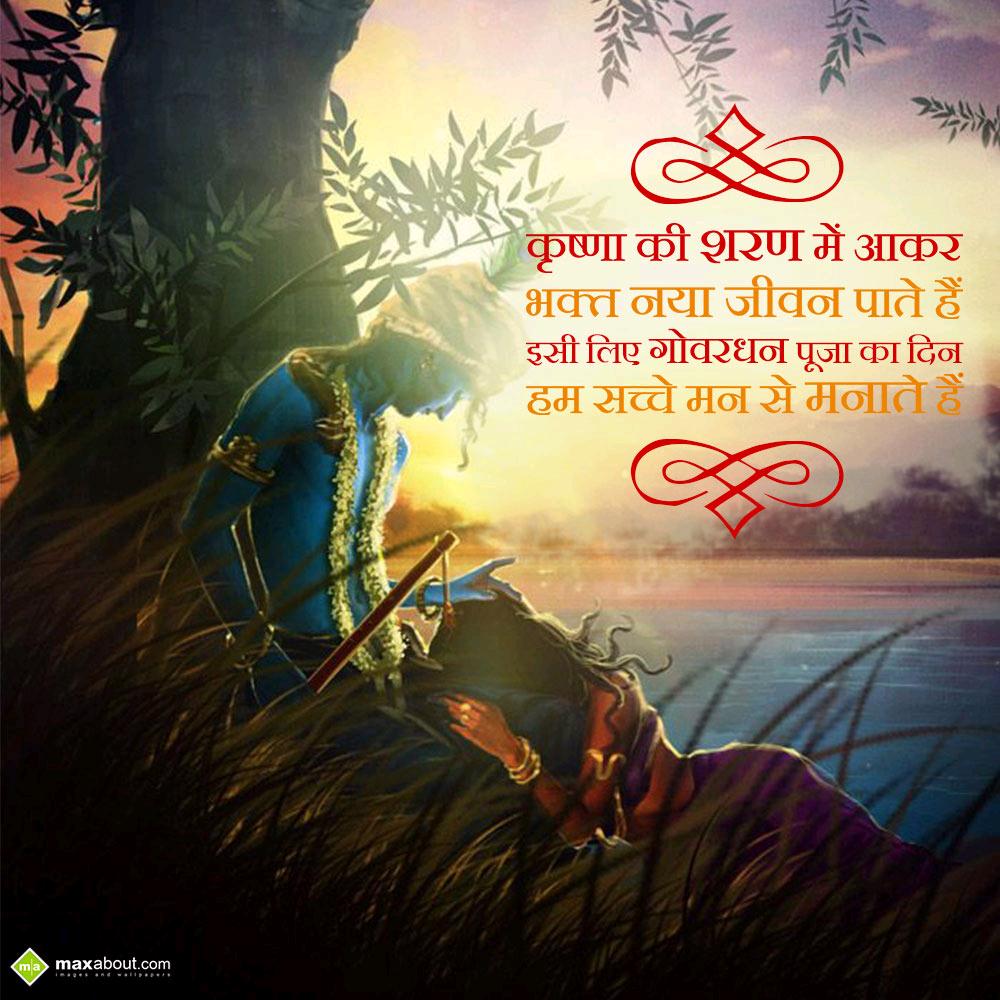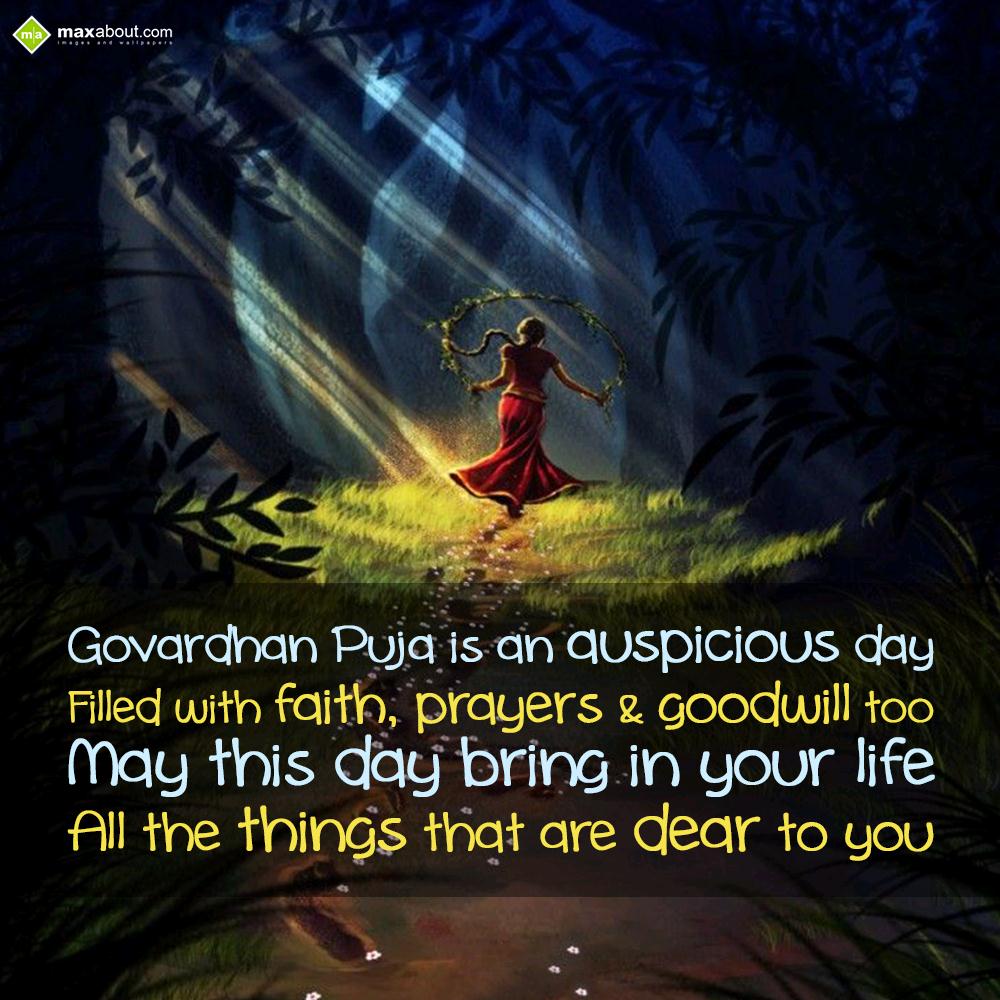 The Significance of Govardhan Puja
The day of Govardhan Puja is associated with Lord Krishna's famous narrative and the Govardhan Parvat (Mountain). According to the scriptures, people in Vrindavan used to prepare great and lavish dinners to satisfy the God of showers, Lord Indra, in order to be blessed with timely rainfall and a plenteous crop.
Little Krishna thought this practice was too difficult for the farmers and convinced them to stop sacrificing it to God and instead serve it to their families. When Lord Indra didn't discover his offerings, he became enraged and unleashed a two-day-long rainstorm.
Fearing for their lives, the peasants petitioned Lord Krishna for assistance, who led them to Govardhan hill. He elevated the full Govardhan Parvat onto his little finger and gathered everyone beneath it for protection. He stayed there elevating the hill without moving for seven days until Lord Indra had to submit to Lord Krishna's strength and cease the rain.
Foods to Celebrate Govardhan Puja
It is stated that because Lord Krishna did not move for seven days, he did not eat a single grain of food. As a result of this occurrence, the devotees resolved to compensate with a sumptuous Chappan Bhog (a meal consisting of 56 items like Halwa, Makhan Mishri, Jalebi, Ladoos, Pakodas, Khichdi and Peda).
And even today, many devotees visit the Govardhan Parvat to offer food to Lord Krishna on the day of Govardhan Puja, or to serve him 56 food items in their homes. People also actually build a mountain of food to give to Lord Krishna, which is known as Annakoot.