2021 Vishwakarma Puja Wishes, HD Images, Greetings and Messages
Vishwakarma Jayanti, also known as Vishwakarma Day, commemorates the birth of the Hindu god Vishwakarma, who is adored as the heavenly builder and is said to be the creator of the world. Vishwakarma, Lord Brahma's son, is said to have built the sacred city of Dwarka, Lord Krishna's reigning realm, and the Maya Sabha for the Pandavas, in addition to many palaces and weaponry for various Hindu gods. Vishwakarma Day usually falls between October and November, on the second day after Diwali. Here is the best collection of Vishwakarma Puja Wishes and Greetings:
2021 Vishwakarma Puja Wishes
1. Har Dukhiyare ki Bipda Dur karo,
Hey Vishwakarma Devta tum sab ke Dukh haro,
Dhyan Dhar Kar Prabhu ka, Sakal smridhi mile,
Man se duvidha dur ho, apaar shakti mile.
Vishwakarma Day ki hardik shubhkamnaye!
2. Is Duniya mei chhayi hai, Aap ki hi sundar rachna,
Sukh or dukh mei naam aapka hardum japna.
Vishwakarma Day ki shubhkamnaye!
3. Jinhe Karam mei Vishwas hai,
Vishwakarma Ji unke paas hai,
Sadkaram karte rehte hai woh pawandhra par,
Shrir mei unke jb tk antim saans hai.
Happy Vishwakarma Day!
4. Vishwakarma Prabhu ki kripa aap par sadaiv bani rahe. Yehi humari kamna hain. Happy Vishwakarma Day!
5. Wishing you and your family a blissful Vishwakarma Day.
6. Here's extending my heartfelt greetings and best wishes on the auspicious occasion of Vishwakarma Day.
7. Vishwakarma Day ko Bhakti Aur Prem se manayein. Happy Vishwakarma Day.
8. On this wonderful day, I am sending you my best wishes. May Lord Vishwakarma fulfil all your desires! Happy Vishwakarma Day 2021 to you and your family!
9. I hope that the auspicious occasion of Vishwakarma Day marks the beginning of a new era of happiness, success, and fortune in your life.
10. Sending heartfelt wishes for prosperity and happiness to everyone. Happy Vishwakarma Day 2021!
2021 Vishwakarma Day Images HD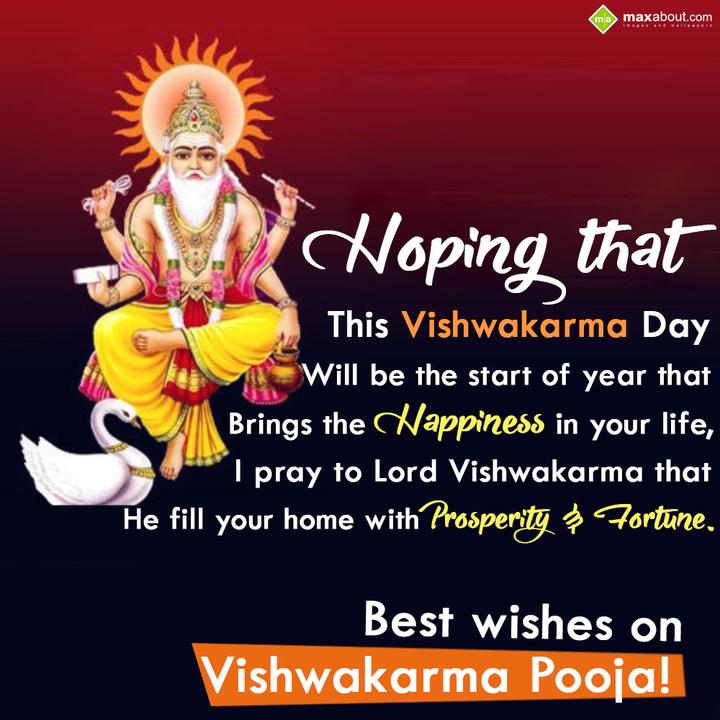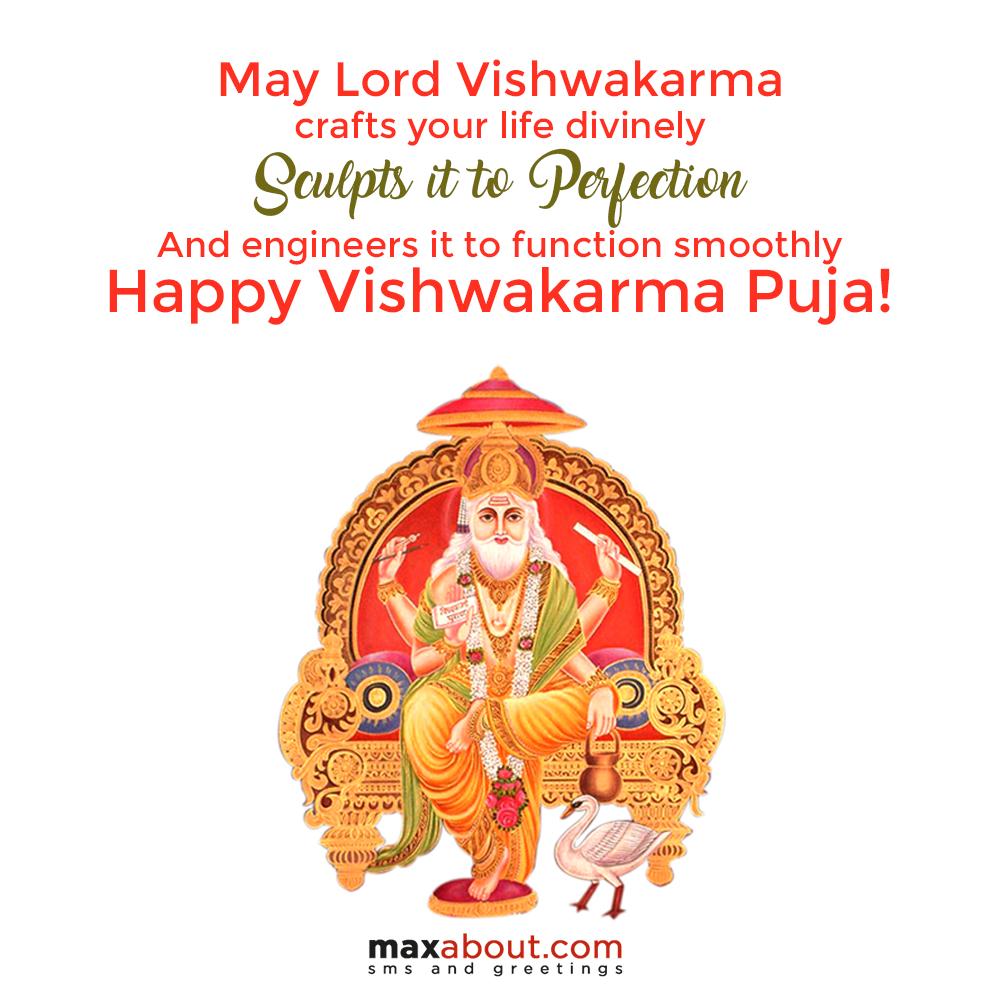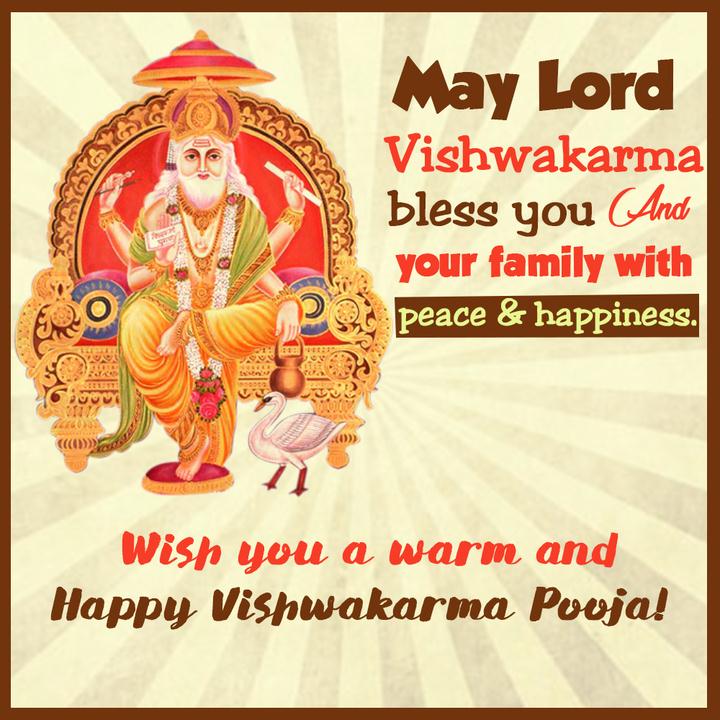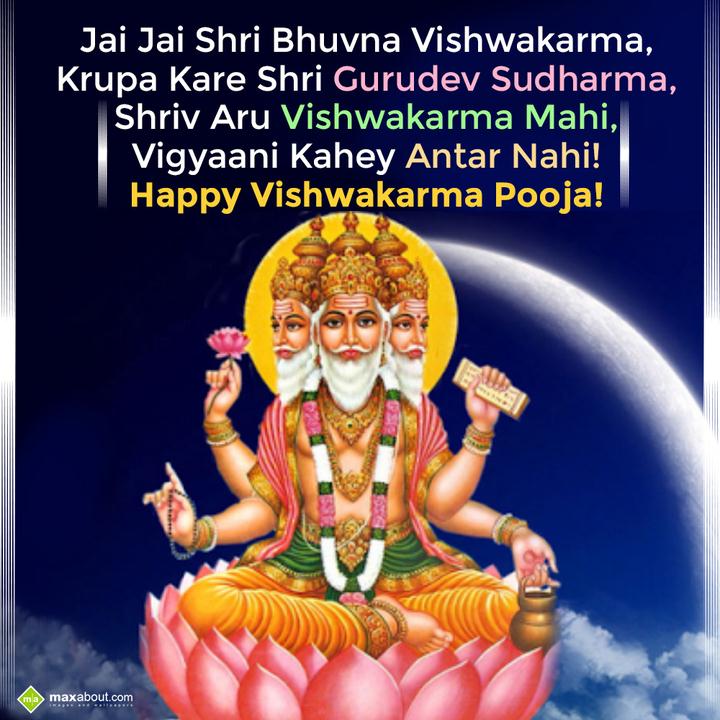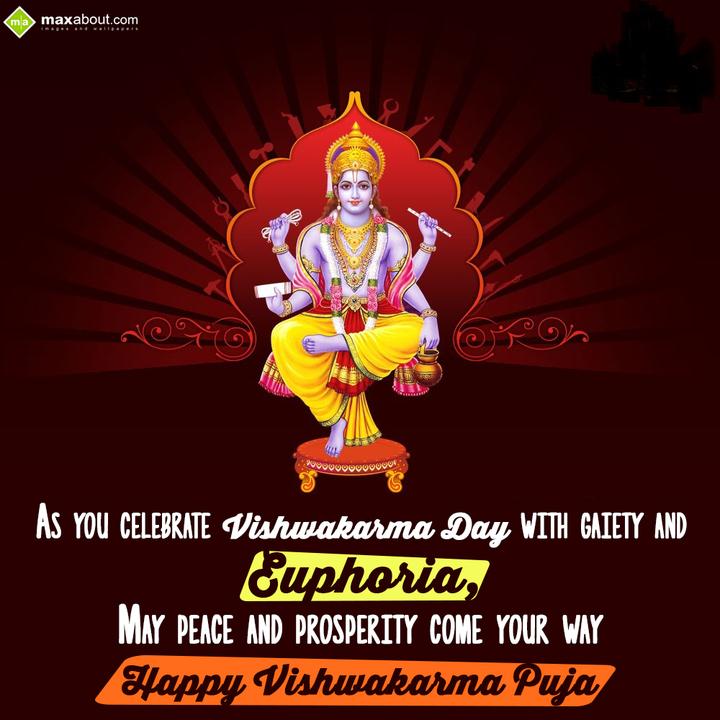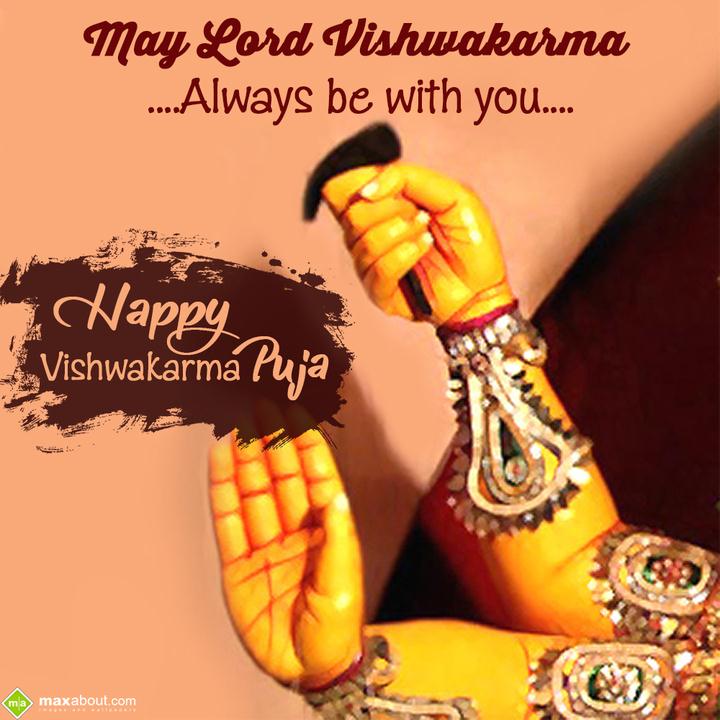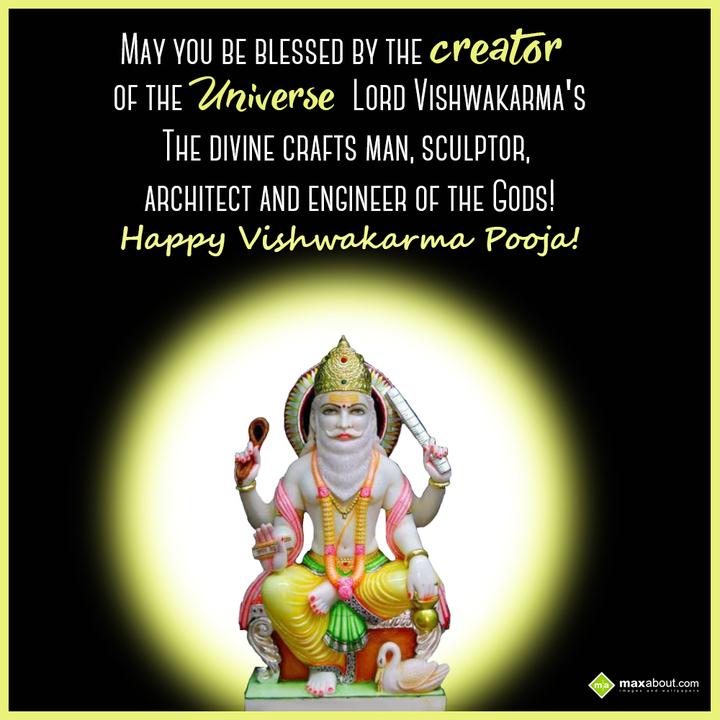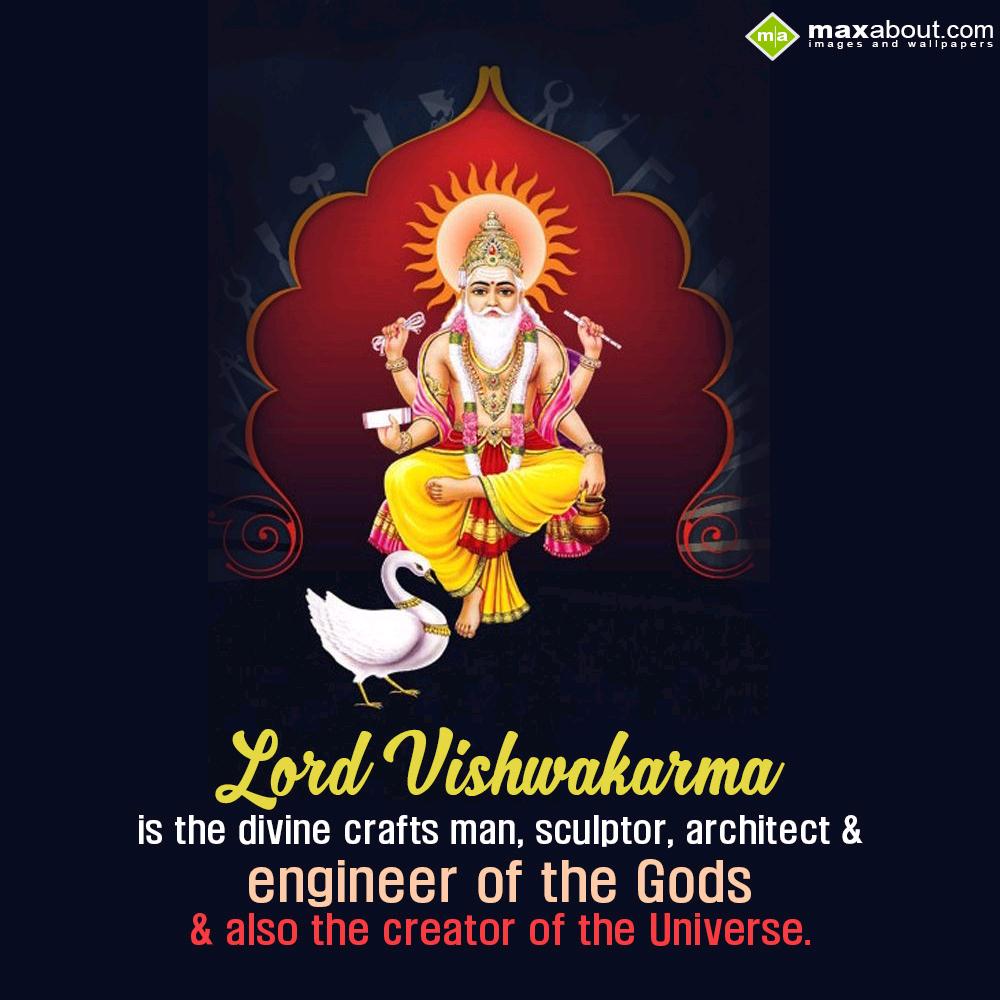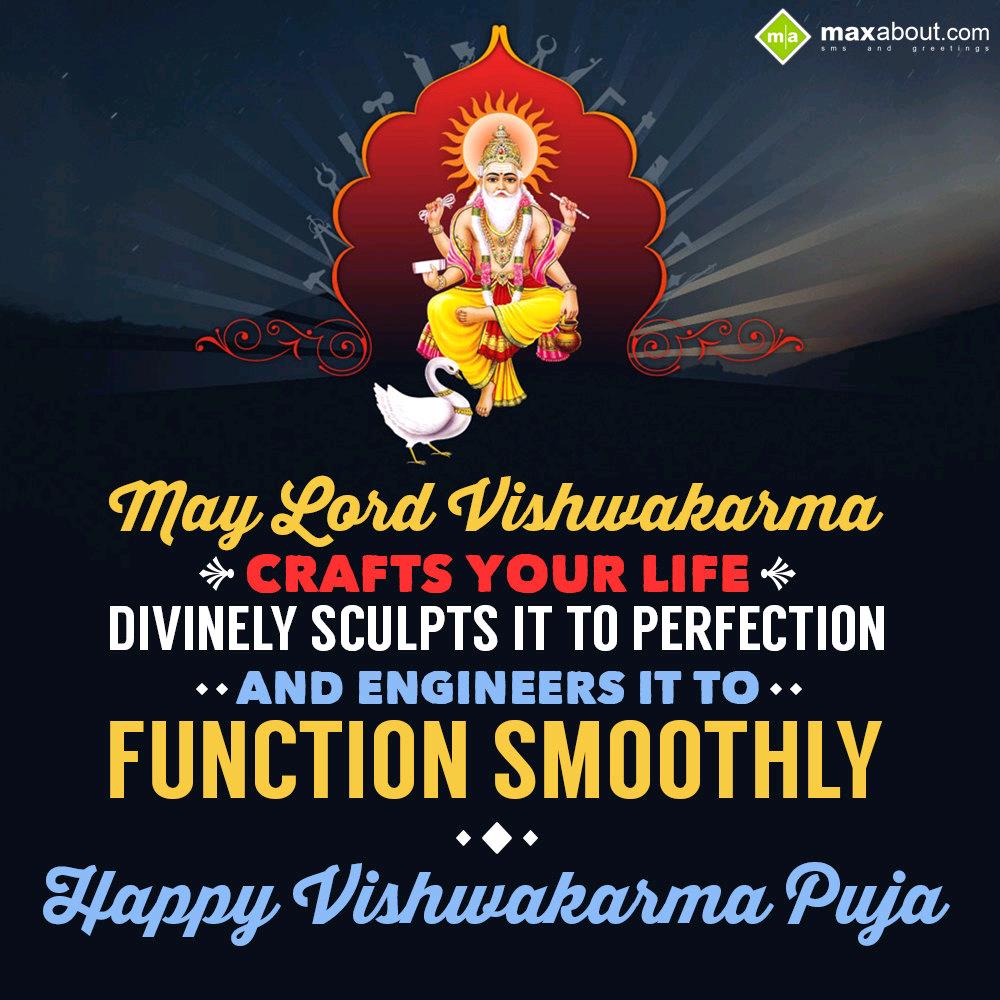 Vishwakarma Day Celebrations
This day is celebrated with great zeal and happiness by architects, engineers as well as skilled workers, labourers, industrial workers, welders, craftsmen. Pictures of Lord Vishwakarma may often be found gracing the walls of factories, industries, and workers' offices since he is regarded as auspicious by their particular working communities. On this day, labourers undertake no professional work and instead worship their tools, praying to Lord Vishwakarma to protect them, secure their livelihoods, and grant them success.
This festival is celebrated primarily in the states of Punjab, Haryana, Rajasthan, Assam, Utter Pradesh, West Bengal, Bihar, Odisha, Jharkhand. Our neighbouring country, Nepal, also celebrates the day. On this special day, people worship the god and his wahan (elephant) and, after the prayers, they share sweets and prasad with each other. In Punjab, Akhand Path Sahib, the continuous recitation of sacred Sikh scripture, Guru Granth Sahib Ji is held and 'bhog' ceremony done on the day with serving 'Langar' to the 'Sangat'.