2022 Dussehra Wishes, Images, Greetings, Messages [Happy Dussehra]
2022 Dussehra Wishes, HD Images, Greetings And Messages: Dussehra is one of the prime Hindu celebrations which denotes the end of the Navratri period in India especially. This festival is loved in very good spirits in India for recognizing the win of Lord Rama over Ravana. It also celebrates the triumph of Goddess Durga over the demon. In many places, the effigies of Ravana are burned on this day to signify the destruction of evil, along with fireworks.
During this period, in western India, the victory of Goddess Durga over Mahishasura is also celebrated. However, in north India, the effigies of Ravana are burned on this day to signal the win of good over evil. This win is taken as a grand festival occasion and lots of firework displays are organized by the event organizers where the public comes to enjoy the day!
It would be great for everyone to know that this year, Dussehra is going to be celebrated in India on 5th October 2022, and at the same time, Bengalis are going to observe Bijoya Dashmi which signifies the tenth day of Durga Puja.
We have hand-picked and created a collection of the best Dussehra Wishes and Greetings that you can share with your loved ones and celebrate the victory of good over evil. Here is the huge collection of 100+ Dussehra Wishes and Images to share with your friends and family members on WhatsApp, Facebook and Instagram:
2022 Dussehra Wishes (Happy Dussehra 2022 Messages)
May God fulfil all my friend's dreams of wishing you a happy Dussehra to all of you. Happy Dussehra 2022!
A time for celebration, A time for victory of good over bad, A time when the world sees the example of the power of good. Let us continue the same "true" spirit. Happy Dussehra 2022!
In this day and age of modern communications, wishing friends, family and loved ones a Happy Dussehra is as easy as tapping a phone screen.
May your troubles burst away like fireworks and your happiness be multiple ten times.
Blessing of Dussehra Celebrates the victory of the forces of good over Evil. Let's celebrate an auspicious day to begin new things in life. Happy Dussehra 2022!
May this Dussehra bring joy, happiness, peace, and harmony to your life.
On the happy occasion of Dussehra, I pray that Lord Ram fills your life with lots of happiness, prosperity, and success. Happy Dussehra to you and your family.
On this auspicious day of Dussehra… I wish you every happiness and the fulfilment of all your dreams.
The special occasion may make all your dreams come true.
Vijaya dashami ka shubh absar apke aur apke parivar ke jivan mein sukh, samradhi aur shanti bharde.
Wishing this Dussehra brings devotion, determination, and dedication to your life.
Dussehra is a festival of victory against bad elements in our lives.
Let's celebrate the victory of good over evil. Happy Dussehra 2022!
May this Dussehra burn all your worries with the burning of Ravana.
When in Satya Yuga, Ram killed a great demon and king of Lanka, Ravana. Let's celebrate together and believe in the blessings of God for good. Happy Dussehra 2022!
Fortunate is the one who has learned to admire, but not to envy.
Jai Siyaram, Wish u success and happiness in everything u do.
Wishing you all a fun-filled Dussehra. Happy Dussehra 2022!
Sending my warm wishes for a happy Dussehra! May the day bring you good fortune and success today and forever.
May the divine blessings of Goddess Durga help you achieve success in whatever you do… Happy Vijayadashami.
This Dusshera, I wish you to develop all the qualities of Lord Rama. May you be an ideal son, a perfect brother and an idyllic husband! Happy Dusshera!
May Lord Rama always… keep showering his blessings upon you…. May your life be prosperous and… trouble-free throughout. Happy Dussehra!!
May this Dussehra, light up for you. The hopes of Happy times, And dreams for a year full of smiles! Wish you a Happy Dussehra…..!
May all the tensions in your life burn along with the effigy of Ravna. May you be successful and happy ever! Happy Dussehra!
Let's start a great life by conquering our eternal 5 evils – Kaam, Krodh, Lobh, Moh, Ahankar… Let's take the oath to give a dimension to our life on this auspicious festival. A very happy Dussehra 2022 to you and your family!
Before the golden sun rises let me decorate each of the rays wid success & happiness for you & your family. Happy Dussehra 2022!
Happy Dussehra to all of you. Hope this festive season brings lots of joy to all of you.
Let the joy of festivity embrace you & your loved ones on the occasion of Dussehra this year! Very Happy Dussehra to you & your family.
Celebrate the triumph of the force of good over the force of evil. Let us celebrate an auspicious day to begin a new chapter in our lives. Happy Dussehra!
Truth always leads to victory. Happy Dussehra to you and your family!
Vijaya Dashmi, the festival of conquering demons, may you triumph in all aspects of your life, Happy Vijayadashmi! May all the sweet enchantment of Dussehra conspire to gladden your hearts and fulfil every yearning. Wishing you and your family a Happy Dussehra!
Day for the victory of Ram over Ravana. When in Satya Yug, Ram killed the great demon and king of Lanka, Ravana. Let's celebrate together and believe in the blessings of God for good. Happy Dussehra 2022!
2022 Happy Dussehra Images (HD Quality)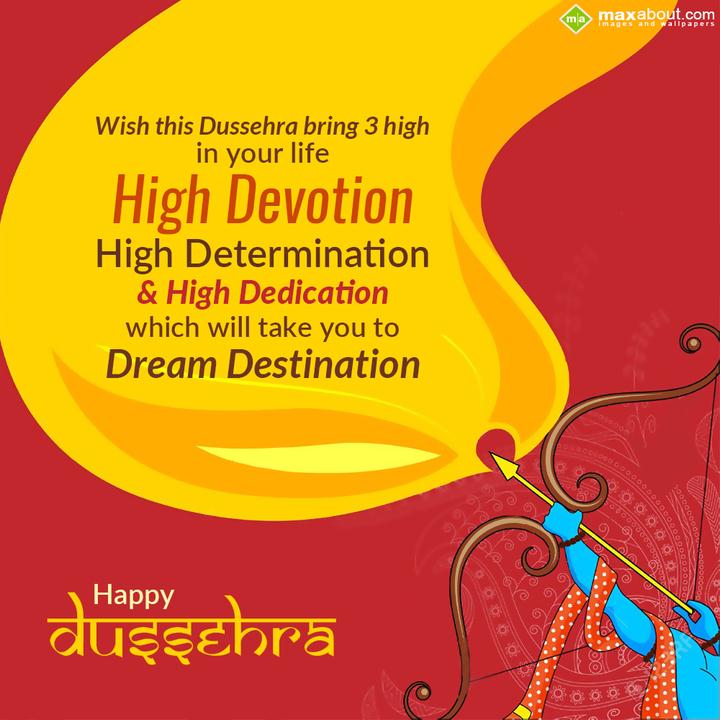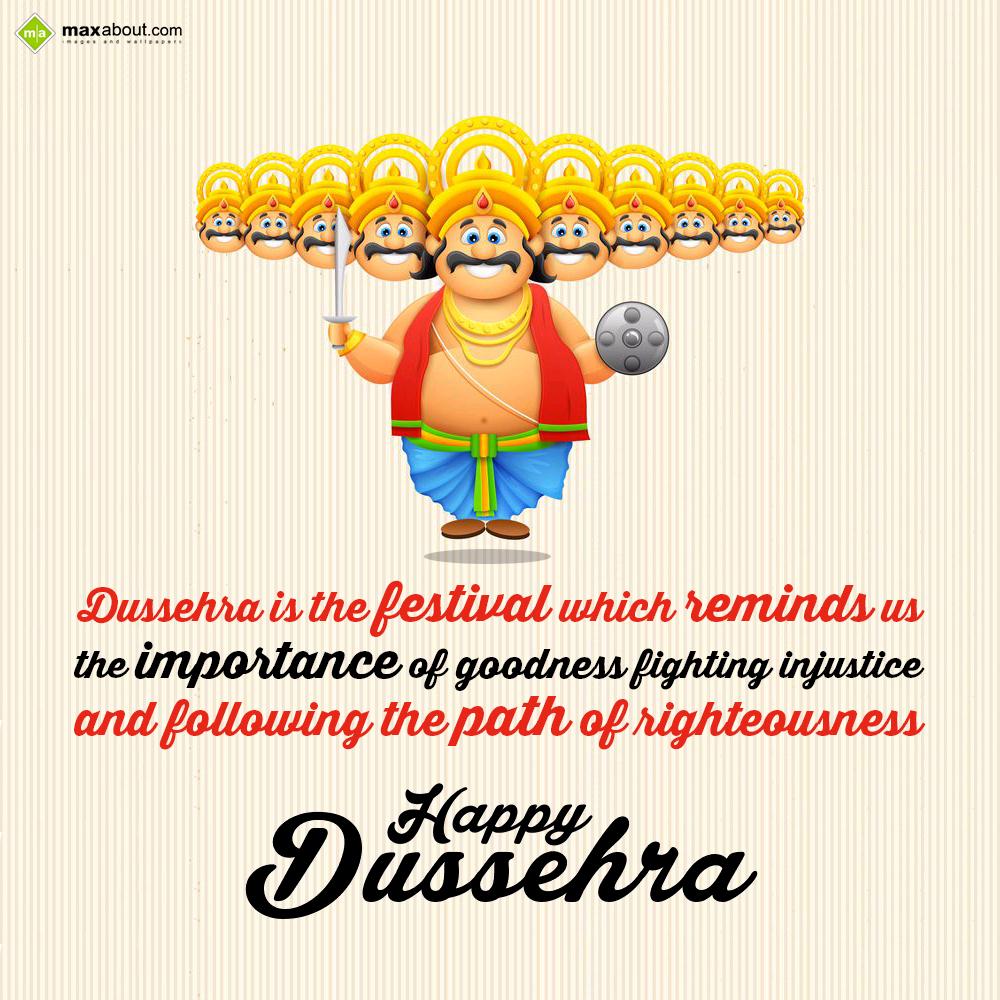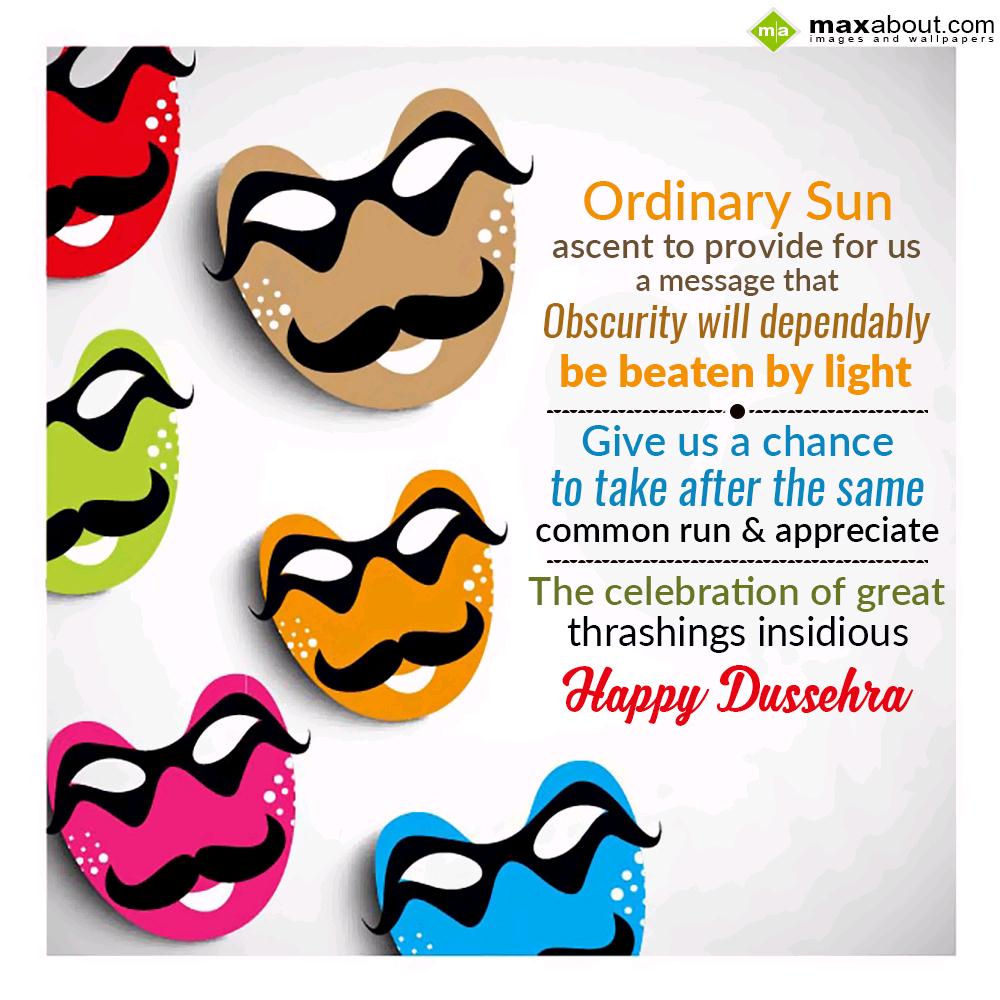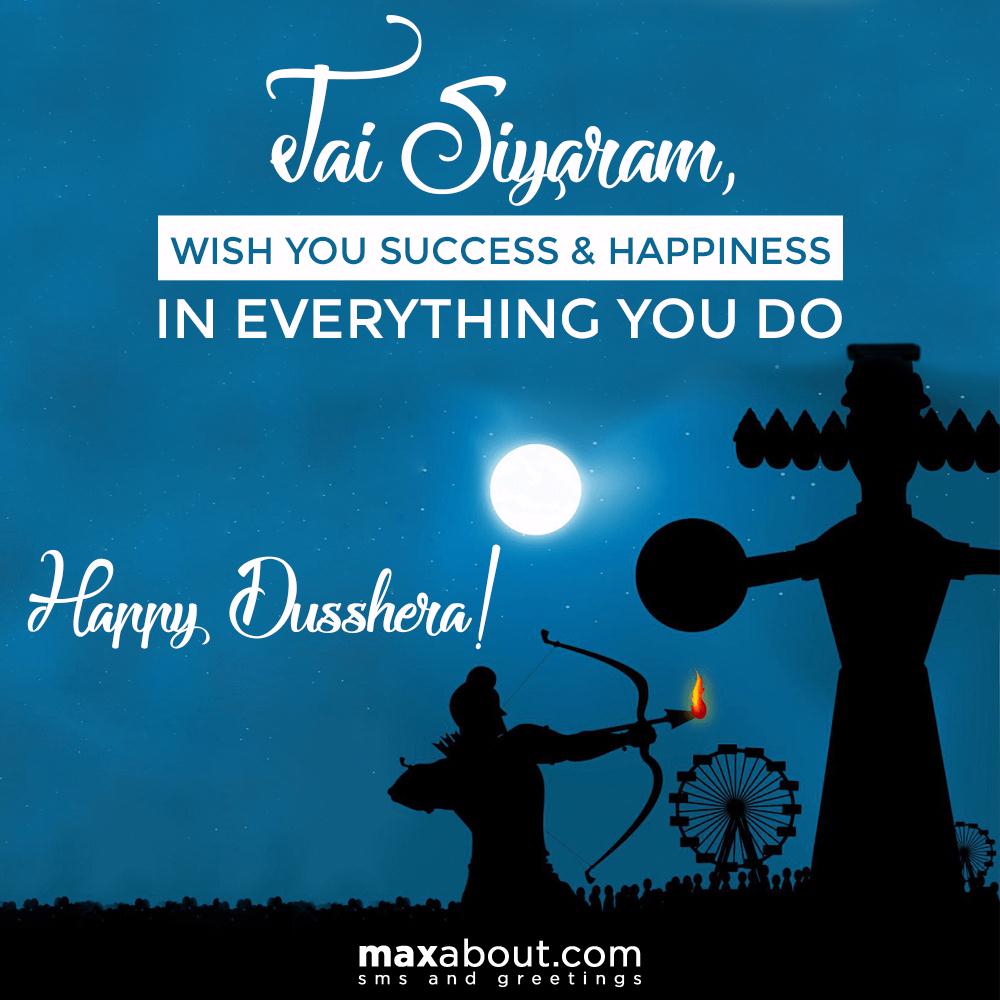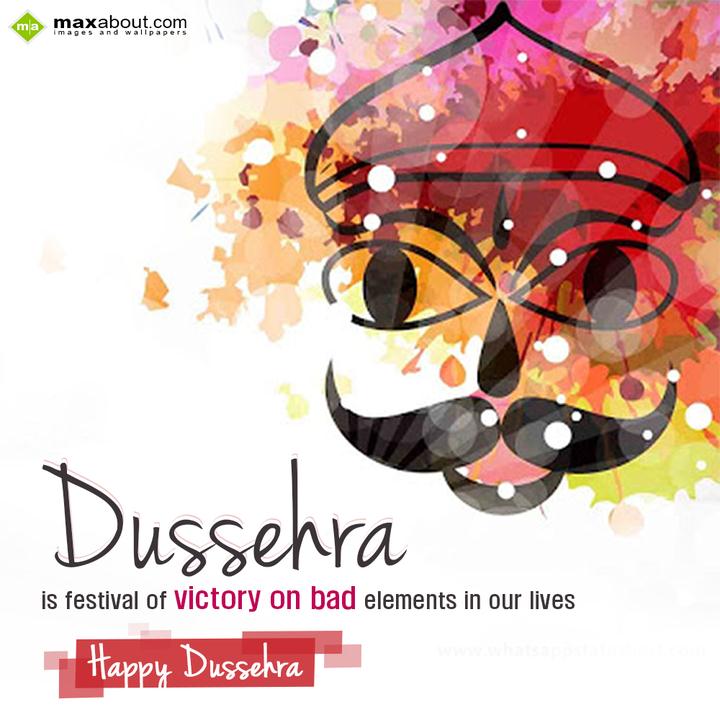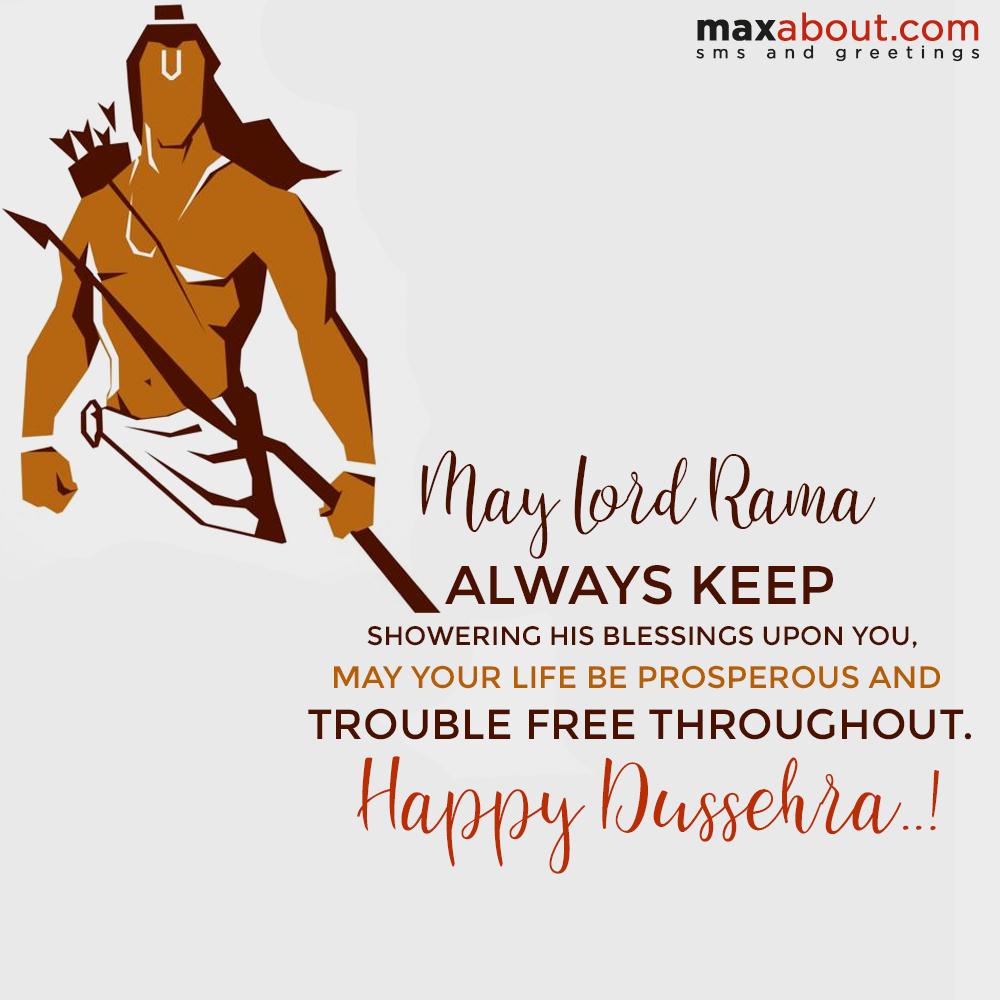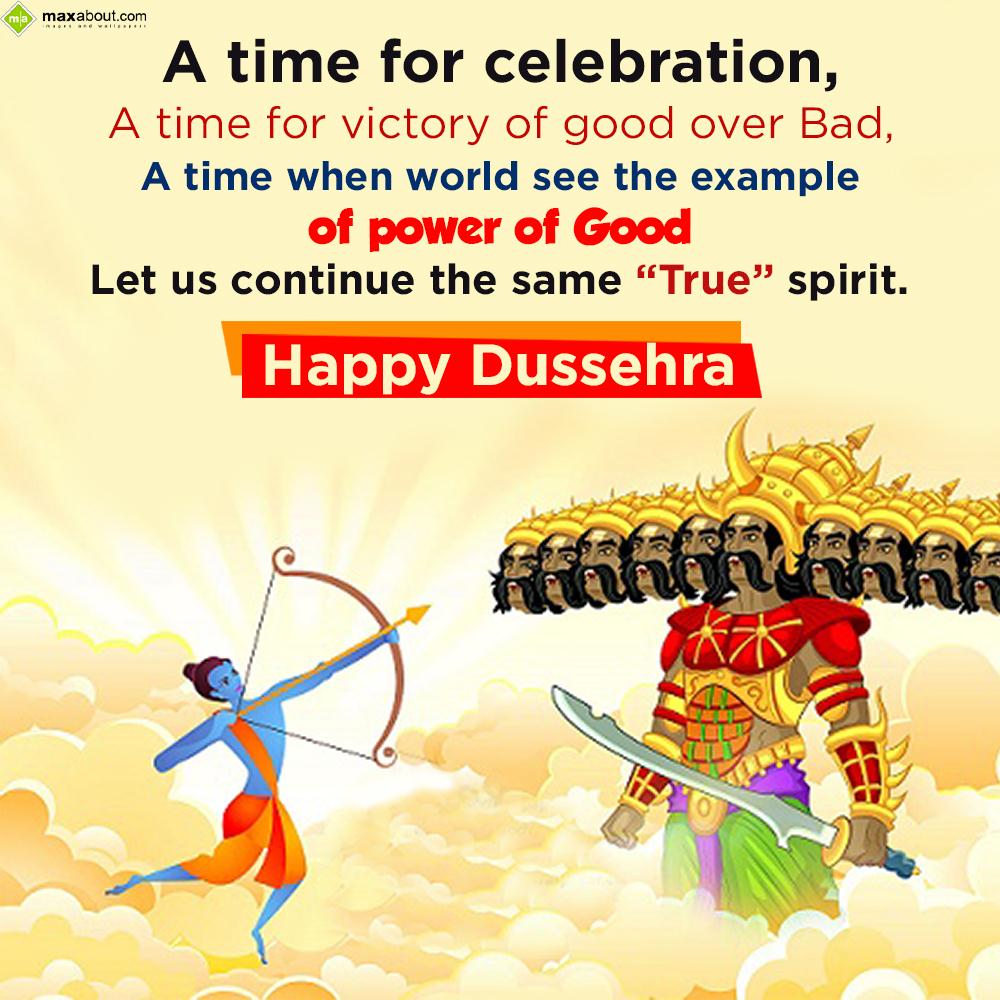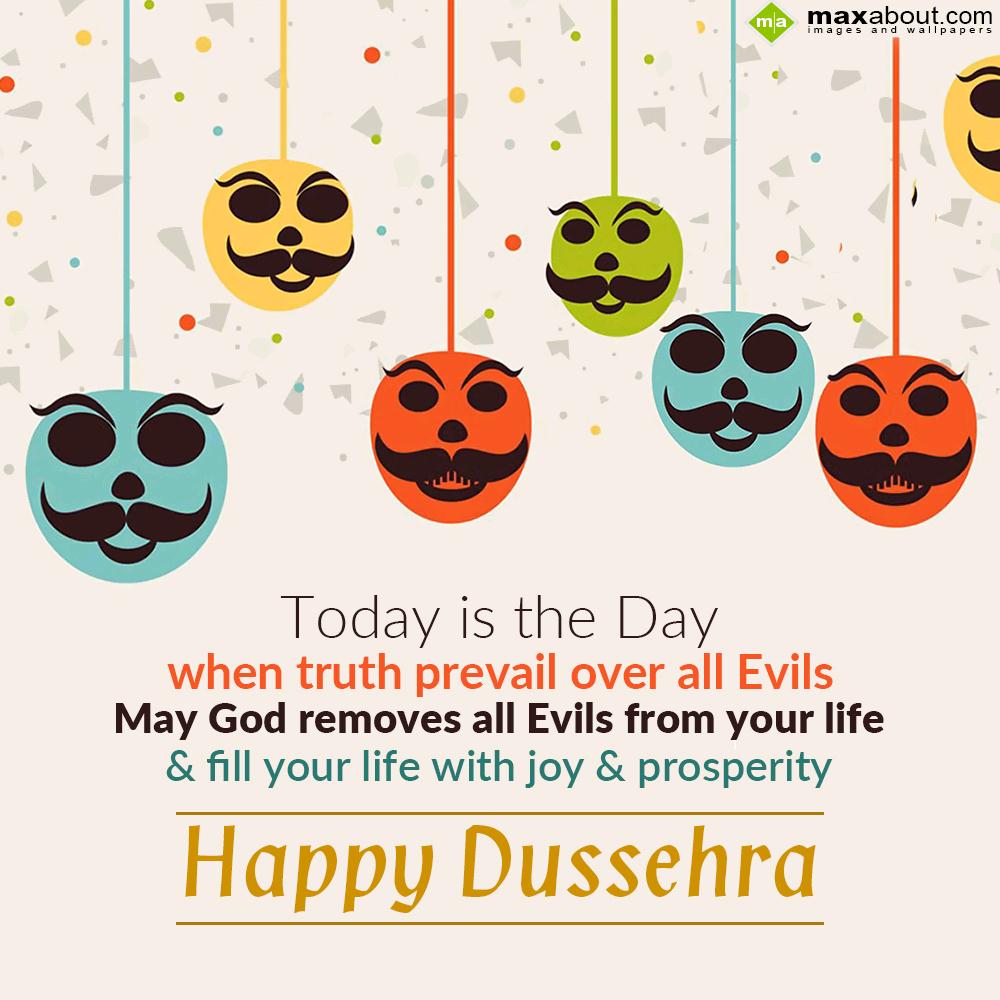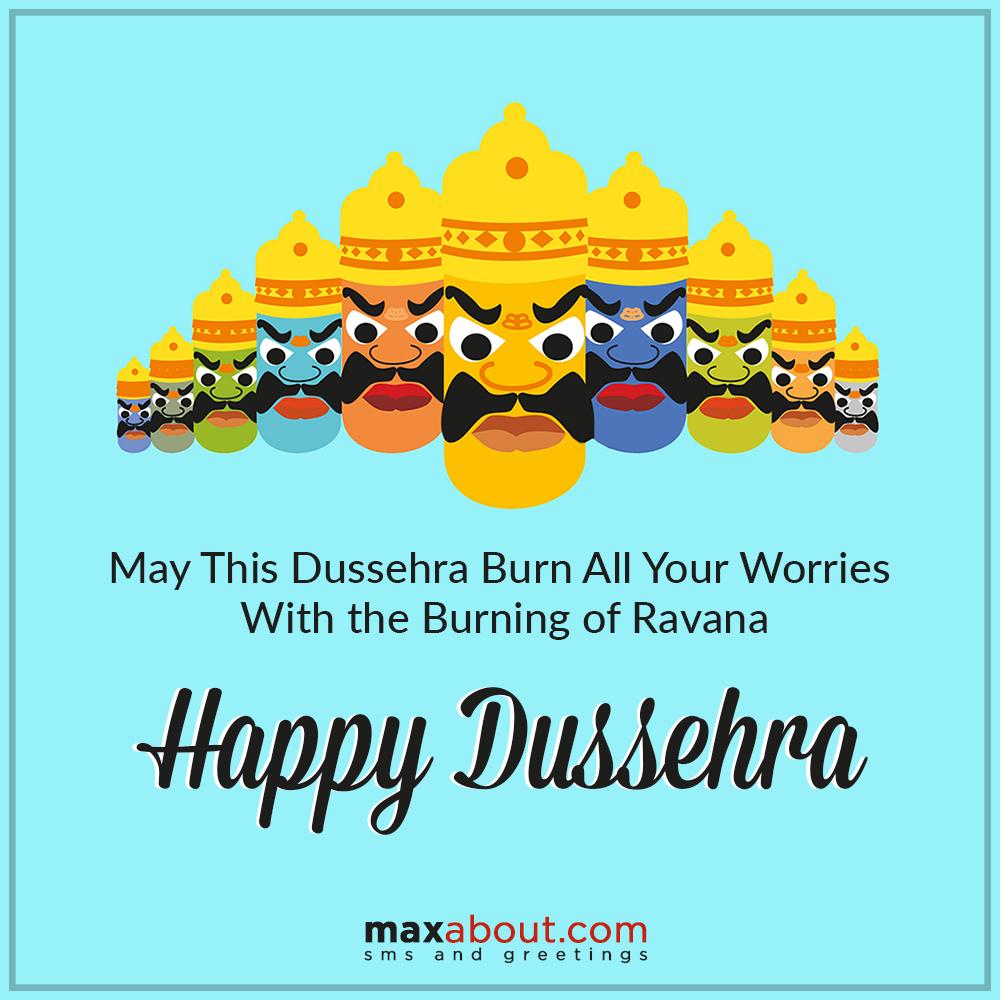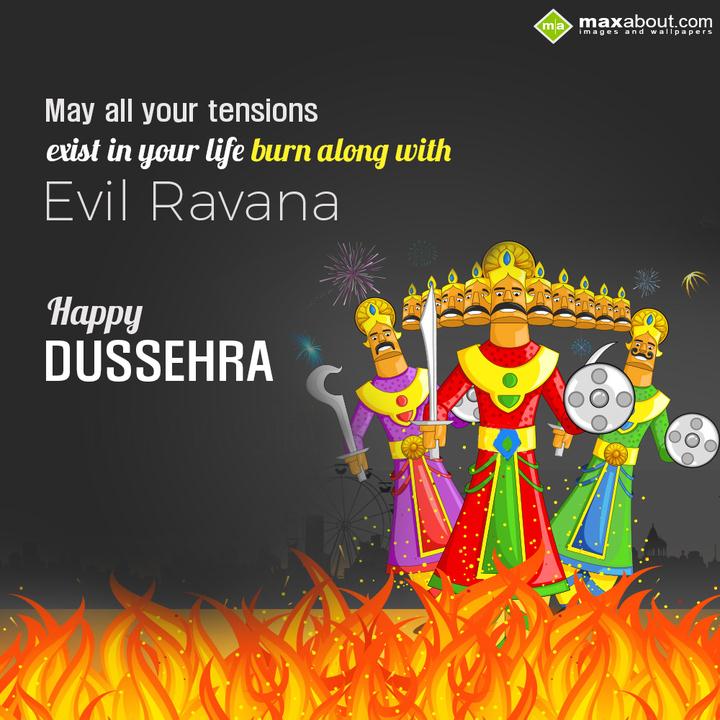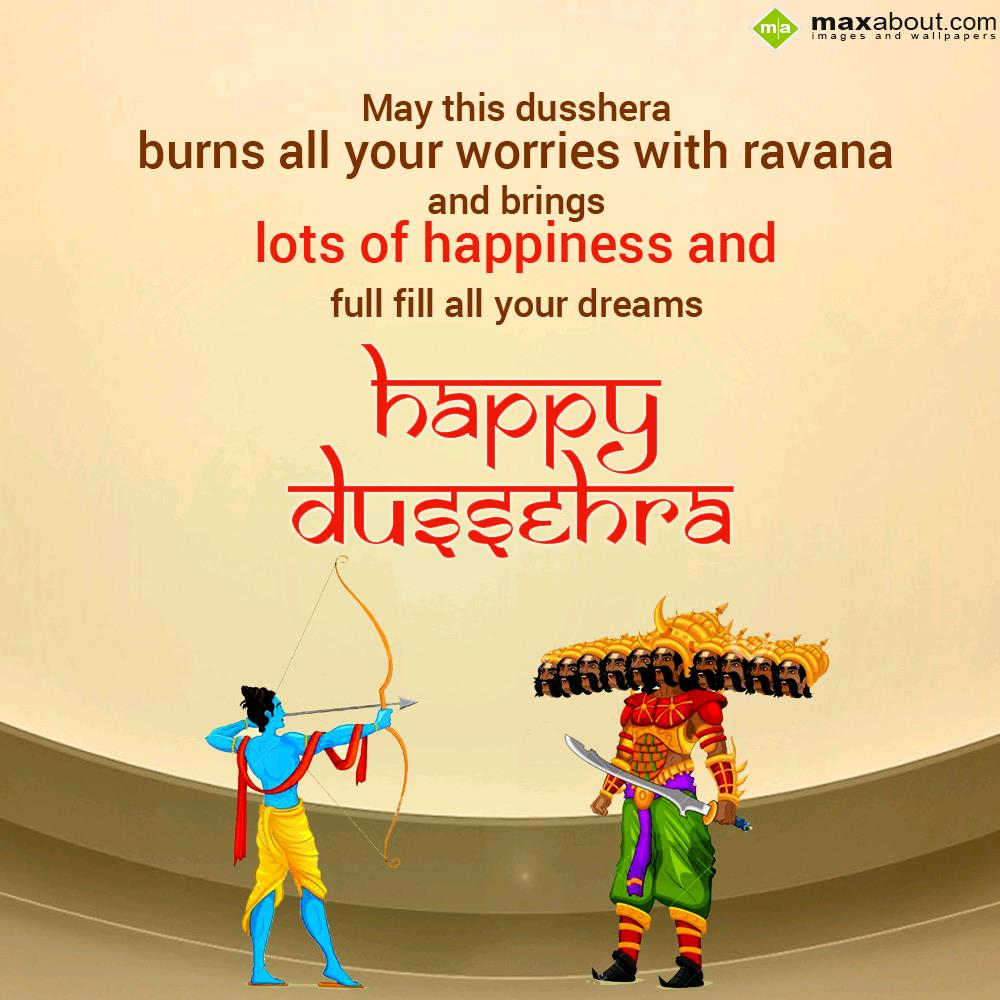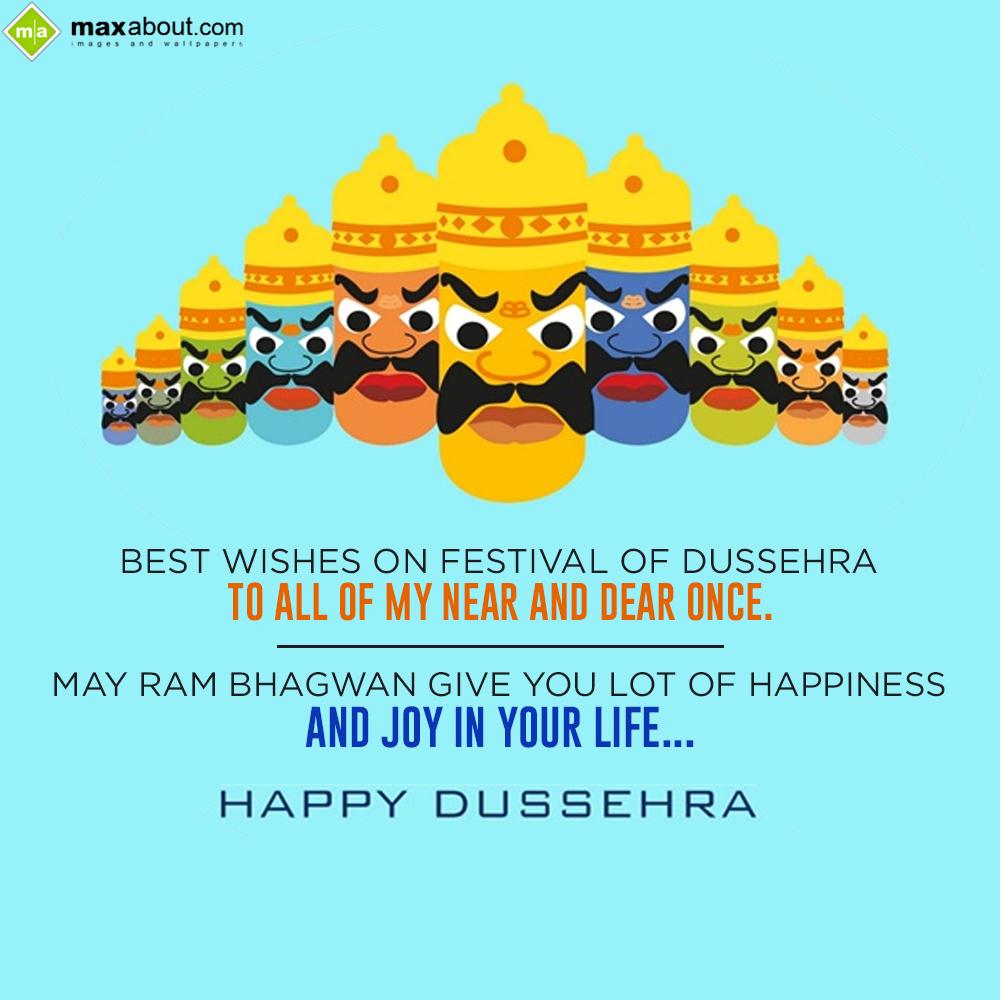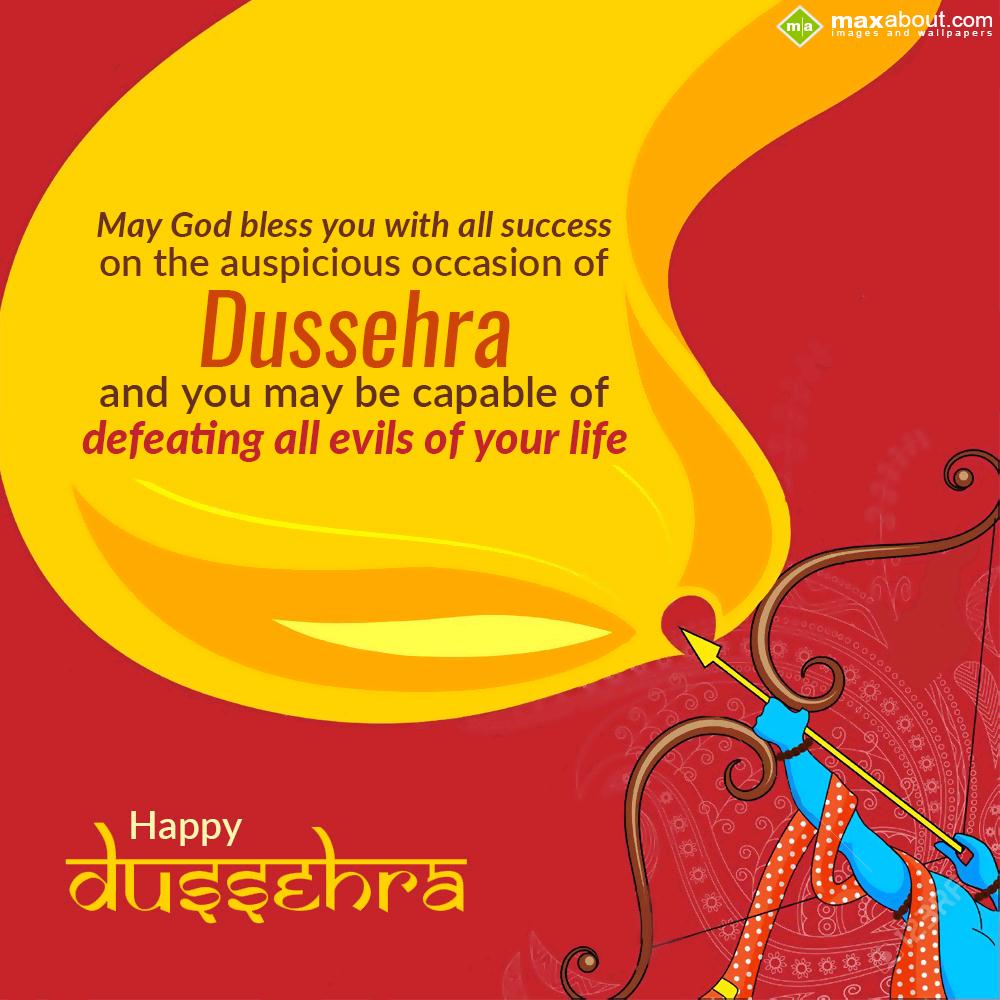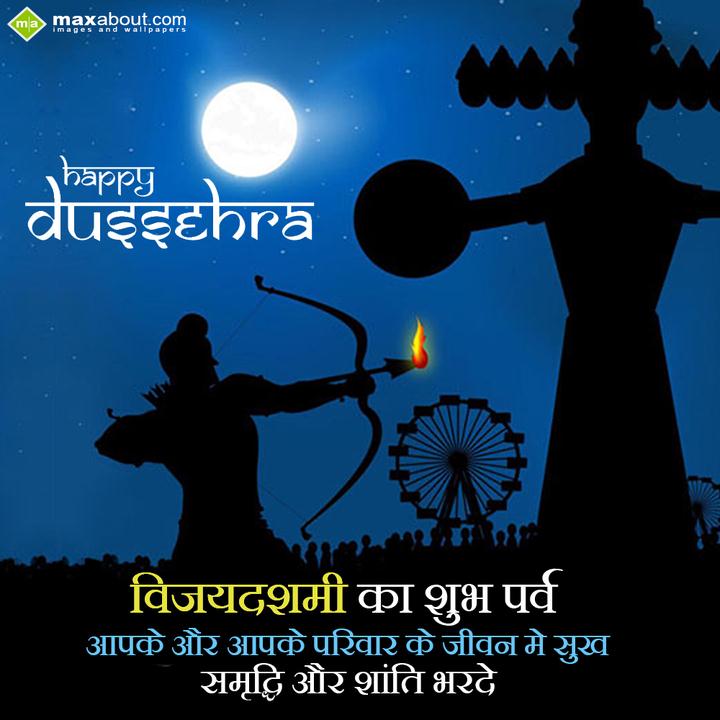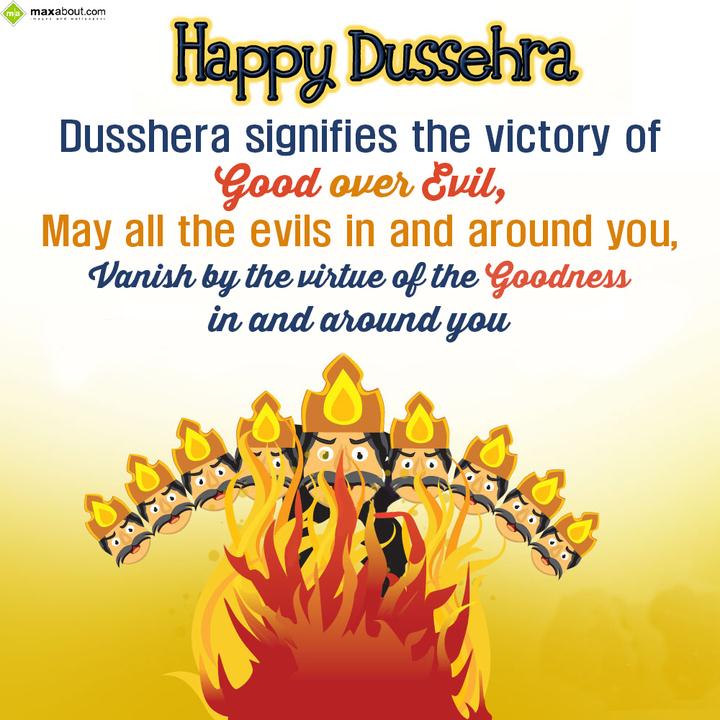 2022 Hindi Dussehra Greetings
Ho aapki life me khushiyon ka mela kabhi na aaye koi jhamela, sada sukhi rahe aapka basera, Wish you a Happy Dussehra 2022!
Phool Khile Khushi Aap Ke Kadam Chume, Kabhi Na Ho Dukho Ka Samna, Dhan Hi Dhan Aye Aap Ke Angana, Yahi He Dussehra K Shubh Avsar Par hmari Manokamna.
Yeh pal ho sunehera, duniya me naam ho roshan tumahara, dusron ko dikhako tum kinara, yehi aashirwaad hai hamara. Happy happy and very happy Dussehra!
Khushiyon Ka Tyohaar, Pyaar Ki Bauchaar, Mithaiyon Ki Bahar, Is Dussehra Ke Shubh Din Aapko Mile Khushiya Hazaar… Happy Dussehra 2022!
Jaise Ram ji ne jeeta lanka ko. Waise app bhi jeeten saari duniya is Dussehra mil jayen app ko. duniya bhar ki saari khushiyan, Happy Dussehra.
Jyot se jyot jagete chalo, Prem ki Ganga bahate chalo. Rah me aaye jo din dukhi sab ko gale se lagete chalo. Din Aayega sabka Sunehra. Isliye meri aur se Happy Dussehra 2022!
Burai par acchai ki jeet ! Dussehra lata hai ek umeed Ravan ki tarah hamare dukhon ka ant ho ek nai shuruat ho ek naye savere ki. Happy Dussehra!
Vijayadashami ka shubh Parva apke aur apke parivar ke jivan me sukh, samridhi aur shanti bharde. Happy Dussehra 2022!!
Ravan Jalao. Burai ko aag lagao. Acchai ko apnao. HAPPY DUSSEHRA!
Kabhi bhi dukh ka aap par na pade saya, Ram ji ke naam ka esa asar hai chhaya, Har pal dhan dhanay aaye aap ke angna, Hai Vijaya Dashmi par meri yhi kaamna! Happy Dussehra 2022!!
Agyan par ho gyan ki vijay, Burai par achai ki ho jeet, Paap par punneya padta hai bhaari, Aa jaye aap ke paas khushiya saari. Shubh Dussehra!
Dussehra ek umeed jagata hai, Burai ke aant ki yaad dilata hai, Jo chalta hai satya ki raah pe, Woh vijay ka parteek bn jata ha
Ram ji ki kripa se aap pr ho khushiyon ki bauchhar, Esi shubh kaamna hmari aap karo sawikar, Dussehra ki hardik shubh kaamnaye!
Tyohaaron ke is desh mei, Har tyohar ka hai apna maan, Prem se mnane mei hi hai inki shan, Chalo rchaye Dussehra ki dhum dham. Happy Dussehra 2022!!
Bheetar ke Raavan ko jo khud aag lgayege, Sahi mayne mei be hi Dussehra manayege. Happy Dussehra!
One Liner Dussehra 2022 Wishes
May this Dussehra burn all your trouble with Ravana and bring you and your family tons of happiness.
May the triumph of Virtuous over Evil inspire u towards your own victories. Happy Dussehra!!
Let us come together to celebrate the triumph of good over evil on this auspicious day. Happy Dussehra to all!!
I pray that your life takes a new curve this Vijayadashami. Happy Dussehra !!
Dussehra is a festival of victory on evil parts of our lives.
Learn to applaud, not to get jealous. Have a holy Dussehra!
The truth will always succeed; goodness will always lead! Dussehra is truly about these values. Happy Dussehra, everyone!
I pray that you earn all the qualities of Lord Rama and become the perfect son, brother, and husband. Happy Dussehra!
Ravan Jalao Burai ko aag lagao Achchai ko apnaao Khub pio or khub khao…Happy Dussehra!!
Like the effigies of Ravana, may your difficulties also burn away. Wish you a triumphal Dussehra!
Celebration of Dussehra Festival in India
In North India, colourful festivals are organised, and Ramleela plays, based on the Ramayan tale, are performed. Stories from the Hindu epic Ramayana are performed in various parts of the country. On Vijaydashmi, enormous effigies of Ravan, Meghnad, and Kumbhakarn are set on fire.
The effigies are usually loaded with firecrackers. While in the Southern part of India, Karnataka's state celebration, which began in 1610 by the royal dynasty of Mysuru, includes parades, cultural performances, wrestling contests, and fairs. The idol of Chamundeshwari is carried around the city on a caparisoned elephant on the tenth day, escorted by guards on horses, musicians, dancers, and armed forces, commencing from the Mysore Palace.
Another major celebration of Dussehra happens in Kullu. When the rest of India has finished celebrating Dussehra, the Kullu Valley in Himachal Pradesh begins its celebrations. The deity of Raghunath is paraded through the ancient Dhalpur Maidan atop a magnificent chariot beginning on the tenth day. Over 250 valley deities gather at the maidan for a week, during which a seven-day fair featuring dance and theatre is held.
Goddess Durga is adored in Odisha and West Bengal, and her idol is submerged in a river or a lake on the day of Vijaydashmi. The Sindoor Khela ceremony, in which married ladies apply on each other and the goddess's statue, is one of the centrepieces of the Durga Puja celebration. The goddess's idol is paraded around Odisha before being immersed in a local lake or river. Ravan effigies are set on fire following the immersion.
On Dussehra, individuals in Maharashtra establish new businesses or buy new homes since the day is considered fortunate. People trade bidi leaf, which represents gold. This is the day when children in Kerala begin formal schooling. People in Tamil Nadu place dolls of goddesses and gods in their homes, which is known as Bommai Kolu or Golu. Other nations, like Bangladesh and Nepal, also observe Dussehra.
History of the Dussehra Festival
There are a lot of mythological stories regarding this wonderful festival. Dussehra shows the end of the nine-day long period of fasting on the Navratri occasion in India. It is the tenth day of the Navratri when this festival is observed. In South India, the Dussehra festival is also taken as the day when Chamundeshwari Devi killed the demon Mahishasura.
Significance of the Dussehra Festival
Dussehra is the occasion of celebrating the triumph of good over evil. As we all know, certain evil always originates everywhere in the world. So Dussehra is one such occasion where people admit and celebrate the spiritual importance of the good powers of Lord Rama and Durga Goddess. Thus, the powerful good force of these incarnations is taken seriously. In fact, people love going to carnivals and fairs to celebrate such positive festivals and make the family enjoy them as well.