2022 Karwa Chauth Wishes, HD Images, Greetings And Messages
Karwa Chauth is an auspicious festival that is celebrated on a large scale by Hindu women. This elite festival is majorly celebrated in Northern and Western India. It falls on the 4th day after Purnima (a full moon) in a holy month of the Hindi calendar which is called Kartika.
Also, like all usual Hindu festivals, Karwa Chauth is also updated as per the lunisolar calendar. This calendar credits for all kinds of astronomical positionings. So as per its calculations, the festival comes on the 4th day after the formation of the full moon. This year, it will be celebrated on October 13, 2022.
Furthermore, Karwa Chauth is primarily taken as a very important event in Northern India. One notion about it is that in the old days, military exercises were generally organized by men who lived in far-off areas. So they would leave their wives and kids at home to go to the war zones. That is why their wives would mainly pray for their safe and healthy return.
The Celebration of Karwa Chauth
On this day, as part of the festivities, married ladies dress up in new clothing (ideally red, which represents a happy married life) and apply Mehendi to their hands. During the Karwa Chauth puja, women also worship Goddess Parvati. The fast is eventually broken after getting a glimpse of the moon.
The adorned marketplaces, where ladies enjoy their buying binge, add to the festival's enthusiasm. Karwa Chauth has taken on a more religious undertone as a result of the different things presented to the Goddess Parvati and a didactic narrative recounted by an older woman before the fast is broken. Although this Hindu festival is celebrated by women all across India, it is most popular in the northern states of Punjab, Haryana, Uttar Pradesh, and Himachal Pradesh.
Karwa Chauth Wishes, SMS, Greetings, and Images to share with your friends and relatives on WhatsApp, Facebook and Instagram –
2022 Karwa Chauth Wishes (Best Collection)
Hope this day strengthens the bond of love between you two. May the Almighty bless you with a happy and long married life. Happy Karwa Chauth 2022!
May the sindoor testify your prayers, the mangal sutra reminds you of promises that bind you, and the colour of mehndi proves the depths of your love. Happy Karwa Chauth!
As you celebrate the bond of marriage, here is wishing you a life of love and togetherness, today and always. Happy Karwa Chauth 2022!
May Goddess Parvati and Lord Shiva fill your life with love, peace, happiness, good health and wealth. Happy Karwa Chauth!
Let's celebrate this auspicious occasion of Karwa Chauth with happiness and joy! May Goddess Parvati showers her blessings upon you and your family!
May the festival of Karwa Chauth bring hope, smiles and good luck to your life! Have a blessed day!
Warm wishes to all the women fasting on this auspicious day of Karwa Chauth! May all your hopes and dreams come true!
May the blessing of God Shiva and Goddess Parvati bring love and happiness into your marriage. May your marriage last long and be filled with blessings!
May the Goddess hear your prayers on this auspicious day of Karwa Chauth. May your married life be filled with happiness and laughter. Happy Karwa Chauth!
May your marriage be full of laughter, and every day spent in paradise. Wishing a Happy Karwa Chauth 2022!
Happy Karwa Chauth Images 2022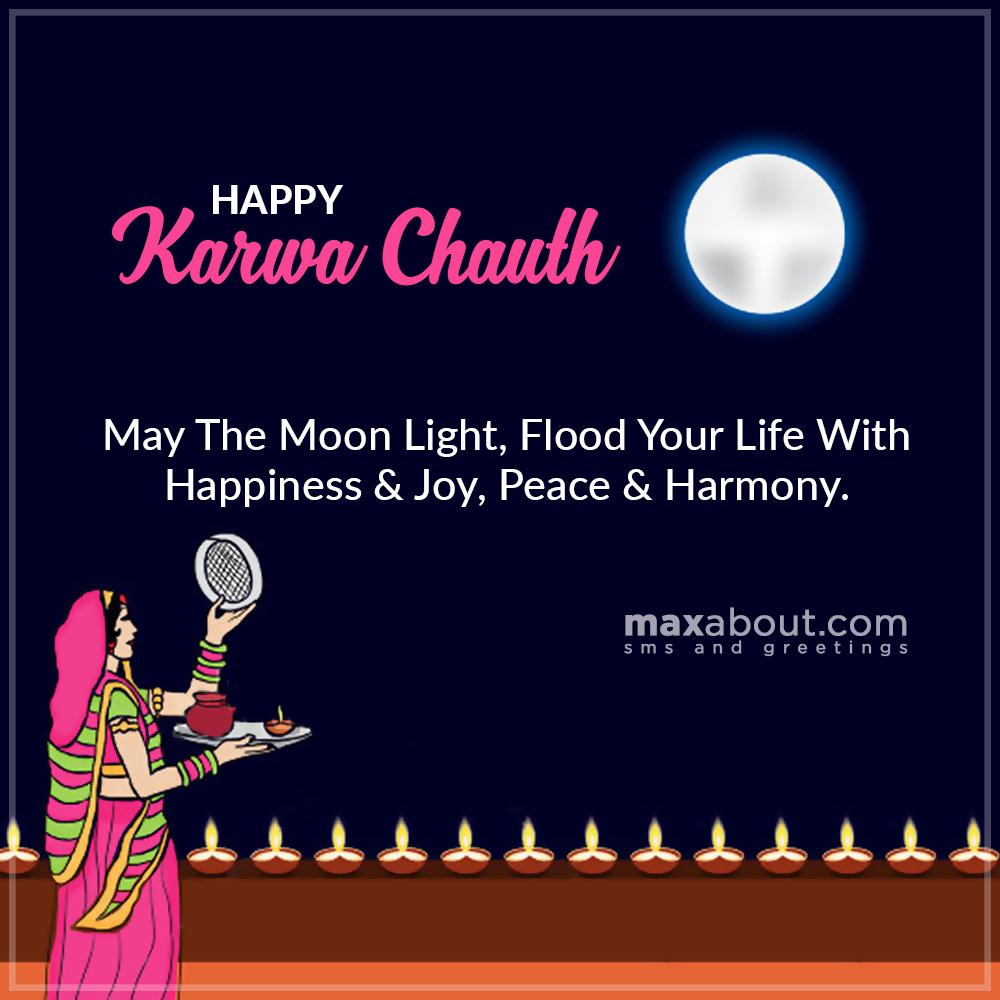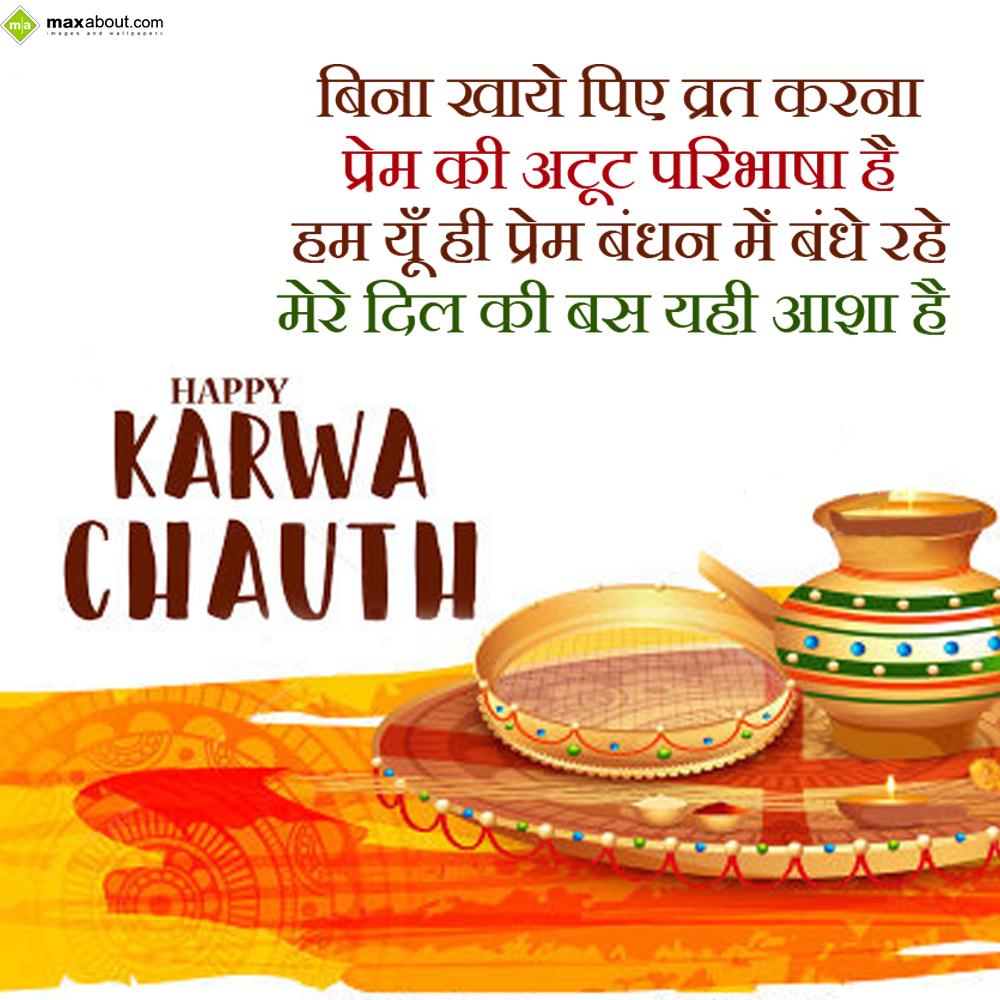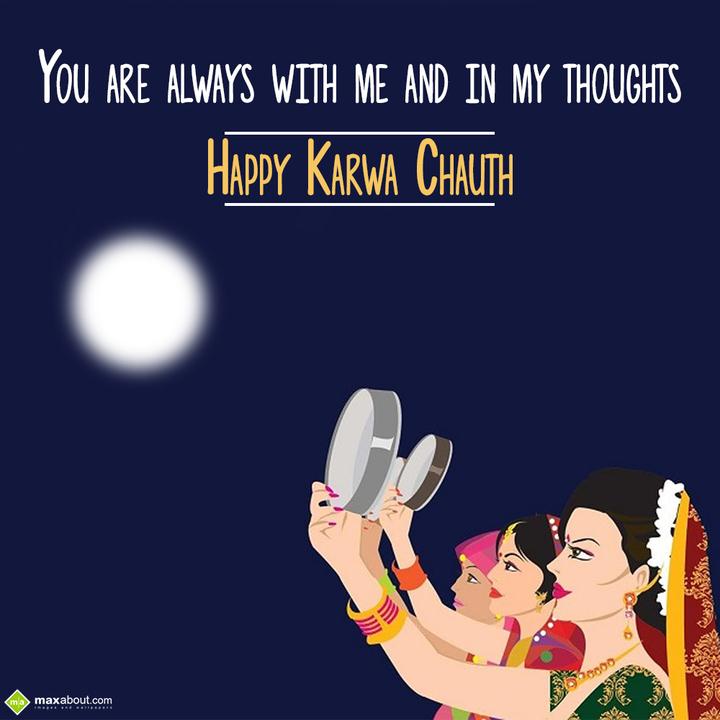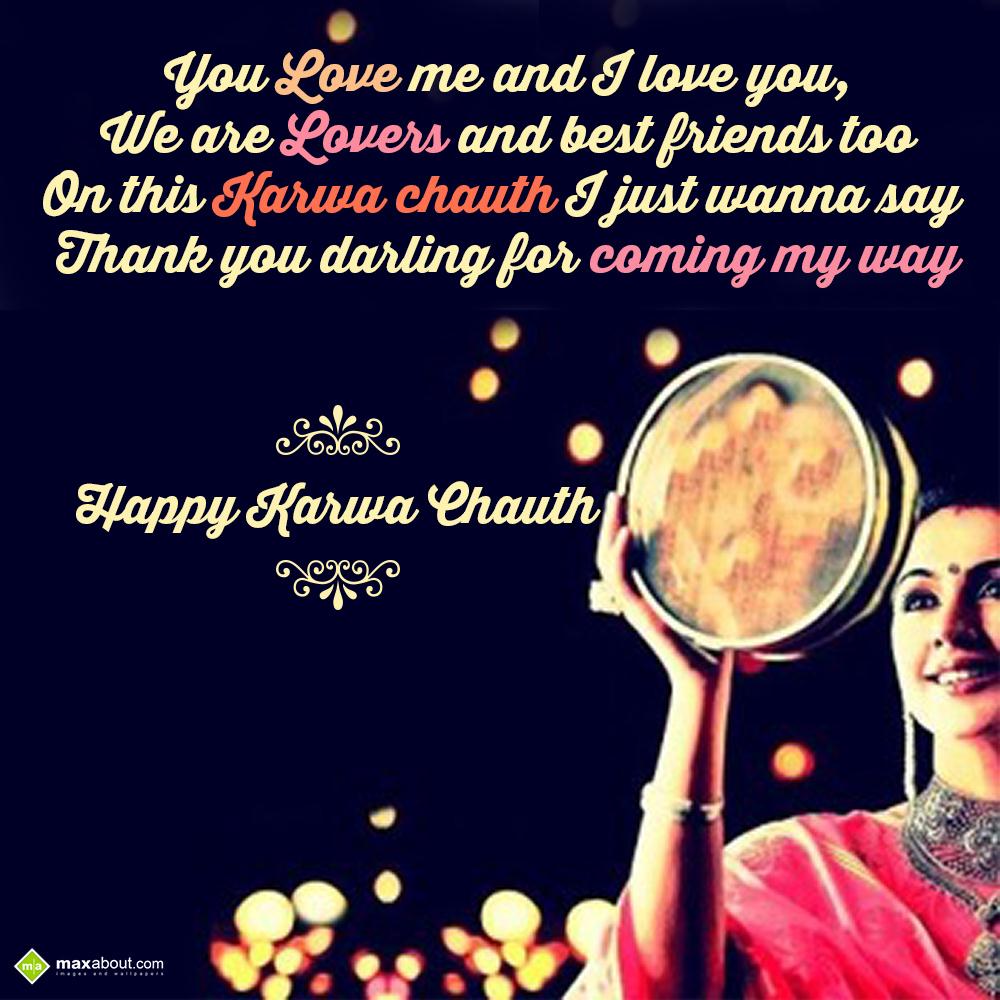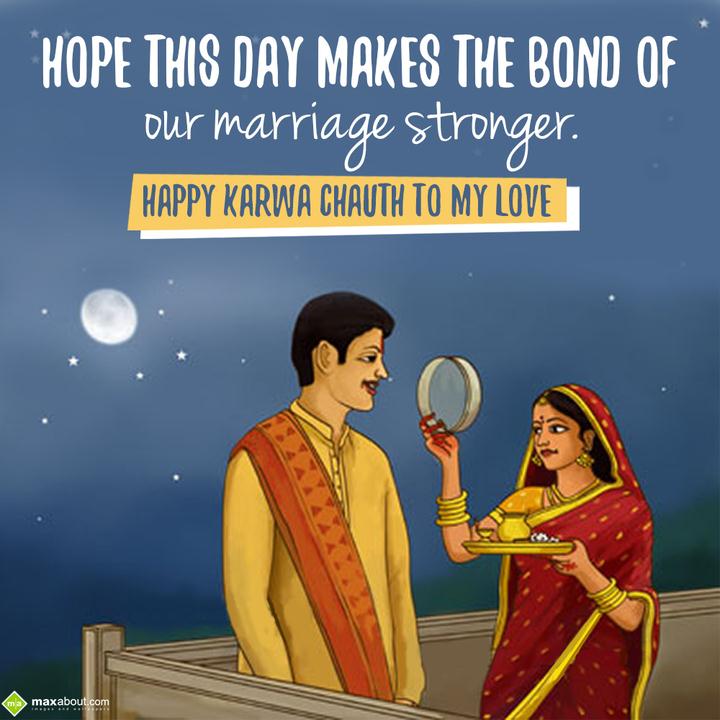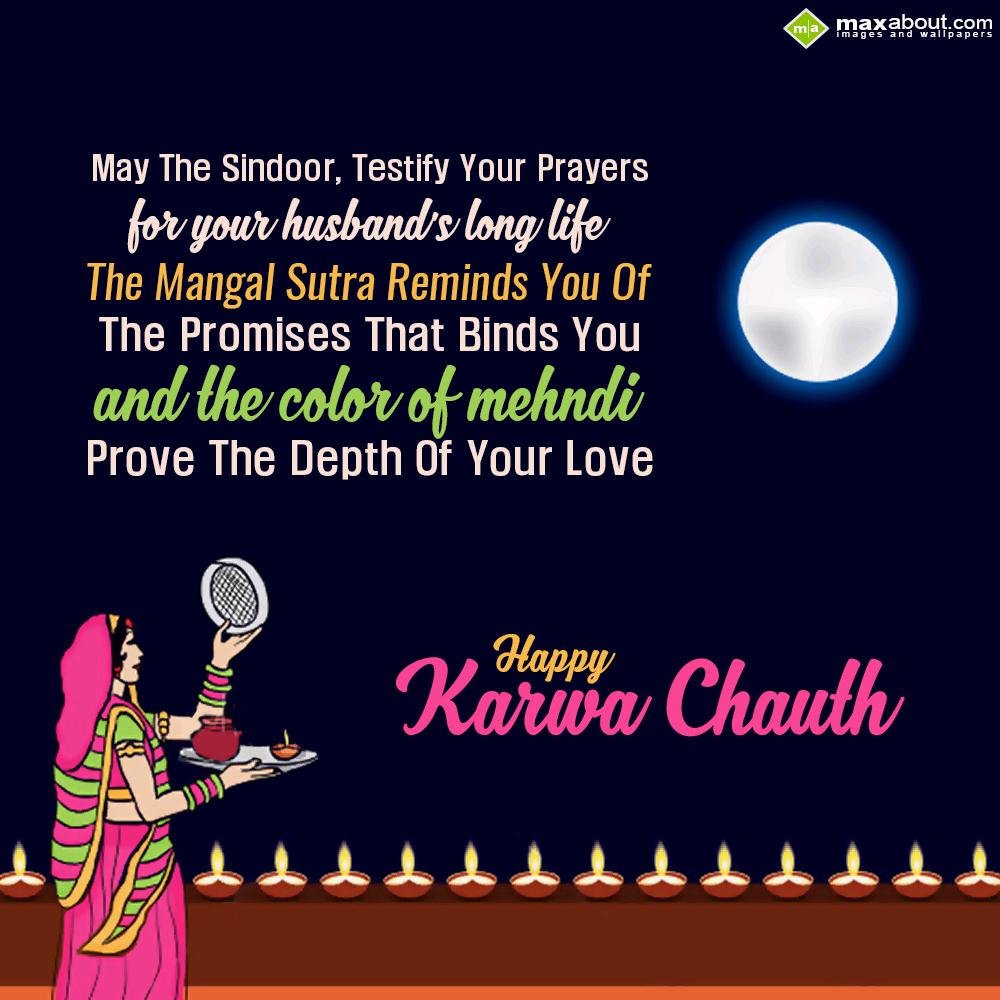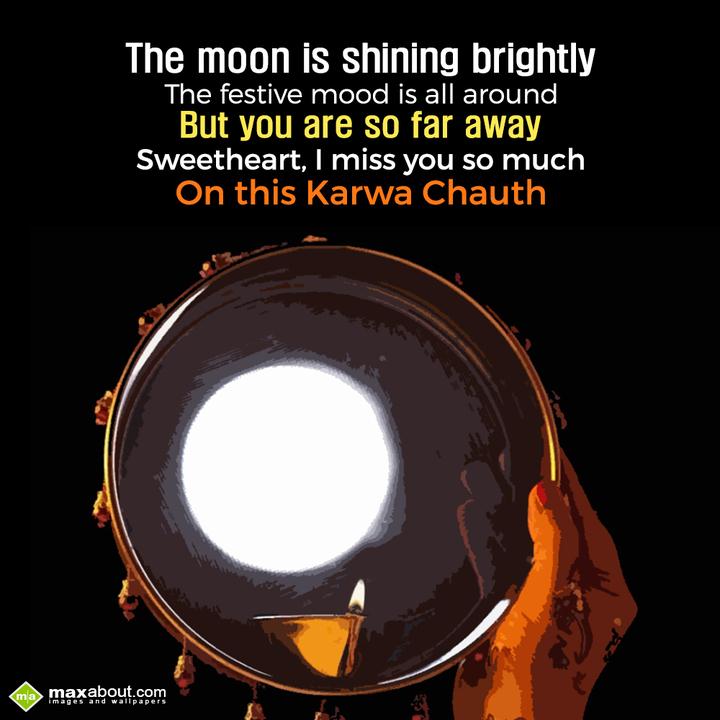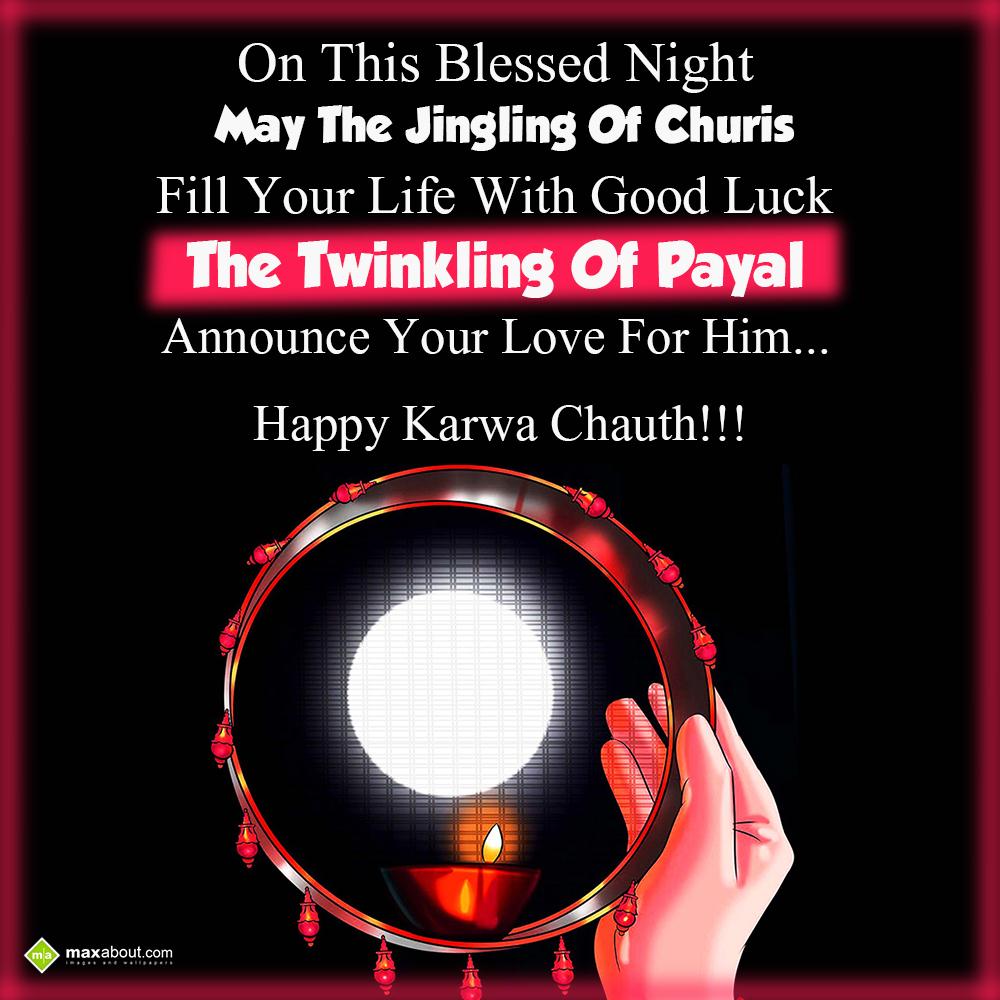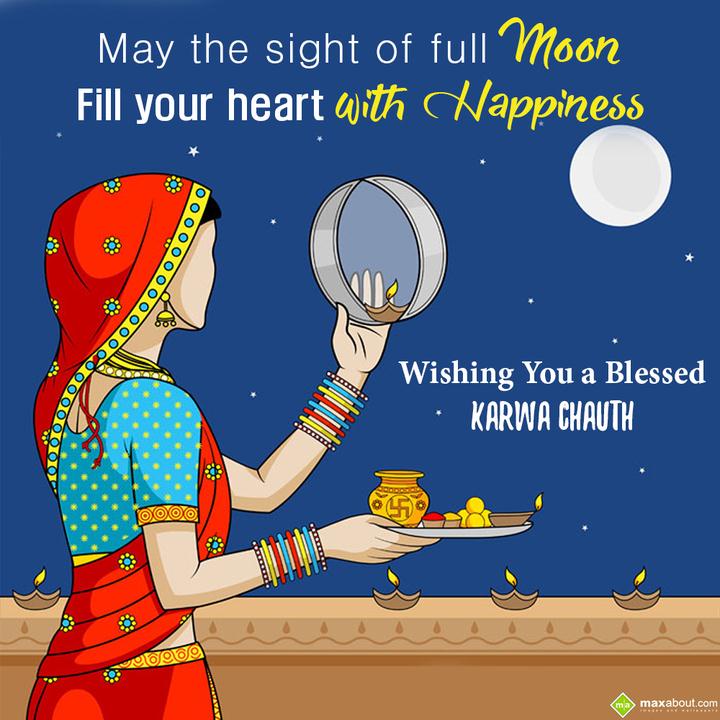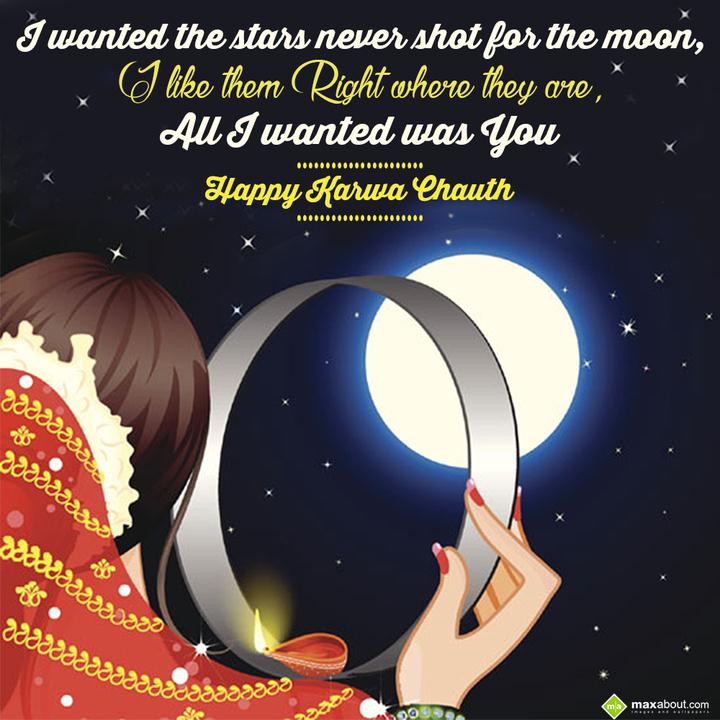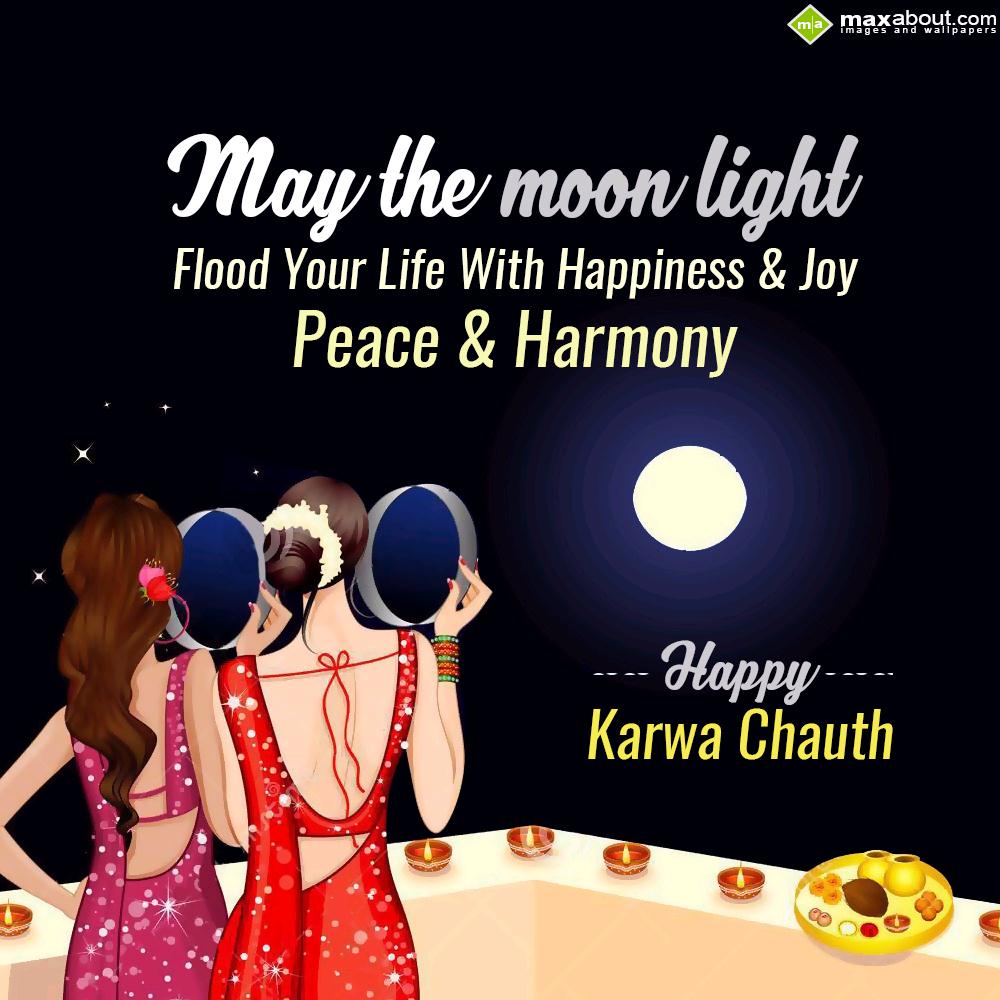 2022 Karwa Chauth Greetings in Hindi
Dil Khushiyon ka ashiana hai,
Isse Dil mein basaye rakhna,
Patni rakhti hai vart aap ke liye,
Aap bhi inhe jindagi bhar hasaye rakhna.
Happy Karwa Chauth 2022!
Karwa Chauth Ka pawan vart,
Aap ke liye mene kiya hai,
Kyuki aap hi ke prem or
Samman ne jindagi ko naya rang diya hai.
Happy Karwa Chauth 2022!
Aaye toh sang laye Khushiyaa hjaar,
Har saal manaye Hum yeh tyohaar,
Bhar de hmara daaman khushiyon ke sath,
De jaye umar tumhe hjar hjar saal.
Karwa Chauth ki Hardik Shubhkamnaye!!
Vart rakha hai meine,
Bs ek pyar ki khwahish ke sath,
Ho lambi umar tumhari,
Or har janam mile hume ek dusre ka sath.
Happy Karwa Chauth 2022!
Patni karti Vart toh Pati karta pyar,
Tabhi toh patni hai tyagti khana har bar,
Aisa hi hai Karwa Chauth ka tyohar.
Suraj ne pucha hai phulon se,
Aaj tum itne khush kyu ho,
Phulon ne kaha muskurate huye,
Aaj payara sa Karwa Chauth hai..
Karwa Chauth ki Vadhayiaan!
Sajh ke baithe hai hum yahan,
Tu kab tak aayega piya,
Kab apne haathon se pila ke pani,
Apne gale se lgayega piya.
Happy Karwa Chauth 2022!
Jab tak na dekhe chehra aap ka,
Na safal ho yeh tyohar tumhara,
Aap ke bina adhura hai jiwan humara,
Jaldi aao dikha do apni surat,
Aur kar do safal Karwa Chauth Hmara!!
In hwaon ke sath yeh farmaan bheja hai,
Suraj ki kirano ke sath slaam bheja hai,
Sabse pehle mubarak ho Karwa Chauth Apko,
Yeh hmne aap ko paigam bheja hai.
Maathe ki bindiya chamkti rahe,
Haathon mei chudiya khankti rahe,
Pairon ki payal chankati rahe,
Piya sang prem bela sajti rahe…
Happy Karwa Chauth 2022!
Importance of Karwa Chauth
The festival also comes at the same time as when it is the wheat-sowing period. It is called the starting cycle for the Rabi crop. There are large earthen pots in which the wheat is saved and stored and these are called Karwas.
Therefore, the fasting process is presumed to have started as a prayer for a good harvest in this primarily wheat-eating area of the North West sub-division of India. Another good story about the beginning of this grand festival is related to the feminine friendship's bond-making act.
And, with the onset of an arranged marriage and its very rich popularity in Northern India, the newlywed is bound to live with her husband as well as in-laws.
Karwa Chauth Rituals
Women start the preparation of Karwa Chauth some days in advance always. They love buying adornments (shringar), jewellery and also puja items. They also buy the Karwa lamps, matthi, and love wearing Mehandi on their hands and feet. They also decorate puja thali (plate) for worshipping the almighty and doing prayers for their husbands.
Additionally, the local bazaars or malls take the initiative to sell all the products needed and related to the festival of Karwa Chauth. The shopkeepers love to display the items which are the latest addition or add-ons in the market. These may involve new designs and models of decorations.
Karwa Chauth Fasting & Dressing Traditions
To keep fast, women from Punjab get up early in the morning to eat and drink well just before sunrise. Here, for this fast, in the region of Uttar Pradesh of India, women eat soot feni by mixing it with sugar on the eve of Karwa Chauth. This helps them retain their health on the day of the festival when they have to eat nothing and drink nothing at all for the whole day till the moon rises.
In the Punjab sub-area of India, for this fast, sargi is taken as an important part of this festival. Here, sargi is taken on as a pre-dawn meal and it has feni included always.
As for eating sargi, it is considered as a traditional ritual which is sent by the in-laws' family the women. If the bride or daughter-in-law lives with her mother-in-law, usually, the pre-dawn meal is cooked by the mother-in-law only.
On the styling front, at the event of Karwa Chauth, women select to wear special garments or dresses. This includes wearing a saree or suit.
However, some new brides who celebrate Karwa Chauth for the first time generally love wearing their bridal dresses or a new lehenga. They do this to observe the joy and happiness of finding their partners and celebrating with them the most.
Also, women of different states love dressing in their traditional dresses to admire their culture and celebrate the festival with a pure traditional feel.
To conclude, it should be mentioned that Karwa Chauth is an auspicious festival for Hindu couples and they love celebrating it in full zest and happiness..!