2022 Navratri Wishes, HD Images, Greetings and Messages
What is Navratri Festival?
Navratri is a nine-day festival, which is devoted to Goddess Durga. It is all set to be commenced soon by the time of September 2022. However, Navratri falls around four times a year. The Shardiya one particularly falls during Autumn and it is one of the most cherished festival seasons for Hindus all across the world.
This year, the Shardiya Navratri will begin on 26th September 2022 and it will be there till 5th October 2022. Further, Shardiya Navratri falls in the holy month of Ashwin as per Hindu mythology.
It is celebrated during the Autumn season and its significance holds utmost importance in almost all Hindu communities. This particular festival is celebrated near another wonderful festival of Hindus, which is called Vijayadashami.
Interesting Facts About Navratri Festival
In a year there are five Navratri whereas the Sharad Navratri is the most significant.
The Garba and Dandiya are performed during Navratri in which the dancers move in a circle. This circle signifies the circle starting from birth to death.
In Banglore, on the ninth day of Navratri, it is a common site where people worship the things by which they earn their livelihood, hence we also see people worshipping computers, CDs and computer books.
Tales also say that Lord Ram worshipped Goddess Durga for nine days, hence he was able to kill Ravana.
For nine nights, nine different forms of Durga are worshipped.
In West Bengal, to mark the end of Mahishasur, a buffalo is slaughtered as a ritual.
In Karnataka, the tenth day after the Navratri is celebrated as Dasara or the Royal Festival.
The festival is also a major crop season event.
Here is the best collection of 2022 Navrati Wishes, SMS, Greetings, and Images to share with your friends and relatives on WhatsApp, Facebook and Instagram:
2022 Navratri Wishes (Best Collection)
It's an auspicious day of Navratri, make a wish and it shall come true, do good deeds and forget the rest, Maa is constantly watching on you. Happy Navratri 2022!
It's the special time of Navratri and I don't want to miss a chance to say, you mean to me more than you, Enjoy your Navratri today!
Joy, health and a lot of charm, success, status and no harm, these are my special wishes to you, may each day of Navratri be something new, Happy Navratri 2022!
Those empty spaces were my silent prayers, asking Maa Durga to guide and protect YOU always in whatever YOU do and wherever YOU are! Happy Navratri and Durga Puja 🙂
Memories of moments celebrated together, moments that have been attached to my heart forever, make me miss you, even more, this Navratri. Hope this Navratri brings in good fortune. Happy Navratri!
May this Navratri bring happiness to your life. Hatred is far apart from your life. Enjoy the festival with love in your heart. Those who have learned to respect and not be greedy will be fortunate. I know you are always respectful and so you are among the fortunate! Happy Navratri 2022!
This Navratri, may you be blessed with good fortune as long as Ganeshji's trunk, wealth and prosperity as big as his stomach, happiness as sweet as his laddoos and may your trouble be as small as his mouse. Happy Navratri!
Feast and have fun, the dandiya raas has begun, and Maa is blessing us through, a very Happy Navratri to you!
Memories of Moments Celebrated Together, Moments That Have Been Attached In My Heart Forever, Make Me Miss You, Even More, This Navratri. Happy Navratri 2022!
Hope This Navratri Brings In Good Fortune and Long-Lasting Happiness to You! Happy Navratri 2022!
9 days of prayers, 9 nights of joy, Navratri is here, my friend. May Goddess Durga bless you for your prayers! Memories of performing our prayers together, Memories of Navratri celebrations gone by, Moments that will stay with me forever.
May this festival be the harbinger of joy and prosperity. As the holy occasion of Navratri is here and the atmosphere is filled with the spirit of mirth and love, here's hoping this festival will be great for you!
Nava Durga has come into our lives to grace them with her power and strength….. Let us worship her and seek her blessings to become better persons….. Happy Navratri to you.
May Maa Durga is always there to guide us through the difficult times of our lives. Warm greetings on the occasion of Navratri to you and your loved ones.
Till the time we have Maa Durga blessing us with her love and protection, we have nothing to fear in life. Happy Navratri to everyone. Happy Navratri 2022!
On the occasion of Navratri, let us thank Maa Durga for always blessing us with whatever we have desired. Wishing you a very Happy Navratri to you.
Let this Navratri be the end of a wonderful year together and the start of a much more wonderful journey together. I love you! Happy Navratri!
The occasion of Navratri is all about enjoying the Garba with our loved ones and fasting to please Maa and seek her love and blessings. Wishing you a very Happy Navratri.
I hope that you achieve the strength and power of Maa Durga and reflect them through your attitude and actions. I wish that Maa Durga loves you more than I do. Happy Navaratri 2022!
May the bright colours of Navratri bring into our lives high spirits and positivity. Wishing a blessed and cheerful Navratri to you my dear.
May Maa Durga Durgatinashini brings joy to you and your loved ones. May the Divine blessings of Maa Durga be with you always Happy Days Puja. Happy Navratri.
May Maa Durga Light Your Life With Infinite Blessings of Prosperity, Happiness and Peace. Happy Navratri 2022!
May Maa Durga empower you & your family with her Nine Swaroopa of Name, Fame, Health, Wealth, Happiness, Humanity, Education, Bhakti & Shakti. HAPPY NAVRATRI 2022!
May This Navratri be as bright as ever. May this Navratri bring joy, health and wealth to you. May the festival of lights brighten up your and your dear ones' lives. Happy Navratri!
This Navratri, may you be blessed with good fortune. As long as Ganeshji's trunk, Wealth and prosperity as big as his stomach, Happiness as sweet as his laddoos. And may your trouble be as small as his mouse. Happy Navratri!
Nine NAVRATRI prasads for You, 1) Shanti 2) Shakti 3) Saiyam 4) Sanmaan 5) Saralta 6) Safalta 7) Samridhi 8) Sanskaar 9) Swaasthya …HAPPY NAVRATRI 2022!
This Navratri may there only be happiness in your life. Wishing you all a very Happy Navratri!
2022 Navratri Images HD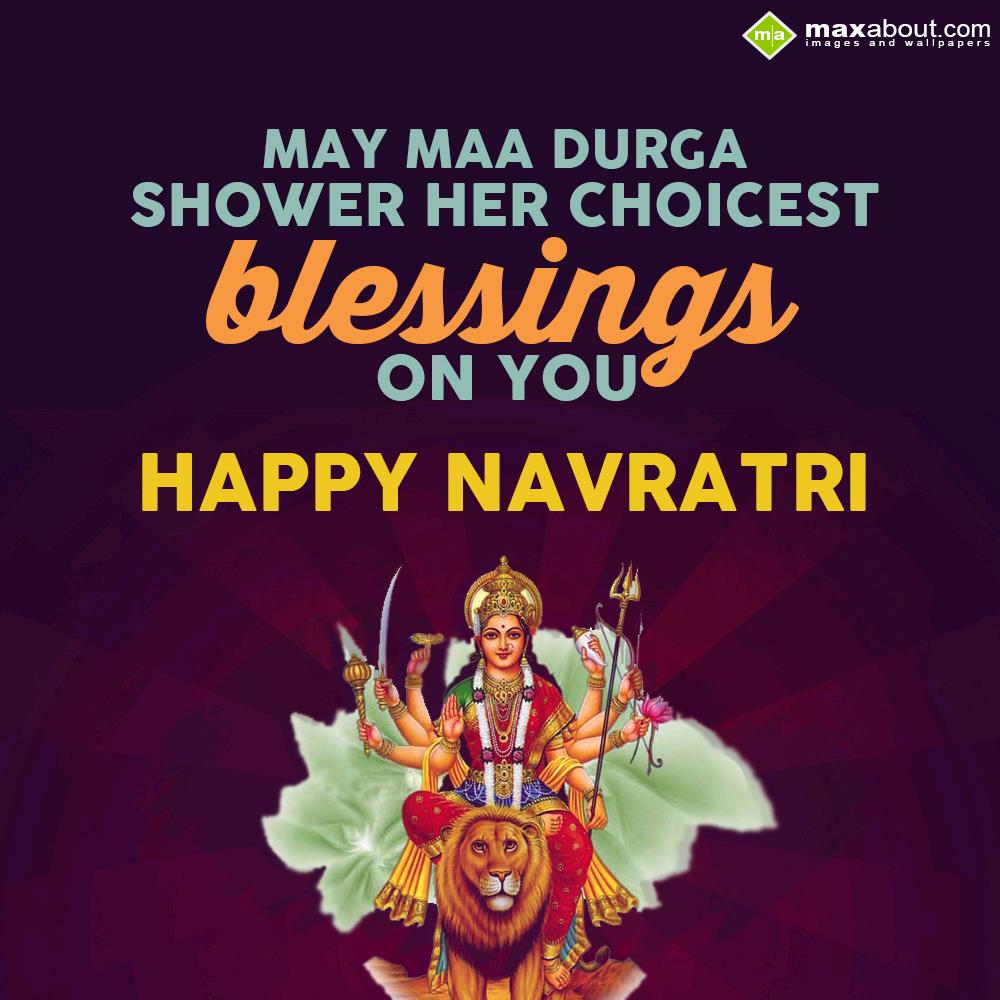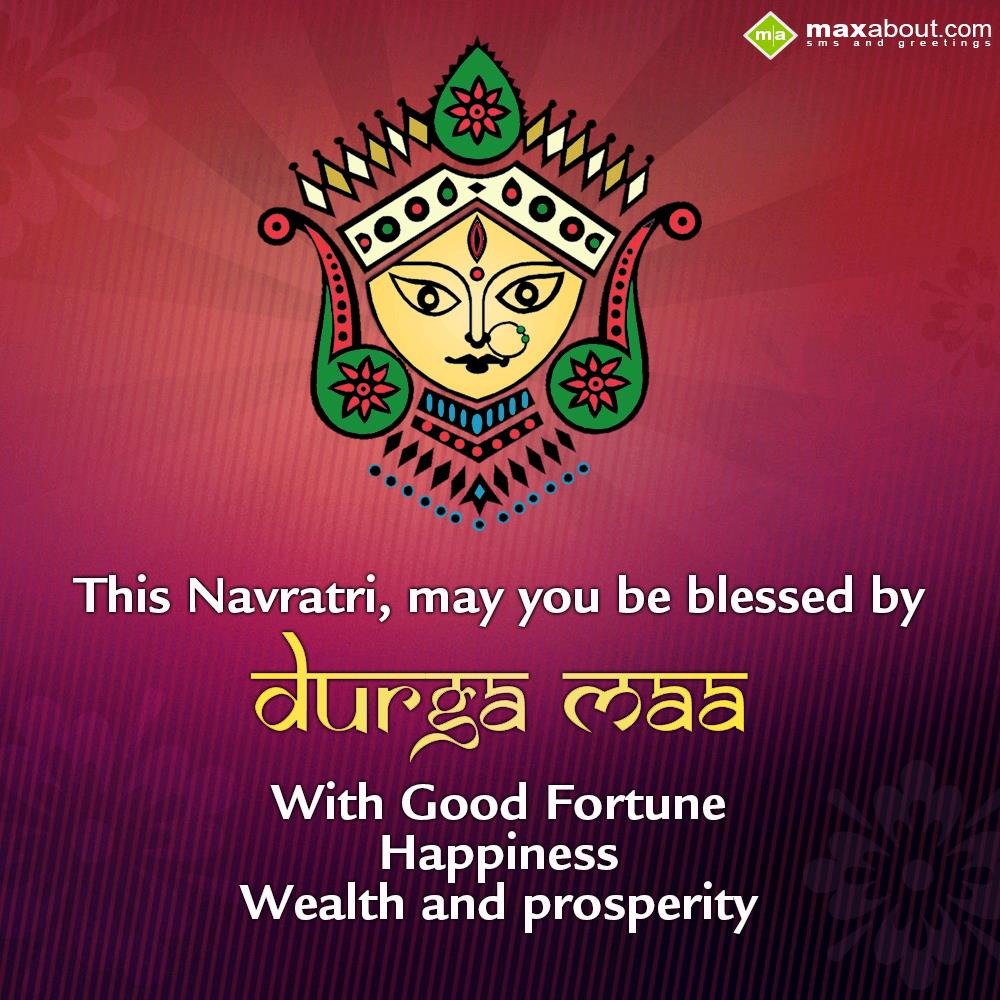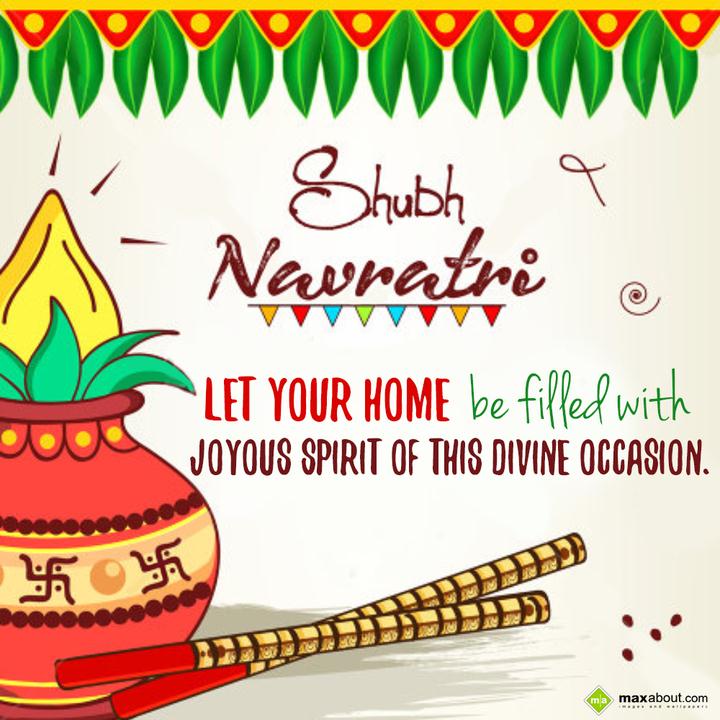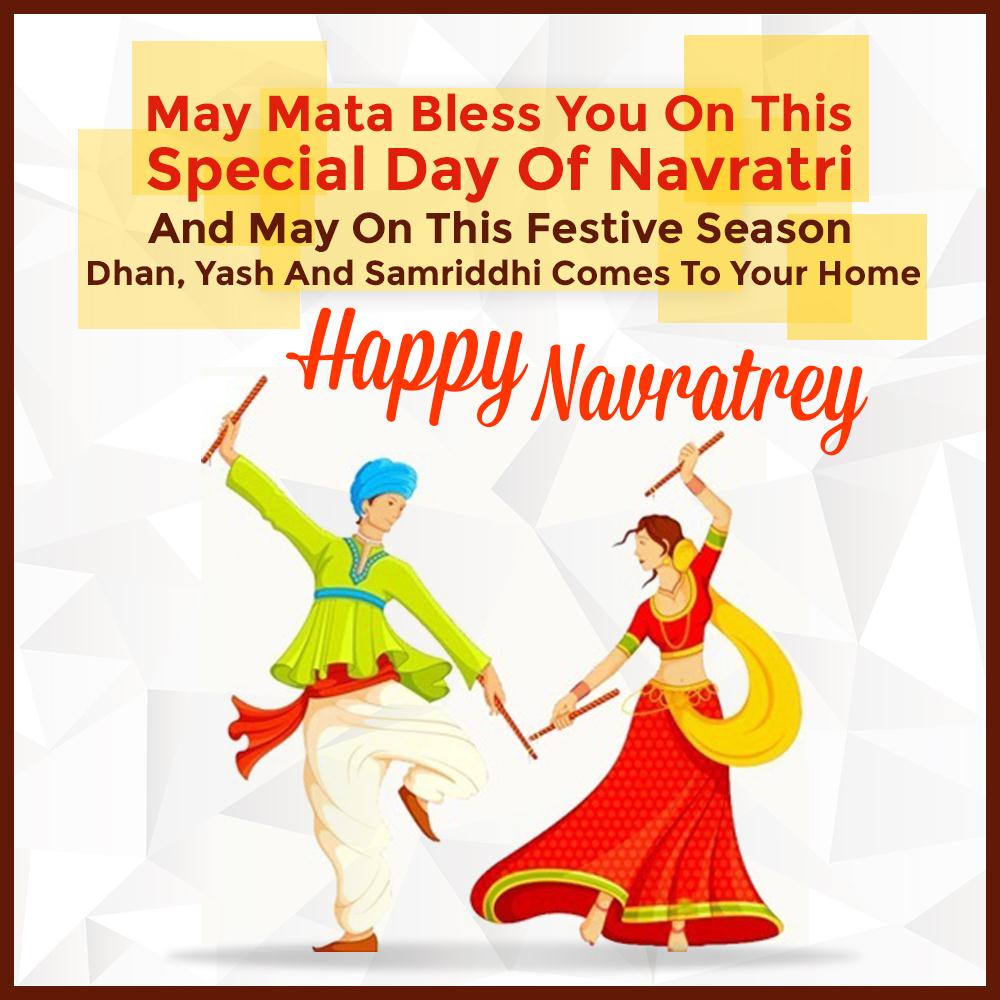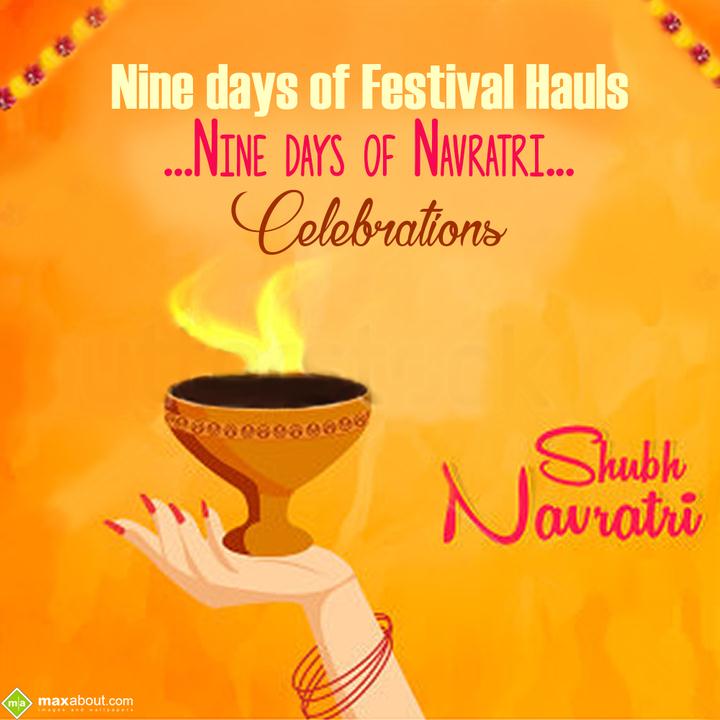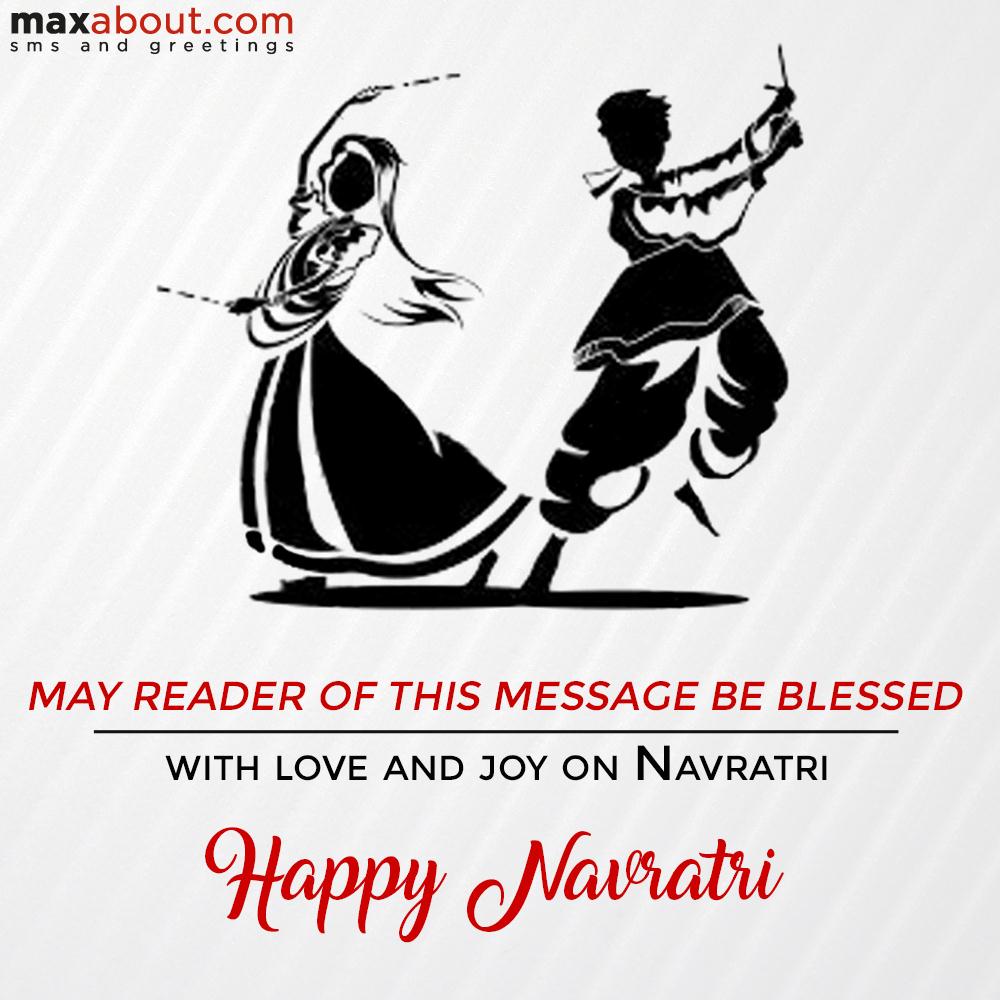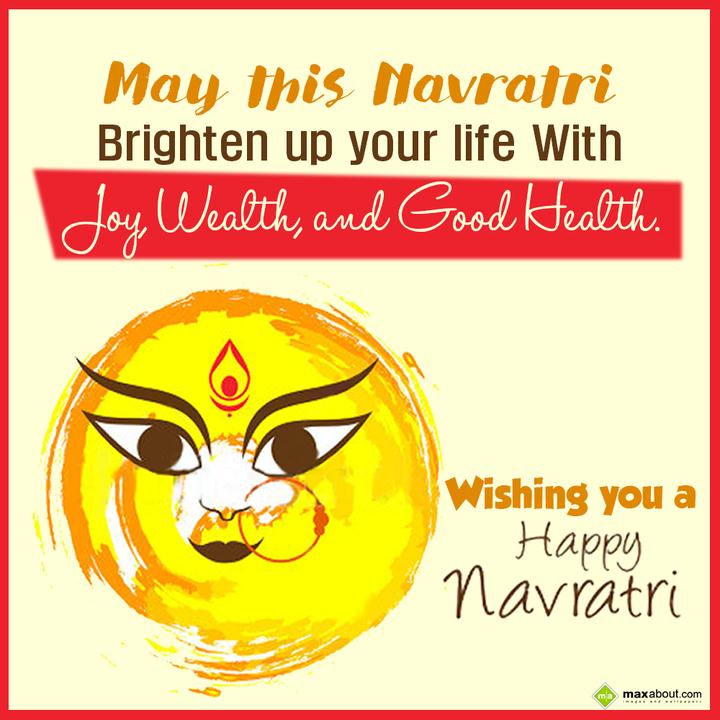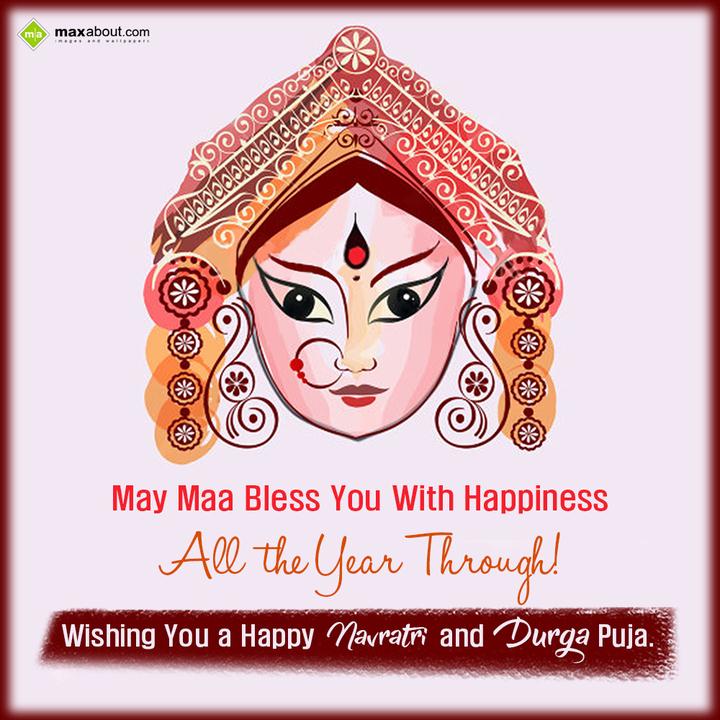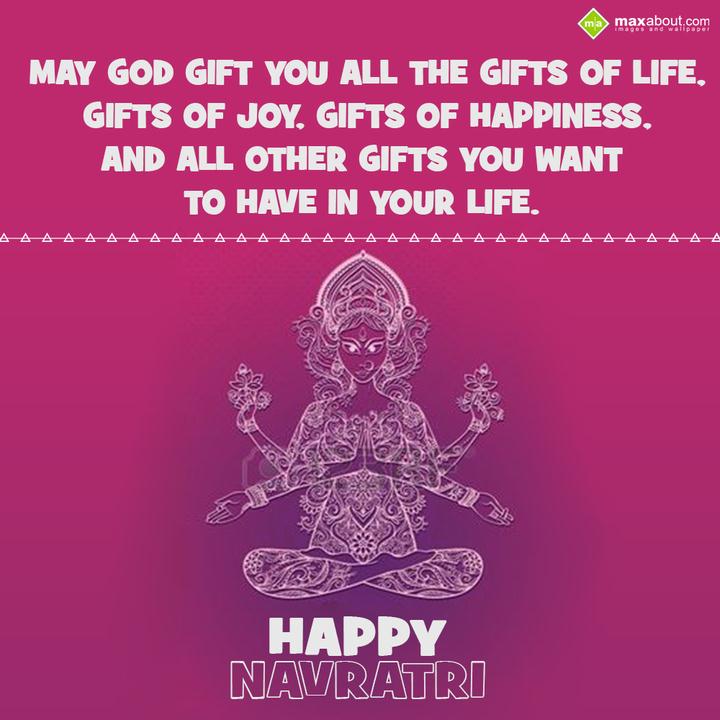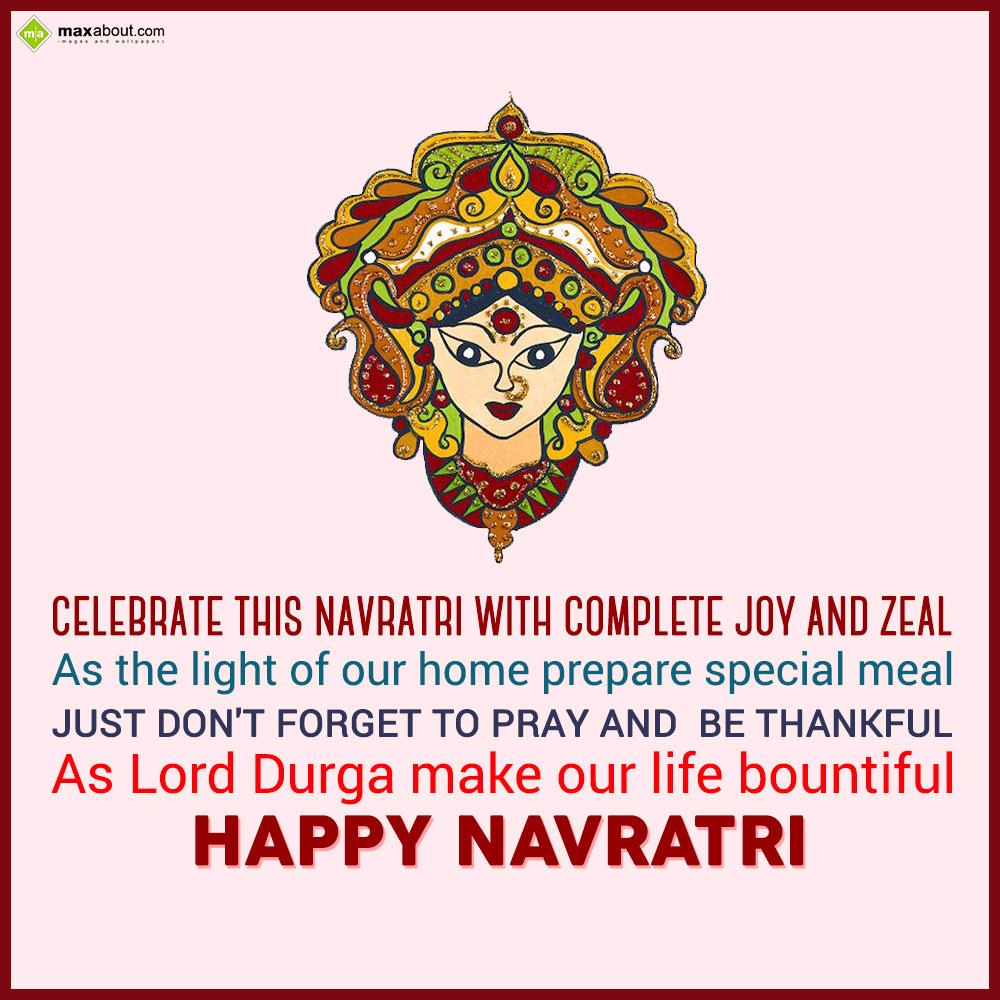 Happy Navratri 2022 Images for Instagram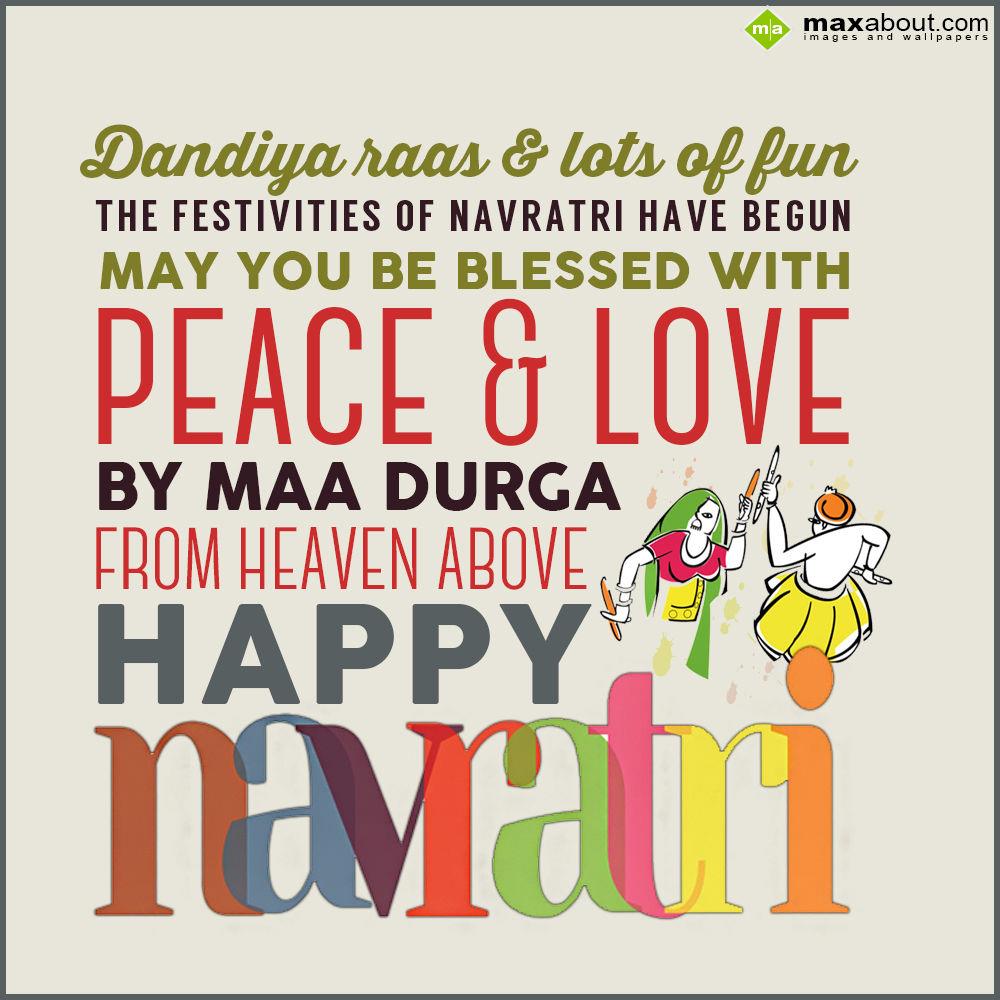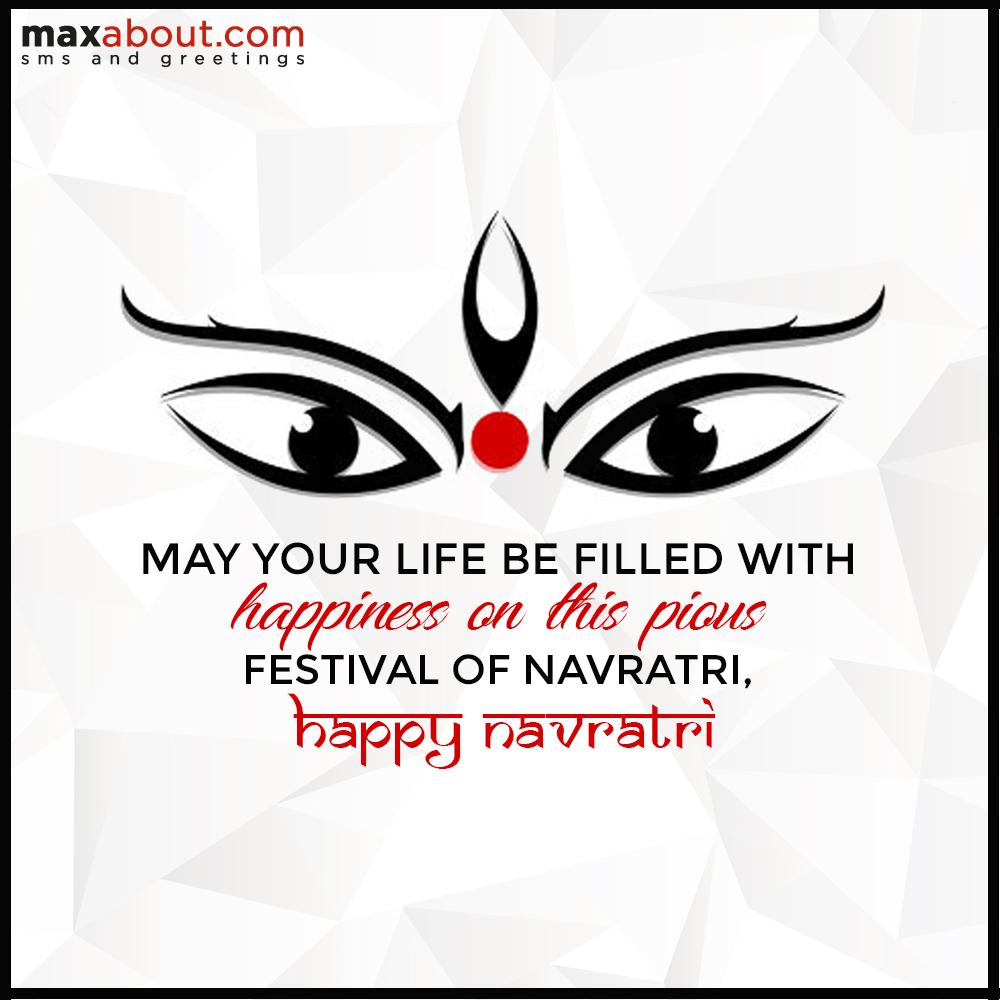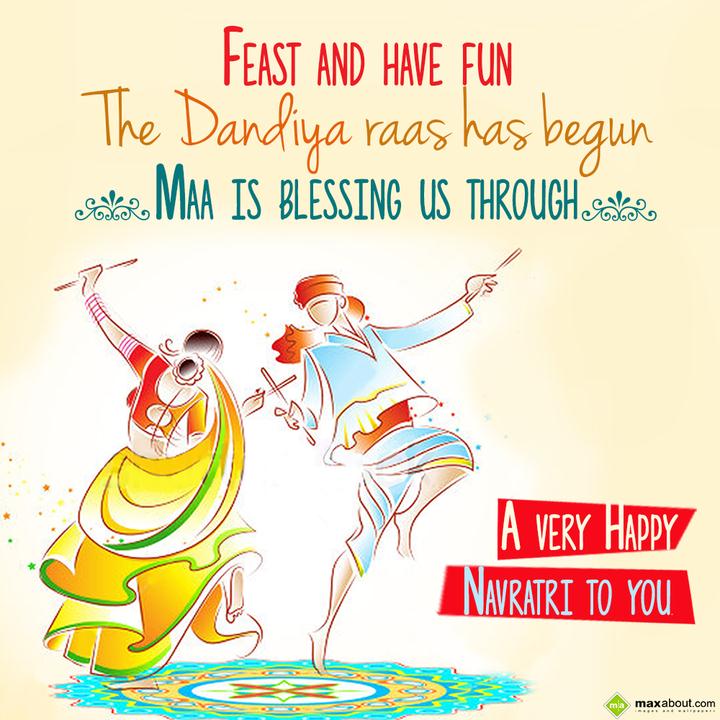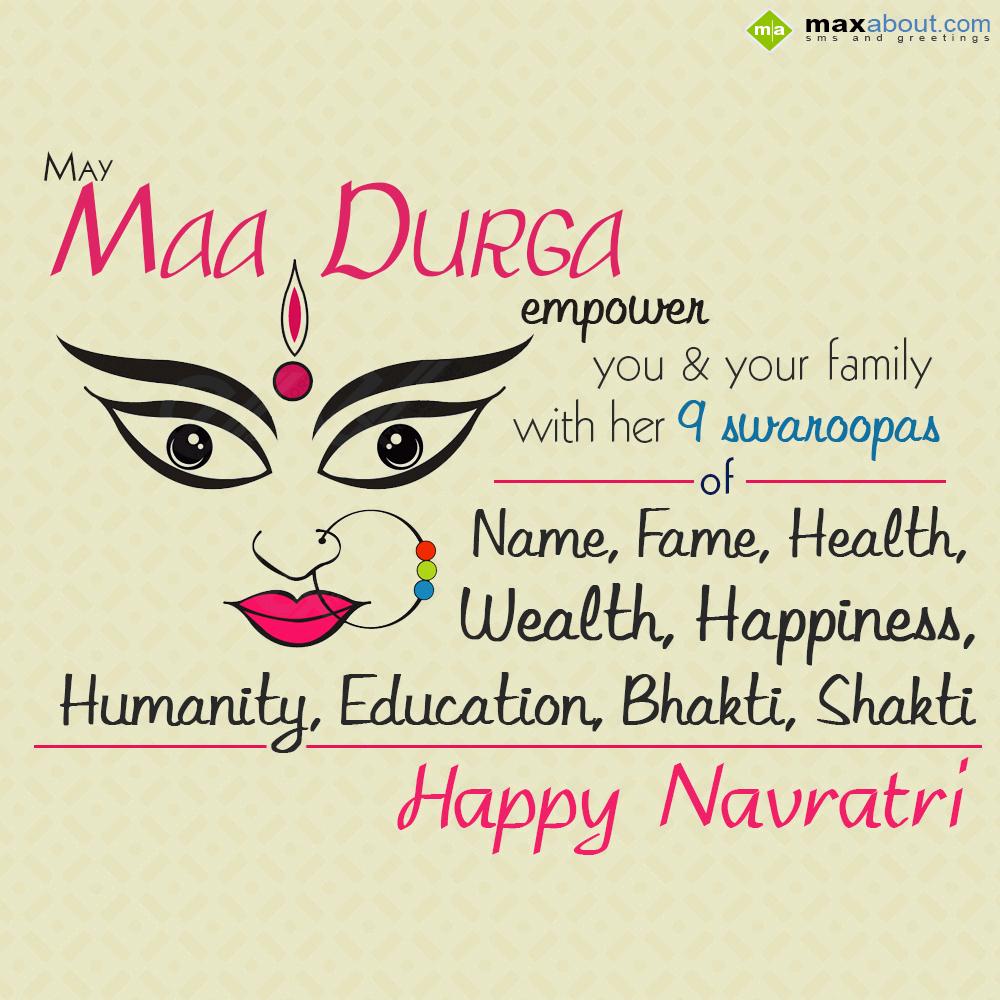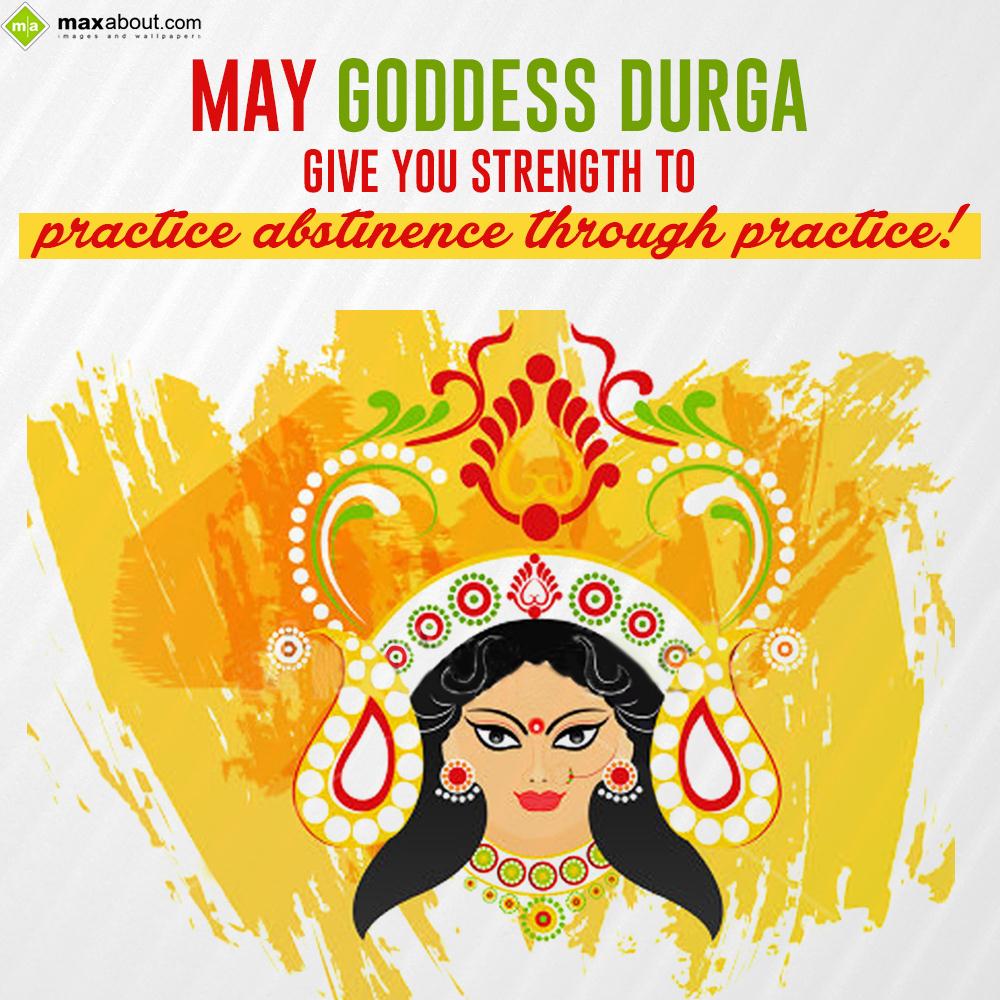 2022 Navratri Images in Hindi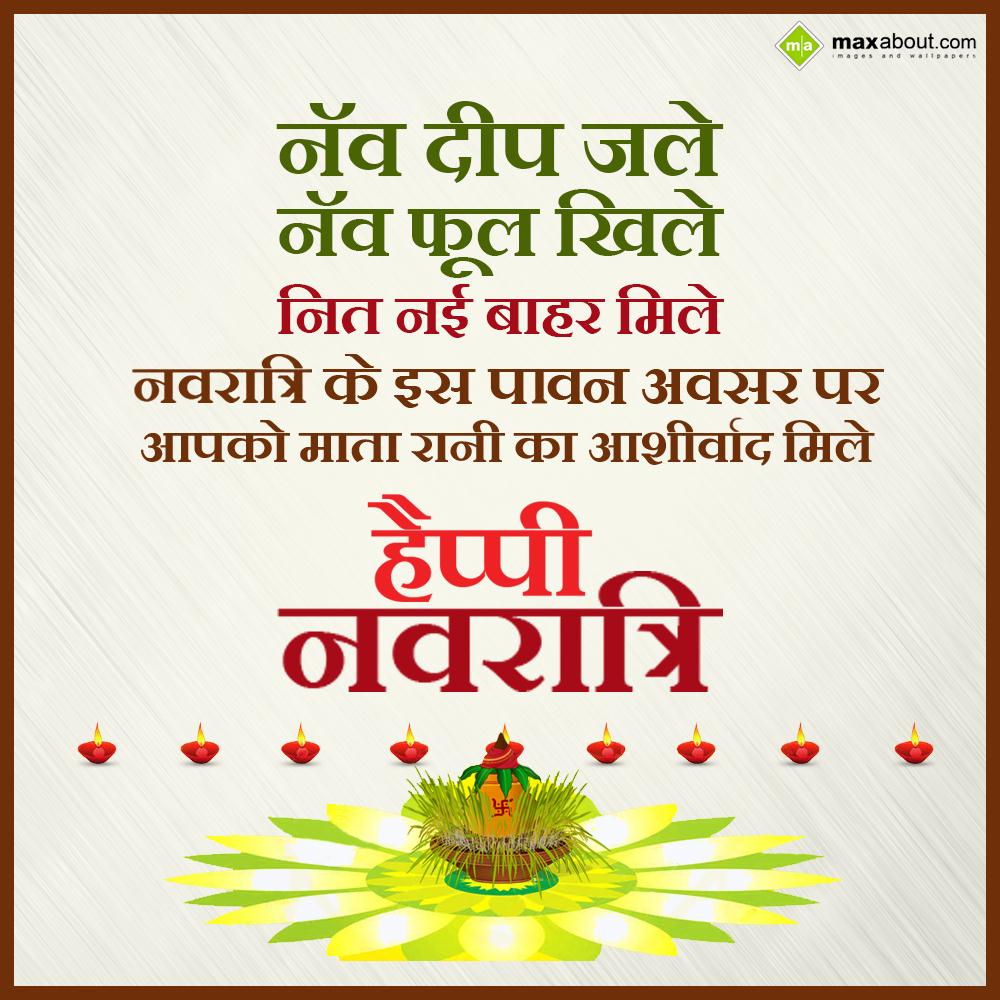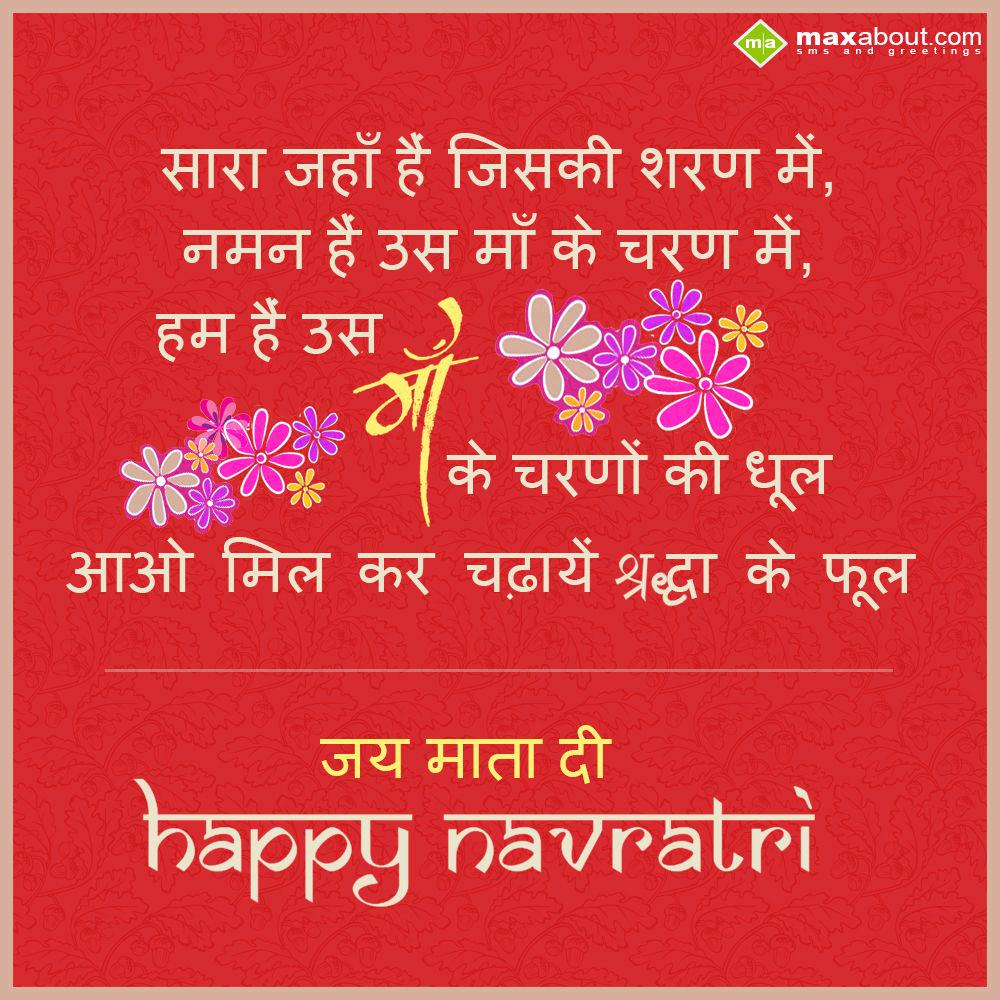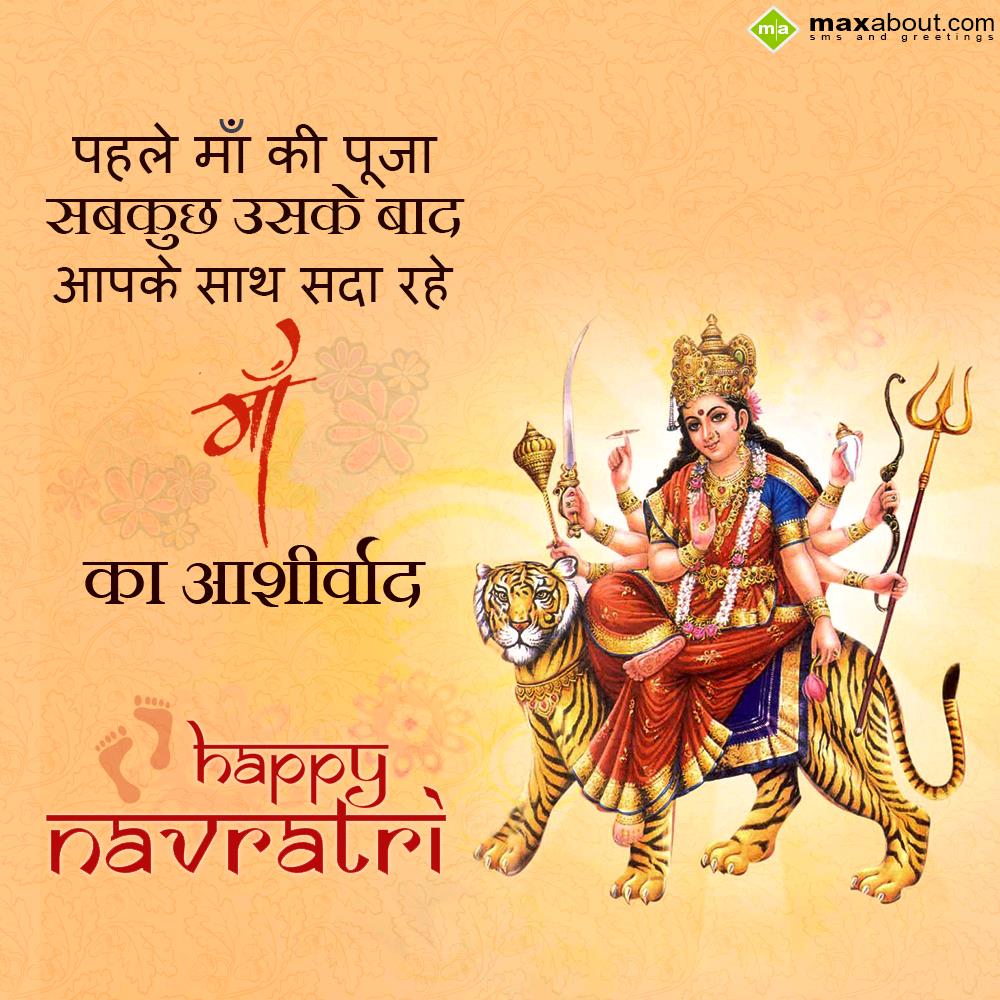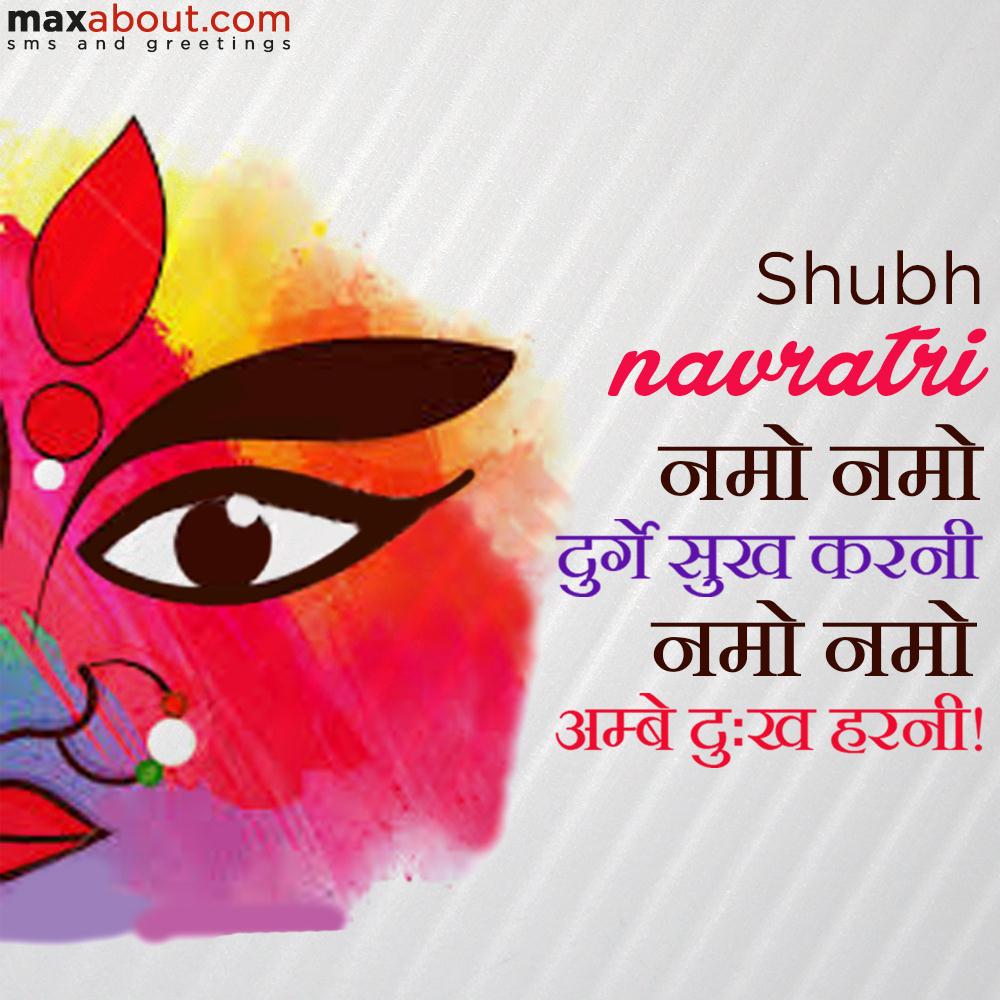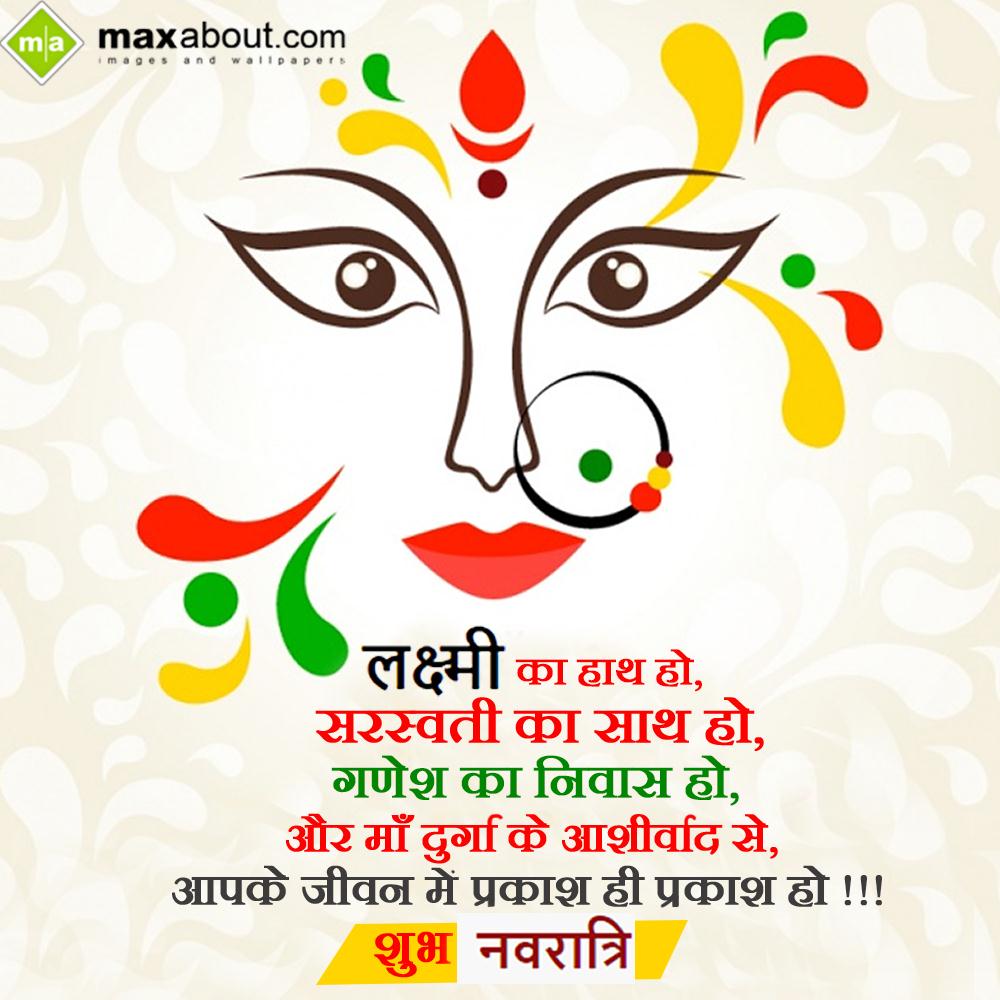 Hindi Happy Navratri 2022 Wishes
Lal rang k chunri se saja ma ka darbar, Harshit hua sansar, Nanhe-namhe kadmo se, Maa aaye aapke dwar, Mubarak ho aapko, Navratri ka tyohar! JAI MATA DI!
Jitne bhi hai jaha pe, unhi ke lal hai sare, unke hi isaro pe chalte, ye chand aur tare. Pal bhar ke liye hi sahi, maa ko yaad kijiye, hogi puri tamna jara phariyad kijiye. Happy Navratri!
I pray to maa Durga to give you all – SHANTI, SHAKTI, SAMPATTI, SWARUP, SADGI, SANYAM, SAMMAN, SARASWATI aur SNEH… Navratri ki Subhkamnayen.
Choti Si Zindagi Mein Fikar Bahut Hai, Maar Dalti Ye Duniya KabKa Hamein, Lekin.. Durga Maa Ke Aashirwad Mein Asar Bahut Hai.!! Happy Navratri!
Meri Hasi ka Hisab kaun karega, Meri Galti ko Maaf kaun karega, Ae Maa mere sabhi Dosto ko Salamat rakhna, Warna Navratri me "Lungi" Dance kaun karega…!!!
Aa Gai, Hokar Singh Par Sawar Mata, Rani Aa Gai, Hogi Ab Mann Ki Har Muraad Puri…Harne Ab Saare Dukh Mata Dware Aa Gai. Happy Navratri.
Devi ke kadam aapke ghar me aayen, aap khushali se nahayen, pareshaniya aapse aankhen churayen, NAVRATRI ki aapko shubh kamnayen. JAI MATA DI
Maa Durga he To Hai Daya Ki devi, Unke Hathon Mein Hai Sara Sansar, Dilse Karo Unki Vandana, To Ho Jaye Beda Paar.
Namo Namo, Durge Sukha Karani, Namo Namo Ambe Dukh Harani. Shubh Navratri 2022!
Lakshmi ka Hath ho, Saraswati ka Sath ho, Ganesh ka niwas ho, Aur maa durga ke ashirwad se, Aapke jeevan mai prakash hi prakash ho… Happy Navratri!!!
Celebration of Navratri Festival in India
Shardiya Navratri is celebrated in honour and worship of Goddess Durga; as well as during these holy nine days, her nine forms, Shailaputri, Brahmacharini, Chandraghanta, Kushmanda, Skanda Mata, Katyayani, Kalaratri, Mahagauri, and Siddhidatri are worshipped.
Shardiya Navratri holds a great celebration in the Indian subcontinent. It is celebrated in honour and praise of Goddess Durga during the auspicious nine days.
Also, at a time when Navratri comes in north India, Durga Puja is also a festival which is celebrated in west India. These two festivals denote the same purpose of worship of Goddess Durga.
However, in the southern part of India, a festival showcasing idol dolls, and figurines, well-known as Kolu, is also celebrated. To conclude, it could be said that the time of Navratri brings sheer happiness, joy and recognition of the power of womanhood. So it is still considered a wonderful festival of the prime auspicious season in India.