2022 Makar Sankranti Wishes, Images & Messages [Best Collection]
The month of January of every new year is the month of festivals and Jayanti. While Youth Day is celebrated as the birth anniversary of Swami Vivekananda on 12th January, Makar Sankranti is celebrated on 14th January, it is the most important festival of Hindus. Makar Sankranti has as much scientific significance as it has religious importance. In fact, it is said that when the sun enters Capricorn, the sum of Makar Sankranti is formed, but there are many other changes. Makar Sankranti is related not only to religion but also to other things, which have scientific connections as well as links with agriculture. Here is the best collection of Makar Sankranti wishes and images:
2022 Makar Sankranti Wishes & Messages
Sankranti, the festival of the Sun is here! May it bring you greater knowledge and wisdom and light up your life for the entire new year. Happy Makar Sankranti!!
TIL Hum Hai, Aur GUL Aap, MITHAI Hum Hai Aur MITHAS Aap, SAAL Ke Pahale Tyohar Se Ho Rahi Aaj SHURUWAT, Aap Ko Hamari Taraf se "HAPPY MAKAR SANKRANTI"
Meethe gud main mil gaya til, Udi patang aur khil gaya dil, Har pal sukh aur hardin shanti, Aapke liye Happy Makar Sankranti.
Mandir ki ghanti, Arti ki thali, Nadi k kinare suraj ki lali, Zindagi me aye khushiyo ki bahar, Apko mubarak ho Sankrant ka tyohar.
Dhoom macha de, patang uda de, dahi chura kha ke duniya hila de. 'HAPPY MAKAR SANKRANTI AND DAHI CHURRA'.
A new beginning, A new destination, With happiness or sorrow, With pain or pleasure. Happy Makar Sankranti!
Wishing u a very happy Makar Sankranti! May the Makar Sankranti fire burns all the moments of sadness and brings you warmth of joy, happiness and love!
Moongfali di khusboo te Gurh di mithaas, Makki di roti te Sarson da Saag, dil di khushi te apneya da pyar, mubarak hove tuhanu Makar Sankranti da tyohar.
2022 Makar Sankranti Images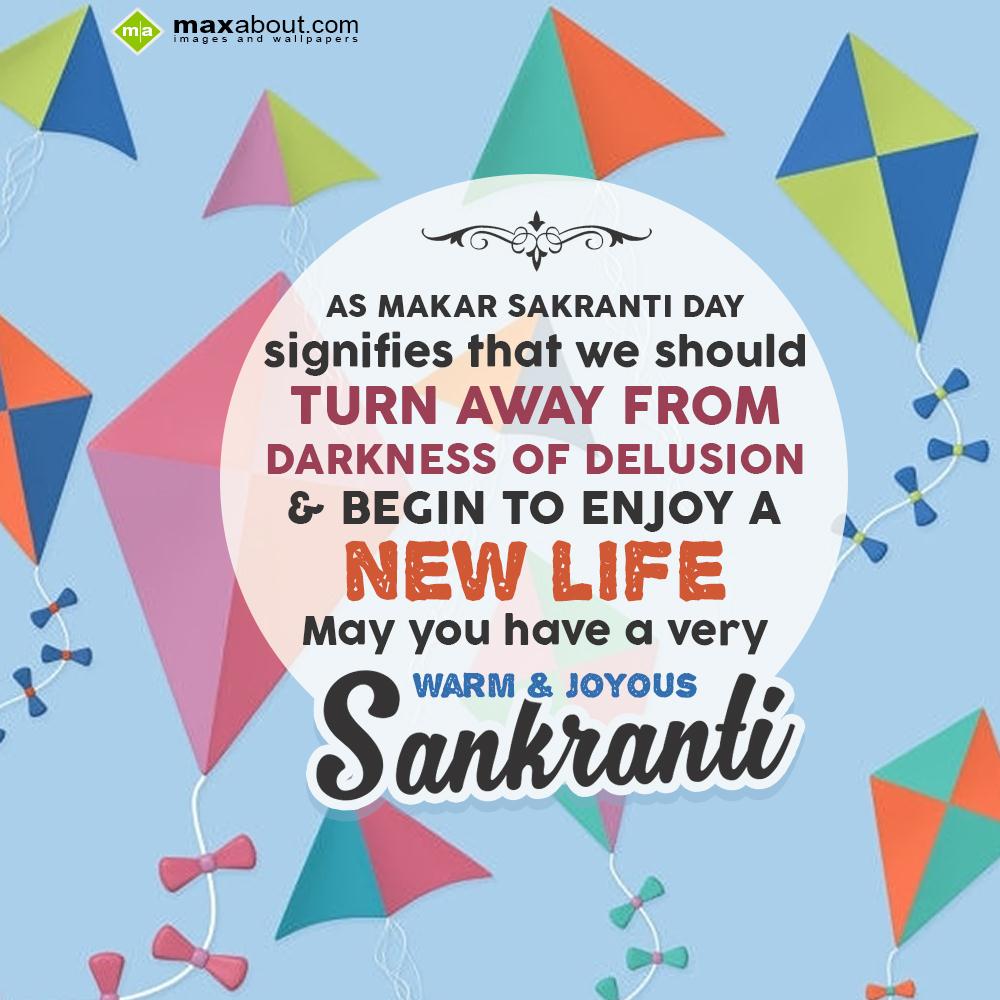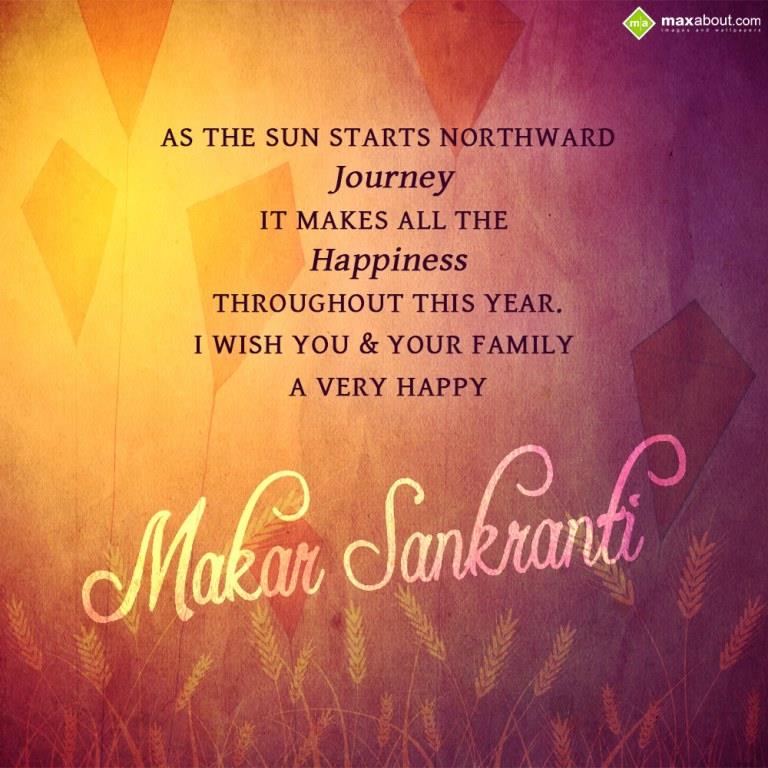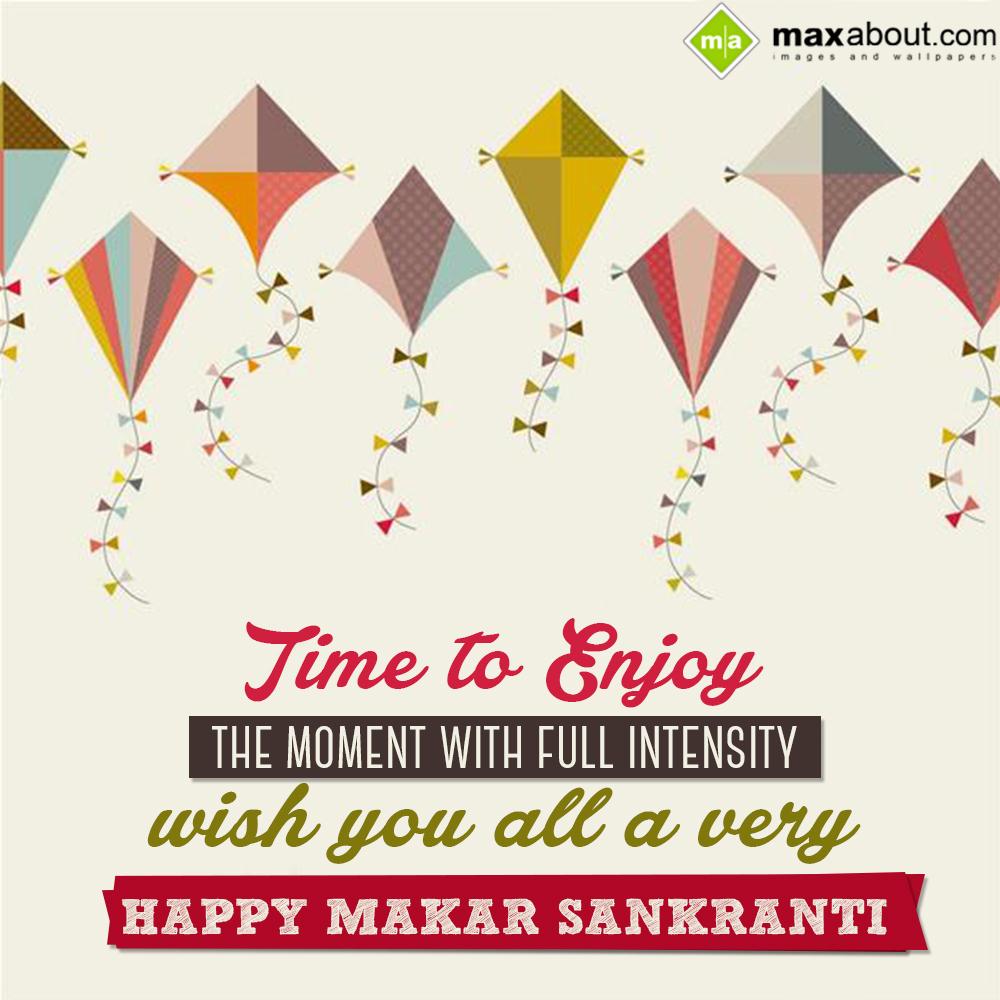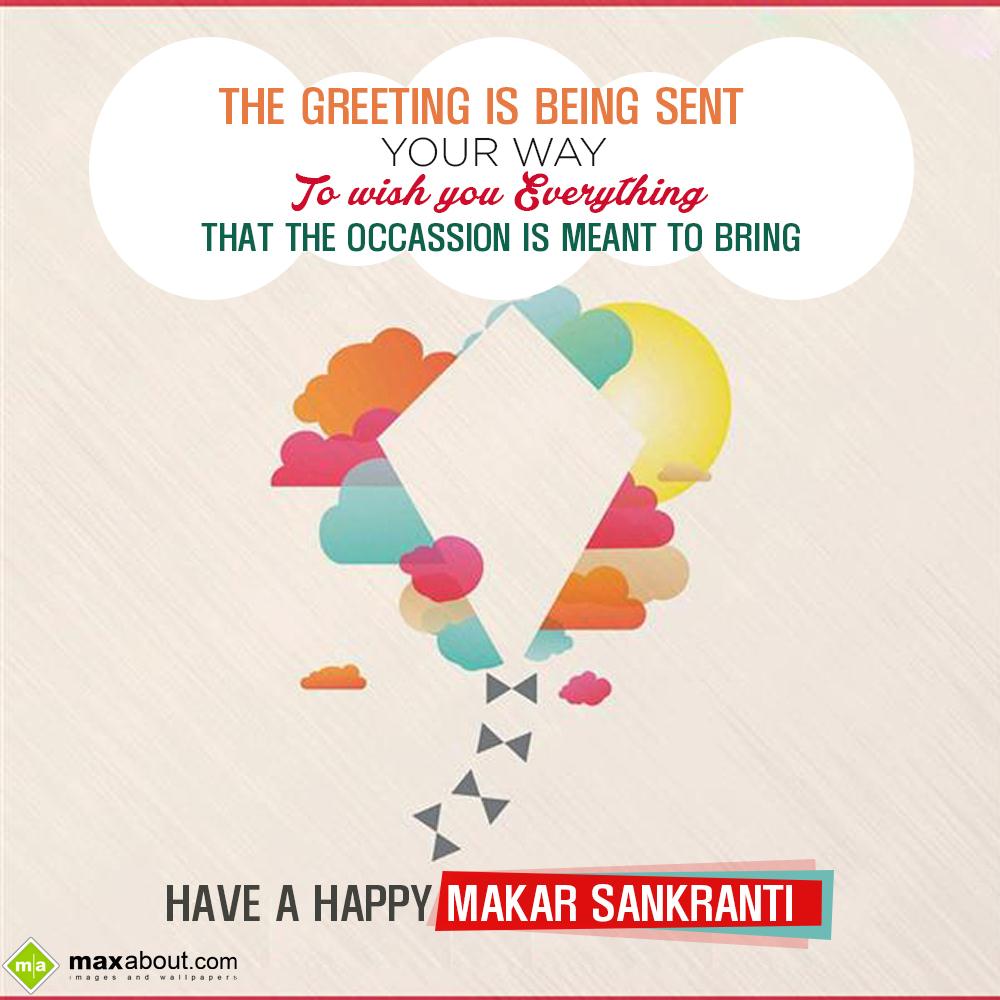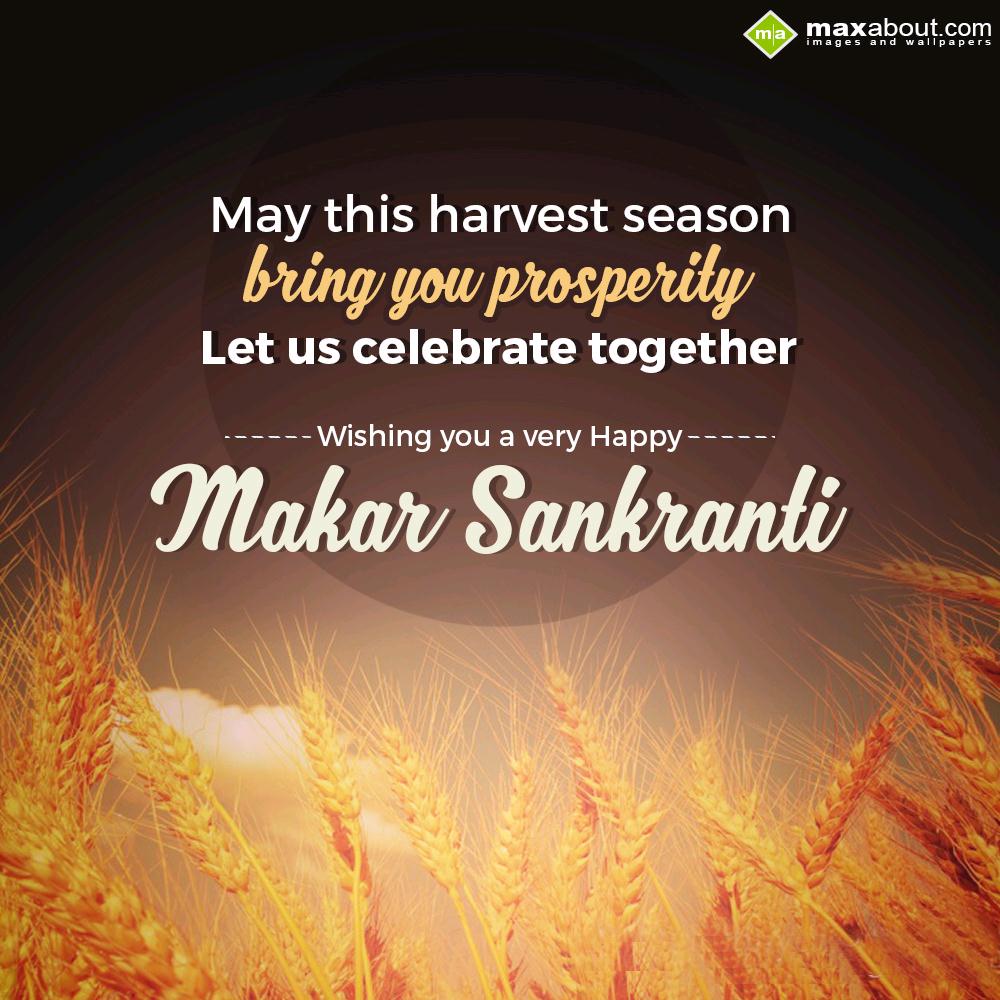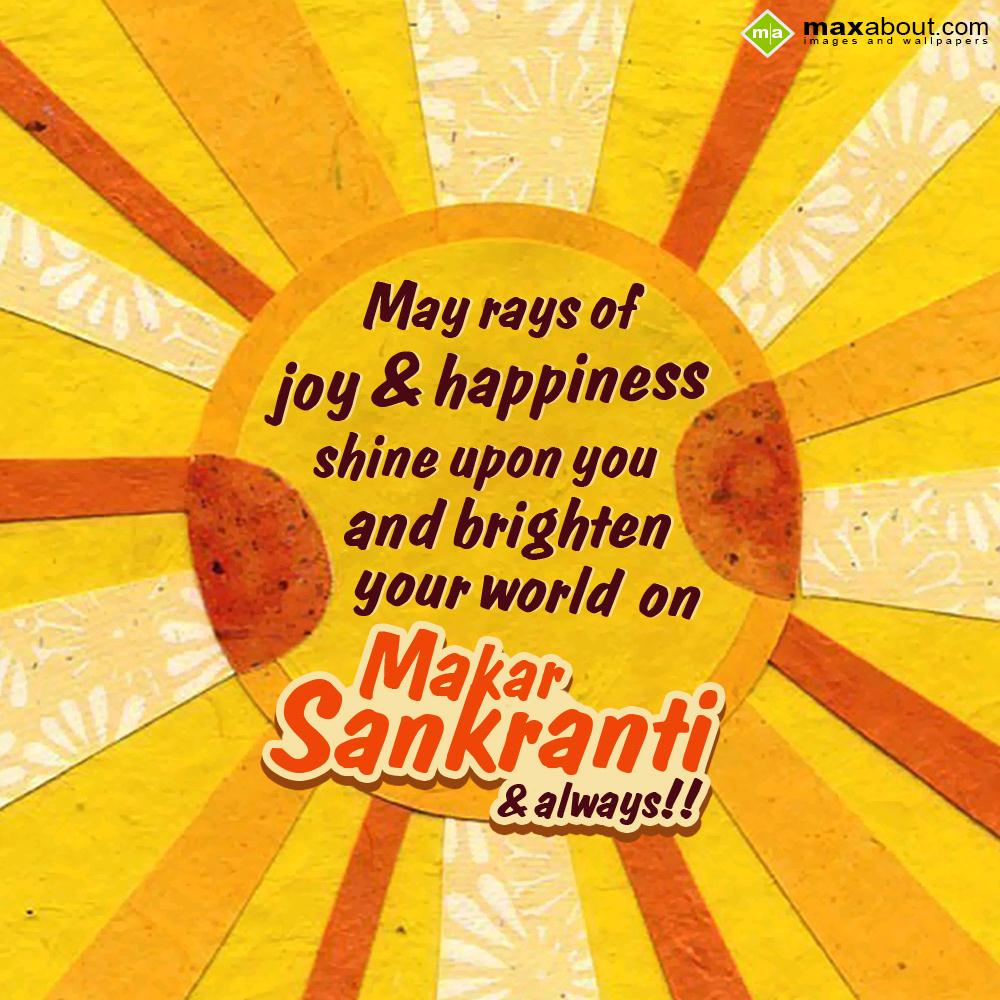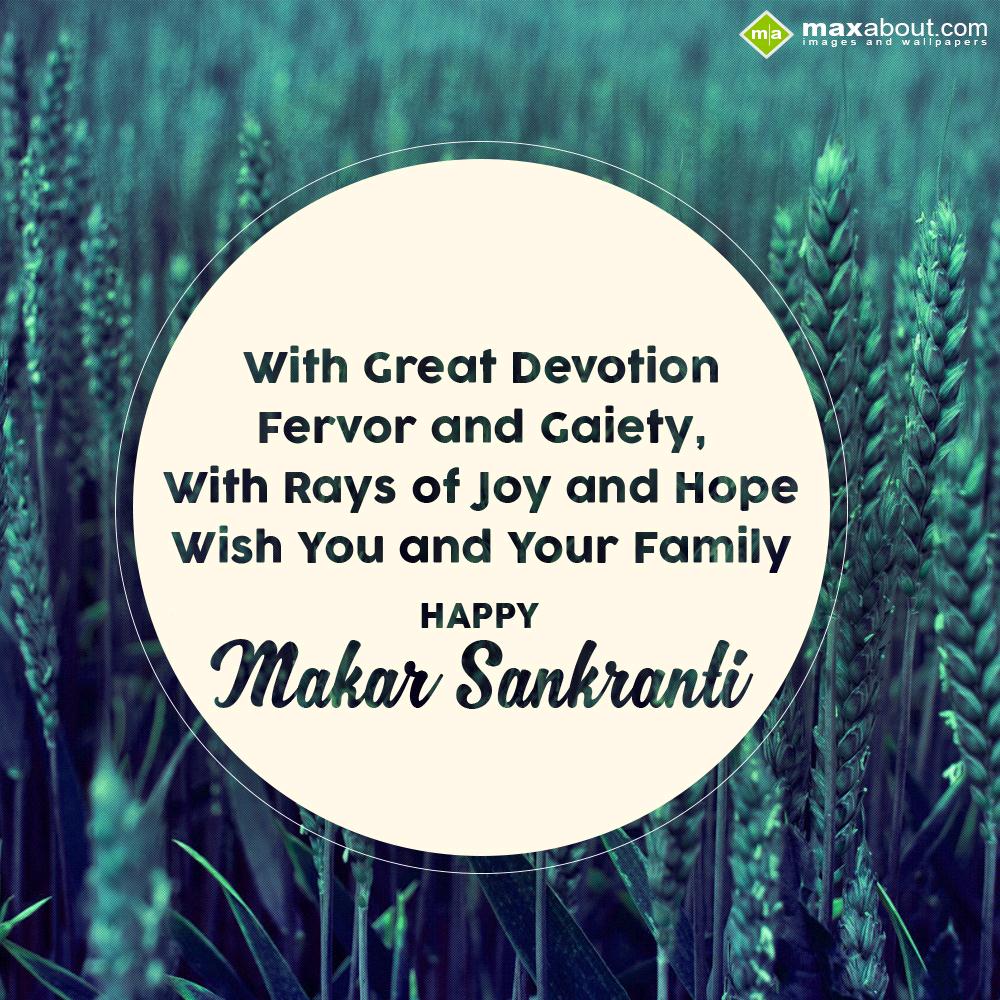 More About Makar Sankrantri Festival
The first change that comes after Makar Sankranti is that the days become longer and the nights begin to get shorter. The sun is fruitful for all zodiac signs on the day of Makar Sankranti but is more beneficial for Capricorn and Cancer. According to Ayurveda, cold winds during this season can cause many diseases, so it is customary to eat sweets made of khichdi, sesame and jaggery as prasad. Eating sweets made from sesame seeds and jaggery increases immunity within the body. Consumption of all these things also increases the heat inside the body. January 14 is considered to be the beginning of the offset of the cold weather with Makar Sankranti.
A total of 12 Sankrantis come in a year and of those, Makar Sankranti is of utmost importance, as this is where the Uttarayan Punya Kaal (holy/auspicious period) begins. Uttarayan is worshipped as the period of deities. Although this entire period is considered sacred, the importance of this period is a little more. It is from then on that all festivals begin. At last but not least as Shri Shri Ravi Shankar stated, 'तिल गुड़ घ्या, अणि गोड़ गोड़ बोला' which means that-stay small and sweet like sesame seeds and jaggery, and that's how one day we'll become really big.